April 10th
Issue 4.5
Good morning!
Welcome to Issue 4.5 of Digestable, your daily mouthful of real things happening in the world, minus alarmist pandemic news.
I'm all ears for your feedback, or if you're already a fan, share this email with your friends. If you're not yet on the list, click below to sign up.
Today's news, fermented:
It's Friday—the end of the fourth week of isolation for those of us on the East Coast of the US. We've come…so far, or something.
First, we heard unanimous calls for things to 'return to normal.' Now, that call is fracturing into many visions of futures that involve: isolation; business as usual; radical transformation of neoliberal capitalism; continued federal funding of the fossil fuel industry; a Green New Deal; the continued failure to dismantle white supremacy; a society that isn't rooted in systemic racism; and things in between, to name a few.
So here's the headline: Things Are Different Now.
It's evident across the world that social and economic orders have been thrown for a major loop. Will we go back to 'normal,' which is a fine reality for some and a terribly unjust one for most?
Although it's been a month, which, if you follow the 24-hour news cycle, feels like actual eternity, it's way too soon to say. But here are just a few things that have changed:
The oil price war is over, which is kind of good and kind of bad, because the oil industry should just be nationalized at this point.

Unfathomable quantities of fresh produce are going to waste across the US, due to a decreased demand from food service providers. This is awful because waste of plant life and human labor is always a shame, but it could also be the first part of a much-needed shift to supporting farmers who provide food directly to customers, CSA-style.

In Italy, which is still in a bad state of affairs, the Mafia (yep, that mafia) is distributing food to people in need. (Honestly, this is just another entry in the long history of organized communities stepping in when the government fails. See: The Young Lords, Black Panthers, and many more.)

Farmers in Colombia have switched from cultivating coca leaves to growing coffee in an effort to protect a key piece in the very long migration range for jaguars.

The field of online sex work in the US is booming—it's easy to do at home, and one of the few occupations Americans can start doing in compliance with isolation and social distancing orders.

Scientists are studying the ways in which (other) animals pass on cultural knowledge and teach each other how to survive. Maybe we can learn from them.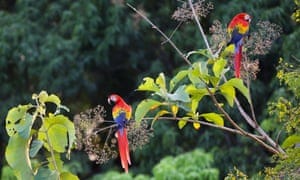 (image via)
*Hot Goss*
I don't know what it is, but this has been the longest week of quarantine so far and I'm ready to see it go.
So I'm keeping it short today with a piece of ~*Hot Goss*~ that I wish was more fun than it is cringeworthy. Like many talk show hosts, Ellen Degeneres has been trying on keeping it as normal as possible by hosting her show from her home. Production of The Ellen Degeneres Show had paused due to the coronavirus pandemic, but the comedian resumed her talk show this past Monday and ended up creating quite the controversy when she jokingly compared her time in quarantine to being in jail. Now I saw her trend on Twitter earlier this week and read through all the Tweets blasting her ass for making such a tasteless comment. And don't get me wrong, it certainly takes some courage to compare quarantining in the living room of a million-dollar mansion while a man cleans the windows in the background to incarceration, especially when prisons and jails across the U.S. are being ravaged by the virus with no protections in place and inmates are dying or being hospitalized at an alarming rate. And yet, that wasn't even the most offensive thing that Ellen said in her opening monologue. The punchline of this "quarantine = jail" joke was that Ellen feels this way "mostly because I've been wearing the same clothes for 10 days and everyone in here is gay." Everyone in here is gay. Hmmmmmmmmmmmmm………. yikes.
I'm out of snark for the week and desperately trying to forget that I watched "Bridget Jones' Diary" out of desperation last night. Whatever you do this quarantine szn, please, I beg you, don't do this. Whatever women's health magazine that has touted the praises of this movie for the last 15 years has been lying to you. They've been lying to you regardless, but especially about this movie. It's not funny and Hugh Grant is not dashing. I rebuke all of it!
Brought to you by the superb Latifah Azlan.
a Thing to Do:
Here's a beautiful project going around: it's a partnership between a bunch of amazing NYC- and US-based organizations raising money to free people from detention centers.
The increased urgency of the *crisis* led these folks to start the Let My People Go project and make this beautiful video as a fundraising tool. They've had quite a bit of success so far—with the support of over 50 grassroots fundraisers, 20 synagogues and Jewish organizations, and donors, they've raised over $200K. And with that, they helped free 30 immigrants from camps in the New York area.
Support if you can financially; watch and share the video if that feels good too.
Today's news, raw:
Mafia distributes food to Italy's struggling residents, 4/10/20, The Guardian
Opec, Russia and other oil producers make draft deal to cut output, 4/10/20, The Guardian
'A disastrous situation': mountains of food wasted as coronavirus scrambles supply chain, 4/9/20, The Guardian
Caffeinated conservation: Colombian farmers switch coca for coffee to protect wildlife, 4/9/20, Reuters
Sex Work Comes Home, 4/10/20, NY Times
The secret call of the wild: how animals teach each other to survive, 4/9/20, The Guardian