April 13th
Issue 5.1
Good morning!
Welcome to Issue 5.1 of Digestable, your daily mouthful of real things happening in the world, minus alarmist pandemic news.
I'm all ears for your feedback, or if you're already a fan, share this email with your friends. If you're not yet on the list, click below to sign up.
Today's news, fermented:
I woke up today in a state of absolute denial. There was no way it was already morning.
In part, this denial resulted of an hour or so I spent in bed in the wee hours, thinking about pickling things. Delirious awake-dreaming of the abundance that August brings in lean April.
If that was the weirdest subconscious journey I'd been on of late, it would be just fine. But I—and more people than usual, these days—have been dreaming some exquisitely weird, complicated, alarming dreams.
The search for 'is anyone else having weird dreams lately' has quadrupled in the US over the last week. Part helpless cry into the void of the internet, part reasonable question, it seems that Americans are struggling to keep the waking nightmare that is this crisis out of mind as we try to rest. Dream psychologists suggest trying to 'program' your dreams, which reminds me of that terrifying part of Brave New World where children have social orders ingrained in them while they sleep.
But for those of us living this cowardly old world, programming dreams is less scary: spend some time visualizing what you'd like to dream about before you fall asleep. This apparently kind of sets the scene for your subconscious as it trolls around in the depths of your trauma, looking for dream material.
Things I like to visualize are: boats, yellow things (peaches, rubber ducks, umbrellas, flowers, the strip on the subway platform, hard hats, signs that say 'bikes may use full lane,' lemons, etc).
Beyond us huddled masses yearning to dream free, architects are trying to dream up what our built world looks like post-rona. Of course, these are folks operating with the assumption that there's demand for futuristic office buildings, rather than the absolutely necessary sanitation infrastructure so many people on this earth lack (running water for drinking and washing, human waste disposal systems, etc).
The article below is pretty alarming—mostly because it operates within another assumption. In both this article and my worst dreams, we continue to run the world with that terrifying invisible hand that is unregulated global capitalism. This article hates on density, social gatherings, public transit: everything that makes cities possible and phenomenal.
Of course, there is need for nuance: some of the most devastating outbreaks of the virus have occurred in neighborhoods densely occupied by immigrants, who are forced to share very close quarters when cities fail to provide affordable housing for people without whom most cities would not function.
And many Americans are turning to their cars as a safe means of transportation; this article neglects any mention of the other kind of private transportation. Bicycles have become many people's lifelines to moving around to get basic supplies or exercise.
But if we look around us at how people are surviving, their, our behavior suggests that a different kind of architecture is more necessary than office towers with cubicles (which are apparently cool again now that they provide distance?!). We need community drop-off centers where people can bring groceries and supplies; we need gardens where we can grow our own food. We need regional farmers who can supply schools and hospitals with produce; we need well-designed, low-maintenance infrastructure that gets us water and energy safely and affordably.
We also need to build for the climate apocalypse, which is still happening.
Apparently there are also discussions afoot to design safer moon-travel equipment.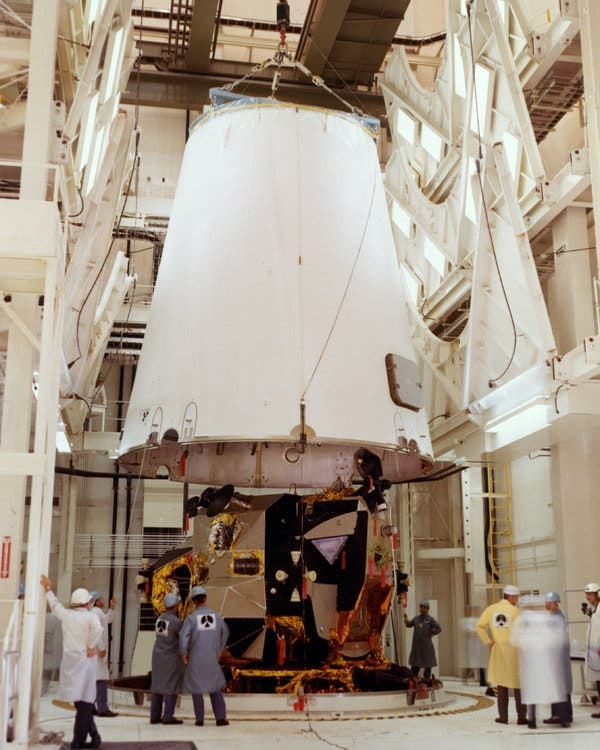 (image via)
*Hot Goss*
Back tomorrow from the superb Latifah Azlan.
Today's news, raw:
Why Am I Having Weird Dreams Lately?, 4/13/20, NY Times
Smart lifts, lonely workers, no towers or tourists: architecture after coronavirus, 4/13/20