April 15th
Issue 5.3
Good morning!
Welcome to Issue 5.3 of Digestable, your daily mouthful of real things happening in the world, minus alarmist pandemic news.
I'm all ears for your feedback, or if you're already a fan, share this email with your friends. If you're not yet on the list, click below to sign up.
Today's news, fermented:
There is a long-standing debate about the values of individual action versus systemic change. While there are many examples of powerful, transformative individual action, many of these 'responsible' personal choices are seeded in our minds by the industries that created the problems we, with our good choice-making, are trying to solve.
A couple of my faves:
Recycling: invented by the plastic bottling industry, brought to you by Keep America Beautiful and that infamous Crying Indian ad.

Lowering of a personal carbon footprint: invented by the fossil fuel industry, brought to you by their masterful misinformation campaign.

Vaping as a way to quit smoking: brought to you by the tobacco industry, especially during this respiratory epidemic!
Good times, huh?
This is not to say that taking matters into our own hands isn't often necessary, and that doing some of these things (recycling, driving less, eating less meat etc) isn't good. (Vaping is just bad, no excuses there.) It seems that amidst this crisis, countries and people around the world are trying out a *very wide* variety of theories of change.
First and foremost, the cruel and reprehensible bit of orange waste running the US announced that this country, one of the largest funders of the World Health Organization (WHO), would stop funding said health organization. Supposedly, this is a consequence of the WHO's poor handling of the global health crisis. I'd categorize this as cruel and ineffective change.
Meanwhile, the PM of New Zealand, along with many other of the highest-paid politicians in the country, is taking a huge pay cut in solidarity with workers on the front lines of the crisis. This seems like example-setting individual behavior that could set the stage for systemic change (possibly the best kind of individual action).
In South Korea, the country's first feminist party is putting their hat in the ring to win seats in today's National Assembly election. The party hopes to overturn a decades-long abortion ban and strict beauty standards. Hopefully, this is the beginning of systemic change.
Investors in the French fossil fuel company Total plan to raise a resolution at this year's shareholder meeting demanding that the company take action to align with the goals of the Paris Agreement. Shareholder activism exists at a really cool intersection of individual action and systemic change—shareholders, in the best cases, are like voters in a democracy, and could dramatically shift the politics of corporations, which are practically ungovernable from the outside.
And back in this fine country, beach cleaners in New Jersey have found vape pods (see above), plastic vampire teeth, a full jar of pickles, some human remains, and a turkey baster on the state's shores. Beach cleanups are certainly in the camp of individual action; trash-picking volunteers are catching all this waste both literally and figuratively downstream from the source (which is mostly land). But participating in this kind of activity often leads people to push for legislation that bans plastic bags and the like. These bans are on the one hand leading to a reduction of single-use plastic items on beaches, but on the other hand, the bans are at risk, because the plastics industry is trying to rescind them in the face of this crisis.
And then there are animals, who need no theory of change, because their system of governance is evolution, not capitalism. Platypi, among many other species, are already masters of social distancing (and seem to not create waste or destruction while doing so).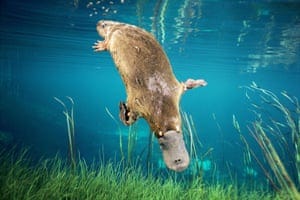 (image via)
*Hot Goss*
What are some of the things that this pandemic has taught you? For me, this pandemic has reinforced how hypocritical the international order or perception of countries and power is. I wrote about this a few weeks ago in an introduction to ~*Hot Goss*~ reflecting on the disparity of government responses to the coronavirus between "developed' and "developing countries, and it's still something I see unfolding every day when I read the news.
Consequently, you would think that a global pandemic would teach people that racism is an ugly personality trait that gets you nowhere because like the international order, social hierarchies – especially of race – are also mostly made up. And yet, here I am, writing about NASCAR driver Kyle Larson on a Wednesday morning. Again, I cannot purport to be a NASCAR expert, which renders me unable to explain who this man is. All I know that before the coronavirus suspended the sports season, Kyle was tapped as one of NASCAR's biggest rising stars. So what did he do at the height of his budding fame? Say the n-word on a live stream, of course. The autoracer was swiftly suspended from NASCAR and fired from his team, Chip Ganassi Racing, as well as losing several sponsorships despite the fact that Kyle posted his "very sorry" apology on Twitter explaining his "mistake." TUT TUT, Kyle. Is the context important here? I don't think so because clearly that is never an acceptable word to say. And yet, knowing that he was being so cavalierly racist while trying to check the audio quality of his livestream by using a racial slur and asking folks if they could hear him makes this all the more nauseating and hardly a mistake. Sigh. It's like they never learn.
I have been desperately waiting to inject some Megxit stories into ~*Hot Goss*~ since the very beginning of this column's existence  to no avail. The height of the BRF drama between Prince Harry and Meghan Markle really occurred at the start of the year  with their bombshell announcement that they were leaving royal life and the family to live independently on their own. The couple is currently based in North America and keeping a low profile but some folks are certainly making that harder to achieve than it already is. Jane Goodall, famed primatologist and anthropologist who just happens to be a good friend of the Sussexes, has been talking to The Radio Times recently and revealed that Prince Harry is "finding life a bit challenging" at the moment. Which, in any given circumstance, would make sense but even more so in the context of a pandemic. Yet this story is already a top story on many tabloid sites such as The Daily Mail, with commentators continuing on their racist attacks of Meghan and using this as more fodder for their bullying. I'm sure part of what Harry finds challenging too has been the BRF's weak, almost nonexistent response to how the media and even people within the family itself has treated his wife. But that would require folks to take responsibility for their actions instead of just blaming the Black woman in the room – too hard really. Maybe we should all just keep quiet about the Sussexes and let them live their quiet life as intended. And if that means this column will be bereft of the Sussexes, then so be it.
Brought to you by the superb Latifah Azlan.
Today's news, raw:
Trump halts World Health Organization funding over coronavirus 'failure', 4/14/20, The Guardian
Jacinda Ardern and ministers take pay cut in solidarity with those hit by Covid-19, 4/15/20, The Guardian
South Korea's first feminist party holds out hope of election miracle, 4/14/20, The Guardian
Self-isolating animals: eight species that have mastered social distancing, 4/15/20, The Guardian
Investors plan to push Total to do more on climate change, 4/15/20, Reuters
Beach trash finds: Full pickle jar, vape pods, cremation bag, 4/14/20, AP