April 16th
Issue 5.4
Good morning!
Welcome to Issue 5.4 of Digestable, your daily mouthful of real things happening in the world, minus alarmist pandemic news.
I'm all ears for your feedback, or if you're already a fan, share this email with your friends. If you're not yet on the list, click below to sign up.
Today's news, fermented:
You know how in job interviews, you're often asked about coping mechanisms while under stress?
Some thrive, some shut down, some get on an anxiety roller coaster, others compartmentalize. It seems like a good question, potentially motivated by the desire to protect employees when stress arises, provide as much support as possible; or, it could be an indicator that someone isn't right for the job.
Now I know that the members of Congress didn't all talk to each other and make a decision (why would they do that?!) about going on recess until May, but gosh, it certainly looks like the governing body that is most intended to represent the democratic nature of our democracy just up and peaced out in the middle. Of a crisis. I mean, please.
The bad news (that wasn't it) is that the wannabe dictator DT would like to use this recess to 'fill all the vacancies' in his cabinet without any sort of congressional oversight. This raises questions 1. about democracy 2. about the constant stream of firings and re-appointings coming out of the White House.
The good news is that trusty Mitch McConnell has said this won't happen. I'm relieved, are you?
Ok, enough on that. I know yesterday I went on a bit of a tirade about individual action, and here I go again. In the absence of the government doing anything at all other than bailing out the airline industry (which, I'm sorry, we could just nationalize and move on), both people and billionaires (not people in my book) are stepping up to fill in the gaps. Crowd funds for masks are receiving tons of money; medical students are collecting phone chargers for virus patients; anonymous people are paying for others' groceries en masse. The thing that keeps getting me during my many-times-daily scan of the news is how awful some people and entities are behaving, and how staggeringly good others are—how so many people who did not sign up to be front line workers are making sacrifices every day for others they don't even know.
Amidst all this, the Argentinian government is up to something interesting. While some governments are disintegrating, judges, the president, and people are pushing to put a more gender-neutral version of Spanish into common usage. Why is this relevant right now? Well, liberation from old structures of capitalist colonial social control is always relevant, but in the words of Elena Liberatori, a city judge at the forefront of this effort:
"We're always talking about equality — and the truth is that language reveals the inequalities that exist in society at large."
Something tells me this amazing step is not perfectly in line with the questionably-just history of Argentinian government, but that's for another time.
Maybe this siphonophore—an oceanic organism believed to be the longest underwater creature ever seen, at an astonishing 150 feet—can gather up the members of Congress and some Argentinian city judges to share some notes about those "inequalities that exist in society at large."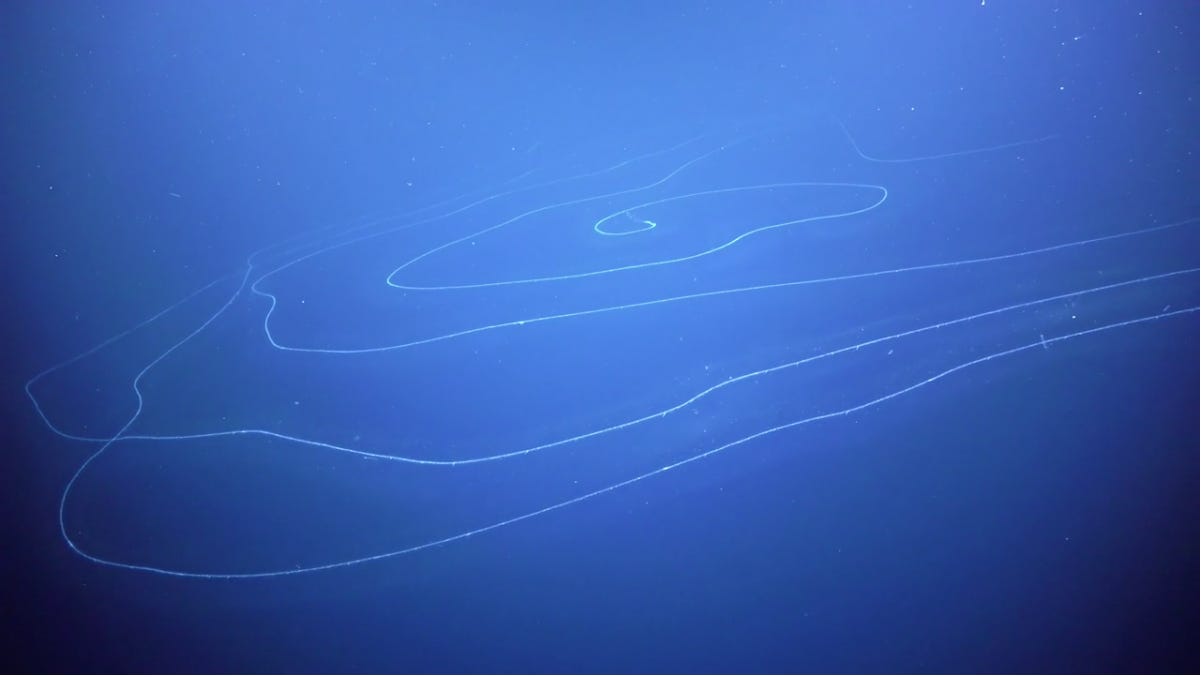 (image via)
*Hot Goss*
One of the things that brings me joy is playing with makeup. I'm not the most talented or artistic when it comes to beating my face. In fact, my routine is pretty simple: I typically use around five or six products for my daily "look" and can finish getting ready in around 15 minutes. 
Naturally, one of the ways I've been keeping a sense of normalcy and maintaining joy during these weird times is powering through each morning with my daily morning routine, which is something that most people have forgone. Most people like Kim Kardashian! Speaking to Refinery23, the reality star and media fixture admitted that most days, her "hair is a mess" and she barely puts on makeup anymore. I know there are more folks on Kim's end of the spectrum than there are mine and that I am potentially completely alone in this. Many of my friends have put away their skincare and makeup because they see no need for these things at a time when we're all locked away in our lairs and not seeing people. But I absolutely refuse to succumb to unlined eyes and anything less than an oil slick glow on my face before 8PM, so I'll keep piling on blush every morning until my sanity returns.
A few weeks ago, I received a question for ~*Hot Goss*~ Redux on surprising quarantine pairings or groupings we've seen or heard of but I didn't do a dedicated feature for the column because there were no quarancouples that really stood out. Today, that changes. Actress and model Kate Beckinsale has apparently been isolated with Canadian musician Goody Grace for some time now. I have never heard of this man or his music in my entire life but he is 20 years her junior, which is stirring up some chatter on the gossip sites. Kate has been dating younger for a few years now and we all have that one friend who has dubious taste in men, right? In my case, that friend is me so I completely empathize with her when it comes to people – strangers – questioning this pairing. And truthfully, am I really going to honestly sit here and say that if Timothée Chalemet were to knock on my door today and ask to quarantine with me for the next several weeks, I would turn him away? Heeeeeeelllllll no! In fact, I'd personally shine his shoes and wipe him down with Lysol before letting him step on my neck to get into my apartment – and I feel no shame in saying that. So I get it, Kate. I really do. And I say go for it, do what makes you happy! Life is too short and this quarantine too long for all the unnecessary white noise anyway.
Brought to you by the superb Latifah Azlan.
Today's news, raw:
Congress Has Abandoned the Country, 4/15/20, The New Republic
A Life-Saving Movement That's Unmasking Who We Actually Are, 4/15/20, Mother Jones
In Argentina, a Bid to Make Language Gender Neutral Gains Traction, 4/15/20, NY Times
This Might Be the Longest Creature Ever Seen in the Ocean, 4/14/20, NY Times