April 1st
Issue 3.3
Good morning!
Welcome to Issue 3.3 of Digestable, your daily mouthful of real things happening in the world, minus alarmist pandemic news.
I'm all ears for your feedback, or if you're already a fan, share this email with your friends. If you're not yet on the list, click below to sign up.
Today's news, fermented:
While many of us are working at home, perhaps even enjoying this time out of the office, there are thousands of people still going to work every day.
Yesterday I had a doctor's appointment on the phone. My colleagues and I have replaced chart paper with virtual sticky notes. Lots of things that seemed previously irreplaceable with technology are now proving to be so.
Big companies have long been known to wish it viable to technologize every aspect of their operations. From factory workers worrying about being replaced by automation to the US Postal service losing business from the likes of email and private shipping, technological advances are boxing American workers into a corner.
But when Americans who can work from home shelter in place, they start ordering stuff. Amazon Prime has long been the world's greatest enabler of getting anything you please the day after that desire occurs to you. Any New Yorker recognizes those awful ads about how ordering food and never cooking makes you a "real New Yorker." (Which I take as a personal offense — no f****** company can make a New Yorker real-er, nor can it make all those clueless people who move to Brooklyn for no reason other than its alleged coolness any less fake. Disgusting.)
Anyway, while many of us are 'keeping ourselves safe' by not going outside, and ordering groceries, toilet paper, you name it, there are real human beings, whose jobs cannot be replaced by robots, fulfilling those orders. This means working in warehouses and driving these orders to people's homes. And of course, there are the people who work in grocery stores, who just recently were deemed essential, which for me raised a LOT OF QUESTIONS about our system of assigning value in this upside-down capitalist nightmare society we live in.
Clarification: it's good to stay inside and away from other people as much as possible, and/but it is not reasonable or fair to use the workers who sell and deliver crucial goods as a way to externalize the cost of your safety. Externalizing here means that when you think you've sufficiently covered your ass in the safety department, other asses remain uncovered.
Okay, after all that, here's the news. Workers at Instacart, a grocery delivery service, and workers at an Amazon warehouse in Staten Island, NY, struck, demanding necessary benefits in return for their continued work amidst this crisis. Workers at Whole Foods (which is owned by Amazon) staged a 'sick-out' across the country, demanding paid sick time. While many of these employers have raised pay by a couple dollars an hour (but only during the crisis) and expanded paid sick time to two weeks (which, unless I missed something, might be wildly insufficient for recovering from COVID, especially if you can't get a test?!). The only response from any of these companies I've seen so far is that Amazon fired workers for organizing this strike.
So get angry and stay angry; and don't forget that when someone brings you something, allowing you to stay inside, they're taking the risk you don't have to.
Shifting gears away from the deeply troubled human systems up here on land, it turns out there's an underwater forest that is home to shipworms off the coast of Alabama. I read this article a few times and am still wrapping my head around trees growing on the sea floor. Scientists seem to be more excited about the shipworms than the trees, though; shipworms apparently contain some very advanced genetics and symbiotic bacteria that hold the secrets to future medicines for cancer and chronic pain.
This magic undersea forest and the injustice of failing to protect essential workers may seem unrelated, but I think the two tell a story together. While (most) humans have created systems and societies that rely on externalities — some living comfortably while others toil — we live on a planet teeming with mysterious organisms that have figured out how to coexist and heal. At the risk of forcing bivalve mollusks and Amazon into the same sentence, I'll leave it there.
Or rather, I'll leave it here, with this sea sponge that looks like the face I made when I read about those underwater trees.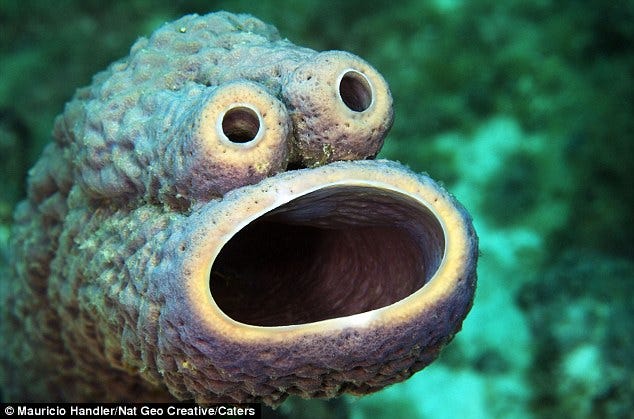 (image via)
*Hot Goss*
Did you miss me? Did you miss the ~*Hot Goss*~? Well I'm back sweetie, and I feel rested! So let's dive in.
After weeks of hearing nothing but hype over new Netflix series Tiger King, I finally caved in and started watching it this past weekend. And boy, is it a doozy. I don't really know how to summarize what the documentary is about other than tigers, feuds, and murder with a dash of cult peppered through. I often start watching an episode thinking I know what I'm in for, and feeling discombobulated and disoriented and dizzy by the end of it. Case in point, episode 2 starts off with a person's arm getting torn off by a lion, crescendos into discussion about sex cults, and ends with the speculation that someone's husband was murdered and fed to tigers. It's BONKERS so naturally I've followed it up by combing through the r/TigerKing threads on Reddit. Imagine my delight when I found this Reddit AMA by a former employee of Joe Exotic. It's just as fascinating a read as watching the documentary was, so if you're still thinking about everything happening at Wynnewood, OK like I am, it's a good scroll through.
This is a bit of a throwaway piece of goss but one of the sources I go to when I write this column is Just Jared and I am utterly fascinated by how many stories on Chace Crawford there are every week. I'm currently blowing through Gossip Girl on Netflix and everyone on that show annoys me except for Chace's character Nate Archibald (I only love ONE (1) man), although I cannot for the life of me name anything else this man has been up to since the series wrapped in 2012. So it always amuses to see stories of him on Just Jared like he is in demand?! Anyway, he are some photos of Chace Crawford displaying his arm muscles while riding his bike during quarantine. He's not even that hot.
Capping it off today is this video of the Backstreet Boys performing "I Want It That Way" from the comfort of their individual living rooms for Elton John's iHeartRadio's Living Room Concert for America last Sunday. If you have even a passing knowledge of me, you know that I LOVE the Backstreet Boys. I've literally watched this video 528 times since Sunday and it brings me joy. Look at Kevin's adorable kids! Brian still has it! Nick aged SO well! Howie seems like a sweetheart! And AJ continues to be indisputably the most talented member of all of them! *NSYNC until this Sunday to respond and I will accept nothing less than a full recreation of the Bye Bye Bye music video, with full choreography and Justin Timberlake's ramen curls making a full comeback.
Brought to you by the superb Latifah Azlan whose BIRTHDAY IS TODAY!
Today's news, raw:
Amazon fires New York worker who led strike over coronavirus concerns, 3/31/20, The Guardian
A forest submerged 60,000 years ago could save your life one day, 3/31/20, NY Times
Whole Foods Employees Are Staging a Nationwide 'Sick-Out', 3/30/20, Vice
Strikes at Instacart and Amazon Over Coronavirus Health Concerns, 3/30/20, NY Times