April 20th
Issue 6.1
Good morning!
Welcome to Issue 6.1 of Digestable, your daily mouthful of real things happening in the world, minus alarmist pandemic news.
I'm all ears for your feedback, or if you're already a fan, share this email with your friends. If you're not yet on the list, click below to sign up.
Today's news, fermented:
When I was a kid, I used to get *really* upset pretty often (not like now, of course!!). One of my level-headed parents used to calm me down by asking if whatever inconsequential nonsense that had upset me would be important in a month, a week, tomorrow, or an hour. Usually, this helped me realize that the offending thing probably wouldn't even matter in another fifteen minutes.
On Friday, at the end of a week of shocking and infuriating news, I asked myself those questions. Then I thought about this stuff all weekend; here we are on Monday, and I'm still mad. These things are definitely gonna matter next week, and many after that.
There's a theme to last week's consequential headlines. While all us plebs were distracted by the crumbs the US government threw at us in the name of 'relief,' corporations were raking in untold sums.
Amid the rush to pass a stimulus bill, Republicans slipped in a change to tax law, which will relieve the wealthiest Americans in up to $82 billion of tax liability in 2020.
Numbers are not my forte, but some quick interneting reveals that with $82 billion, every single American could receive an additional $275, or nearly 20% of all student debt could be alleviated. If I, who stopped taking math class as soon as it was educationally viable, can figure this out in a few minutes, what does it mean for the supposed arbiters of democracy in Washington DC?
Well, I'd venture to guess it's because these folks actually a. are funded by corporate interests or b. are members of the 1% and will actually reap the benefits of such a tax change.
Meanwhile, while calls for Medicare for All are finally permeating the firewall between centrist Democrats and reality, UnitedHealth, one of the largest private healthcare providers in the US, reported profits this last quarter. They say it's because people are filing fewer claims for elective care, which is hopefully a result of people staying home, rather than not getting care they need. Either way, it's an unpleasant reminder that insurance companies take our money when we're healthy and make money when we're sick (just another heads I win, tails you lose arrangement between people and corporations).
And while all eyes are on the respiratory pandemic, the tobacco industry—which is knowingly responsible for the largest preventable cause of death in the world (aka tobacco-related illness aka another respiratory epidemic)—is trying to spin the virus as an opportunity to drive vape sales. To counter all the research and discussion of smoking as an added risk factor for the virus, the tobacco industry is trying to get people to start vaping (aka buying more tobacco products) as a way to reduce risk.
The most efficient way I can think of to sum this all up is that it's a lot of sick shit.
One silver lining is that I'm psychic, as evidenced by this ancient tweet:
Netflix is now more valuable than Exxon (because no, having an x in your name isn't enough, it's gotta be at the end). This is good news because Exxon shouldn't exist, and this comparison makes it obvious what a bad idea it is to invest in fossil fuels. If only it also meant that the fossil fuel industry wasn't also trying to take advantage of the sorry state of the world.
The actually good news is that turtles are also taking advantage of lockdowns that keep people and waste off of beaches. It's worth noting that when turtles 'take advantage' it means they remain alive and continue to reproduce—notably different from what happens when humans say they're doing that same thing.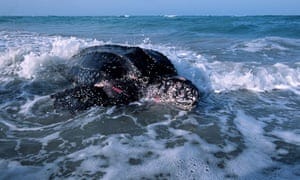 (image via)
Today's news, raw:
Millionaires to reap 80% of benefit from tax change in US coronavirus stimulus, 4/15/20, The Guardian
UnitedHealth Reports Profit, Citing Falling Demand for Elective Care, 4/15/20, NY Times
Netflix now worth more than ExxonMobil as value reaches $196bn, 4/16/20, The Guardian
Philip Morris Money Is Funding Pro-Vaping Coronavirus Spin, 4/17/20, Bloomberg
Florida: endangered sea turtles thriving thanks to Covid-19 restrictions, 4/19/20, The Guardian