April 21st
Issue 6.2
Good morning!
Welcome to Issue 6.2 of Digestable, your daily mouthful of real things happening in the world, minus alarmist pandemic news.
I'm all ears for your feedback, or if you're already a fan, share this email with your friends. If you're not yet on the list, click below to sign up.
Today's news, fermented:
One day last week, I opened my computer, looked at the date, and thought, hm, rings a bell.
It was April 15th, the day that used to be tax day. Oops. Just a day or so later, lots of people got their stimulus checks. I assumed I hadn't gotten mine because of my little taxxident, but I was wrong. There it was, $1200 I don't need sitting in my bank account.
I've had a bunch of conversations about the irony and injustice of the fact that many who need it least—folks with bank accounts (the same ones as last year, for that matter), with jobs, with stability in this unstable time—have gotten their checks first. Folks who need it most will often have to wait because of these logistical challenges (which are tied to systemic racism, classism, etc, of course), and some people who need those checks might even get tricked out of them (please, this is America).
I felt ridiculous to have this chunk of money I didn't need sitting in my account, so I spent some time last night giving it away it through the #ShareMyCheck campaign. I felt really cool making bigger donations that I've ever been able to and redistributing my little piece of government pie to organizations that serve folks who have been systematically left out of the core tenet of the American dream we call financial advancement.
But then I woke up this morning and saw that publicly traded companies (read: not small businesses) have received $300 million in small business loans, and the first (yup, more to come) $2.9 billion in handouts have been sent out to the airline industry. I did feel a little better when I saw that Shake Shack, also notably not a small business, was made to give back $10 million (tiny potatoes!) because they were going to use it to make more money.
So much for my Robin Hooding (but please, if you have that $1200 and ya don't need it, someone else definitely does).
The news yielded some other compelling parallels this morning. (Compallarels?)
Yesterday, oil prices crashed below $0 a barrel—which means that oil companies were buying their own oil because demand is so low (and lest we forget the production war that recently ended between Saudi Arabia and Russia, in which they flooded the market with oil nobody needed). This is really bad news for the fossil fuel industry and really good news for anyone who still needed convincing that investing in slimy dinosaur juice is a terrible idea.
Fortunately, mushrooms, and their foamy root systems, mycelia, are here to save us. A college student made a canoe out of it as a way to raise awareness of mycelium's potential to address climate change. I also find myself wondering if these fungal friends could help us clean up toxic spills like that enormous one that happened ten years ago.
On the anniversary of Deepwater Horizon, which "killed 11 workers and spewed 4 million barrels of petroleum into the ocean for 87 days," I also read that the T**** administration is continuing to loosen rules on toxic mercury emissions (which come from oil- and coal-fired power plants). All the coverage I've read says that spills like Deepwater Horizon could easily happen again, considering the overwhelming reversal of environmental protections in the last four years.
Well, I'm alarmed. Here's an enormous blue chicken (sounding no alarms) overlooking a plaza of people (remember those?) to lighten the mood.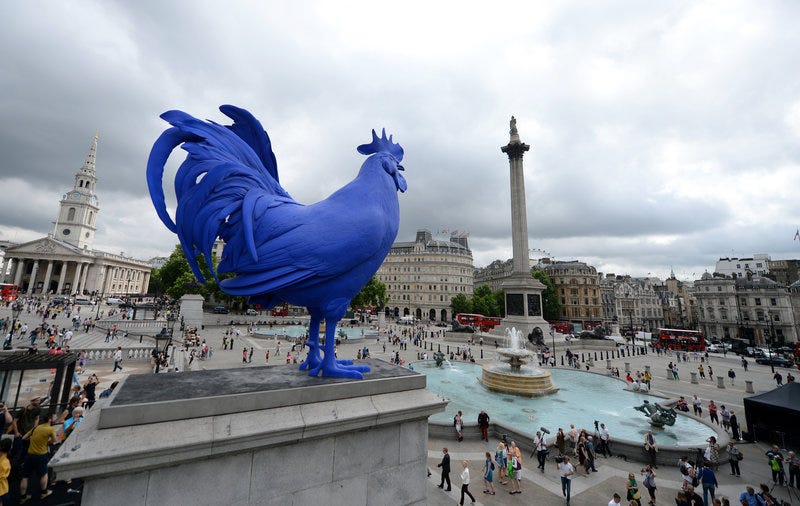 (image via)
*Hot Goss*
Brought to you by the superb Latifah Azlan.
Today is an exciting day for ~*Hot Goss*~ because we have our very first Reader Submission! Today's tip was sent in by Sasha, who is a huge fan of soccer and specifically the US Women's National Team (USWNT). Here's the goss in her own words:
There's been tons of rumors that USWNT stars Tobin Heath and Christen Press are a couple – look up #Preath on Twitter or Instagram. Tobin is super, super Christian and has denied this rumor a lot of times. But there was some Instagram live/conference thing that happened a few weeks ago and the two of them joined from the same place, so they're clearly quarantining together!
Now, I've tried looking up sources from celebrity gossip sites on this story to provide as backup but found nothing so far other than deranged fan fiction. But this is why having friends like Sasha is important – they provide you with the details you need AND the evidence to back it up!
Also, after last year's World Cup victory, Tobin and Christen both disappeared to a resort in Mexico (I think). They never said they were there together, but they both posted very similarphotos. And here's the clincher…
Everybody, give it up for Sasha's fantastic, high-quality investigative journalism! Now I haven't seen any official news stories about a potential #Preath coupling, but I love a good Reader Submission and this was a GREAT one. What did you guys think?
P.S.: If you're looking for masks to stock up on for this quarantine szn, check out Seven Sadie Lane! Owned by Sasha, the small business typically focuses on making small bags and pouches but has completely transitioned to masks for the time being. I recently ordered 5 and can vouch for them! These masks are extremely well-made and high-quality – just like Sasha's USWNT goss itself :)
Today's news, raw:
Too Much Oil: How a Barrel Came to Be Worth Less Than Nothing, 4/20/20, NY Times
'Of course it could happen again': experts say little has changed since Deepwater Horizon, 4/20/20, The Guardian
Airline bailouts, 4/20/20, Tweet by Heather Long, Washington Post
Trump Admin Rolls Back Regulations on Toxic Mercury Emissions, 4/20/20, Democracy Now!
Publicly traded firms get $300M in small-business loans, 4/21/20, Associated Press
Is fungus the answer to climate change? Student who grew a mushroom canoe says yes., 4/18/20, NBC News