April 22nd
Issue 6.3
Good morning!
Welcome to Issue 6.3 of Digestable, your daily mouthful of real things happening in the world, minus alarmist pandemic news.
I'm all ears for your feedback, or if you're already a fan, share this email with your friends. If you're not yet on the list, click below to sign up.
Today's news, fermented:
Nearly a world's worth of people and the retailers where they spend their money are relieved that lockdown doesn't overlap with any major holidays. Back on St. Patrick's Day here in Boston, things were still just starting to close, and I went on a fateful errand in which I found myself wading through a veritable sea of intoxicated young men. Yikes.
Today is a different kind of holiday. It's Earth Day; today is the 50-year celebration of its inception.
I came up in the part of the environmental movement that was about trash (and recycling and composting, of course). Like many, my ability to see problematic systems that cause and exacerbate climate change came from a long path of thinking about individual choice. No shade to waste management, though; that stuff is important.
Today, there's a lot of coverage about Earth Day. There's a pretty thorough seven-part article in the New York Times, which also runs advertisements for the fossil fuel industry (and used to run the O.G. fossil fuel deception ads) that aims to be a crash course on climate change; there's coverage in the Guardian (which recently decided to not run fossil fuel ads) on how the youth climate strike movement is still finding ways to protest elders' inaction on climate.
The environmental movement that started Earth Day is very white, and only now starting to align with the climate justice movement (mostly led by Black and Indigenous people, people of color, folks based in the global South, low-income folks). But there's an even darker side to the mainstream environmental movement; it's got its own Tea Party (not the kind with tea). It's the ecofascists, who bring together the 'cleaning up the planet' angle and the systemic change angle in a really terrifying way.
They're the people who started tweeting about how the humans are the virus, and the virus virus is the vaccine. About how people are the problem. There's a point to be made there; humans are undoubtedly the cause of the climate crisis (but it's just a few humans, and almost all of them are fossil fuel execs, buying ads to convince us we're at fault).
The ecofascists, broadly speaking, are of the opinion that it is the very people on the front lines of the climate crisis who are 'dirtying' the planet. Ecofascism was behind the racist attacks in El Paso and Christchurch last year; it was also behind a 1909 National Conservation Commission report in which Teddy Roosevelt said that conservation includes "conservation of the racial stock itself."
Which brings us to the other news item: the president announced yesterday he's banning immigration to the US amid this pandemic. Shortly after, he reversed course a little bit, and will now 'just' stop issuing green cards. Obviously, this is not the first iteration of racist immigration bans coming from this administration. But it seems pretty clear that our un-discerning president believes that people coming to the US from the South (in places hit so hard by climate change, political interference by the US, terrible trade policy, violence) are not as sanitized-ly clean as the white people who protested en masse to prematurely reopen the country.
Don't get me wrong. We've made a huge mess, but allowing people to move freely about the earth to meet their basic needs and live a satisfying life is not it. Microplastics were recently found in supposedly 'untouched' places; in turn, the tire industry, which is responsible for most of the microplastics in the ocean, is fighting back on regulations of these tiny toxic plastics.
I wonder how these undersea friends feel about that.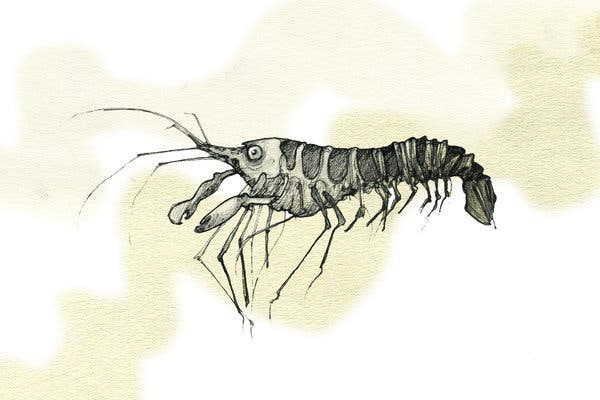 (image via)
*Hot Goss*
Brought to you by the superb Latifah Azlan.
Back in the early days of this quarantine szn, Queer Eye's Jonathan Van Ness warned – or advised – us to resist the temptation of cutting our own hair. The closest I've gotten to giving myself a haircut was getting my roommate to shave my undercut back down as it was growing a little too long, too fast back then. As a curly-haired babe, I know better than to f*ck with my mane, no matter how bored or desperate I get. But not everyone has been as strong.
Anderson Cooper has joined the ranks of amateur, quarantine-possessed hair stylists who have swiftly regretted their decision. In a recent CNN town hall on the coronavirus, Anderson revealed a healthy bald patch on the left side of his head – the result of accidentally choosing the wrong head for his clippers during a haircut gone awry. I admit I chuckled a little bit watching this clip. I'm hoping quarantine will get to him enough that he'll try to dye his hair neon green next.
And finally Here's Stanley Tucci making a cocktail, presented with no snark or commentary. You're welcome.
Today's news, raw:
A crash course on climate change, 50 years after the first Earth Day, 4/22/20, NY Times
Climate strikes continue online: 'We want to keep the momentum going', 4/22/20, The Guardian
'We're the virus': The pandemic is bringing out environmentalism's dark side, 3/30/20, Grist
Trump Halts New Green Cards, but Backs Off Broader Immigration Ban, 4/21/20, NY Times
Tyre industry pushes back against evidence of plastic pollution, 4/22/20, Reuters
Microplastics found for first time in Antarctic ice where krill source food, 4/22/20, The Guardian