April 28th
Issue 7.2
Good morning!
Welcome to Issue 7.2 of Digestable, your daily mouthful of real things happening in the world, minus alarmist pandemic news.
I'm all ears for your feedback, or if you're already a fan, share this email with your friends. If you're not yet on the list, click below to sign up.
Today's news, fermented:
A couple of days ago, a friend asked me to back her up in an argument with her mom, who said, "how can we not bail out oil companies if you drive a car or fly in planes?"
I was thrilled, went on a rant via text, it was cool.
Today that rant continues, but this time, I have sources, am wearing clothes, standing upright, and hopefully drawing some greater conclusions than "the fossil fuel industry literally thrives on hurting people's feelings tbh." But we'll see.
I'm sure you all have heard, from me or otherwise, about the emissions drop across the world in this time of staying home. But it's only a drop of 5.5 percent; which, while the biggest drop in years, still means we're emitting 94.5 percent of our usual emissions.
It turns out that all that good individual choice-making, especially the hard stuff like deciding not to fly to see loved ones, only makes such a big dent.
So where's it coming from? We're still doing a lot of other things that require energy, but my guess is that we aren't as attuned to the energy use that happens outside of our realm of personal choice. Collectively, we're all still eating food, making waste, using electricity and gas in our homes, creating demand for manufactured products, and building new buildings.
Those are emissions we don't see, but we do see the clean water in our canals and rivers and the clear skies over our cities. So the trick now is to start seeing where all that 94.5 percent of emissions is happening, and transform the systems that create them. Most of those emissions come from fossil fuels, and there's little opportunity we as individuals have to reject that. We must change our systems.
I won't get to everything today, but we can start with two of the most energy-intensive sectors.
Building buildings (which if you live in a big city, happens all the time, usually as an agent of gentrification, and usually unnecessarily) is hugely carbon intensive. From concrete to gypsum to digging holes to transporting all that heavy stuff, not to mention the energy these buildings use once they're operational, there are so many opportunities to change how this process and industry works. There's some exciting new research afoot about—wait for it—buildings that grow themselves out of bacteria, and material made of hemp or mushrooms. But there are also older solutions, like building with wood, and simply swapping out inefficient machinery with alternatives that create less exhaust. Then there's retrofitting—making old buildings as efficient as new ones—which at least one reader knows a ton more about than I do. Maybe we can chat about it sometime.
Next up is energy, duh. (Not less intensive than buildings, just listed second!) We've all seen those excruciating debates between Democratic Party candidates (back when there was democracy?) about natural gas, which comes from fracking, as a 'bridge fuel.' It turns out this bullshit argument is even weaker than critics thought; last week, a study about emissions in the Permian Basin, a huge source of fracked gas in Texas and New Mexico, are more than two times what they'd previously been thought to be. Yikes.
That historic oil war-followed-by-crash that went down over the last few weeks has some serious implications for the future of fracked gas (because it's the economy, not the science, we trust, right?). One is that Houston, once the 'Energy Capital,' is getting hit really hard by the relative hemorrhaging of the oil and natural gas sector: now, job losses, and always, the threat of toxic spills and terrifying fires.
Another is that, unlike oil giants that have been sequestering billions for the last many decades while we all believed it was our fault the planet is warming, the fracking industry might not make it. Between the Permian's recent decrease in productivity, a reduce in oil demand, and the volatility of fossil fuel stock, this industry might just be as dead as the dinosaurs that made that profitable black juice.
Fine with me. Of course, this means we have to really, really get our act together on that just transition away from fossil fuels. My dear friends and comrades at SustainUS wrote a beautiful statement entitled "Care, Resiliency, and Rebuilding in a Time of Corona and Climate Collapse." It's pretty inspiring; you should read it.
Speaking of dinosaurs, scientists recently found an ancient frog that may have overlapped with our now-squished fuel-making friends. It was fossilized in Antarctica, before Earth's landmasses split from Pangaea to form the continents we recognize today. Discovery of the frog along with some earlier findings suggests that parts of Antarctica once looked like the forests of South America and Australia. Just another reminder that if we ourselves want to avoid fossilization, we'd better do our best to prevent unrecognizable transformation of the land we call home.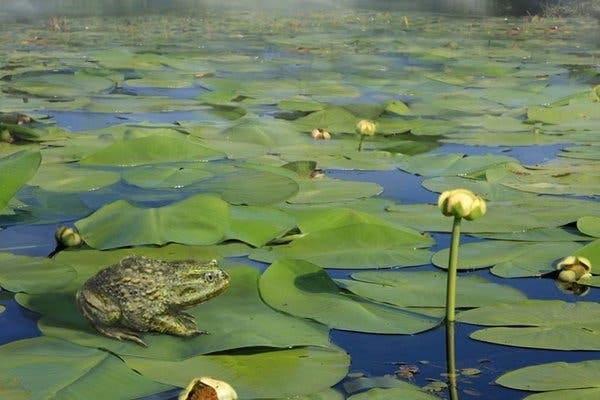 (image via)
*Hot Goss*
Brought to you by the superb Latifah Azlan.
It's hard to find more wholesome goss when the news cycle is dominated by news of Kristin Cavallari and Jay Cutler's divorce. It may be a little too simplistic to chalk it up to being quarantine-induced but when you hide out in the Bahamas together for THREE whole weeks and still come out in shambles, the gossip mill will certainly churn. And by the looks of it, things will start getting messy.
But if I am going to spend time on messy gossip, it's not going to be on a bunch of reality stars and former athletes. NO, honey. It better be worth it in this holy month and thank God for Andre Leon Talley.  The former editor-at-large of Vogue magazine is releasing a memoir in September and excerpts are already being published, with several of his reflections on Anna Wintour grabbing particular attention. According to Andre, the infamously icy Anna iced him out of the magazine and her inner circle after he became "too old" and "too fat." He also called her "ruthless" and "incapable of human kindness." Oh yes, Andre honey. This is delicious. Is there any way we can move the publication date up? Rewatching The Devil Wears Prada just isn't going to cut it until September.
It's been a rough week for me friends, so I hope all of you are doing better than I am. Here's Billy Porter and Mj Rodriguez's cover of "Home" from Season 1 of "Pose" to remind us of the things that make us feel warm, accepted, and loved during a time of isolation. Shit brings me to tears every single time.
Today's news, raw:
The world is on lockdown. So where are all the carbon emissions coming from?, 4/27/20, Grist
Construction Causes Major Pollution. Here's How We Can Build Better., 4/25/20, Huffington Post
Permian Basin Methane Emissions Found to Be More Than 2x Previous Estimates, 4/27/20, EcoWatch
It Calls Itself the Energy Capital. Now It Faces 2 'Horrifying' Crises., 4/27/20, NY Times
America's fracking boom flounders as global prices and demand collapse, 4/25/20, The Guardian
Fossil shows cold-blooded frogs lived on warm Antarctica, 4/23/20, NY Times