April 29th
Issue 7.3
Good morning!
Welcome to Issue 7.3 of Digestable, your daily mouthful of real things happening in the world, minus alarmist pandemic news.
I'm all ears for your feedback, or if you're already a fan, share this email with your friends. If you're not yet on the list, click below to sign up.
Today's news, fermented:
Today last year, I returned to New York after traveling for four months. It was the longest stretch, until now, I'd ever been away from home. So all week, I've been thinking about home—and the crises of home—we, as a country and a species, are facing.
The first crisis is the virus. Many of us are home all the time, but many others are in incredibly precarious positions if we don't have homes to be in. 'Home' is the safest place to be, but that's not equally an option for all people. (Although I did find this fun guide to time travel during self-isolation for folks who are away from the places most important to us.)
But if your home doesn't have running water, being home doesn't keep you safe. Countless people across the US have had their water shut off because it was expensive to begin with, and now tons of folks are unemployed. (Here's something to do if you're angry about that.) It's really impossible to follow guidelines to wash your hands all the time when you can't turn the faucet on; for many folks, the only way to access water is by buying bottled water.
Of course, the plastics industry loves that, and has been trying to exploit this crisis from a couple of angles. I've discussed how the industry is trying to get plastic bag bans lifted. Now, Big Plastic (which is part of Big Oil) is asking for $1 billion in bailouts for…recycling, which as you may recall, is a thing Big Plastic invented to justify its existence in the first place.
But I digress.
The next crisis of home is connected—the climate catastrophe, which I think of as a crisis of home on a small scale (our individual homes) and a large scale (our one collective home).
Tornadoes don't care about stay at home orders, and my guess is that hurricanes and forest fires don't either. In the South, where concern about virus-related safety waxes and wanes, it's tornado season. So now folks are coming together (yikes?) to try to pull off disaster relief amid the pandemic.
The third crisis of home is that many people, especially in the US, continue to be kept in cages while the virus spreads. These folks really know what it's like to be away.
Yesterday, I listened to a gut-wrenching episode of Ear Hustle, a podcast recorded inside of California's San Quentin Prison, in which the (formerly) incarcerated host gets to come home after 21 years. The episode also looks at what incarcerated people miss while they're locked up, and really puts the challenge of being away from home these days in perspective.
There's been a lot of writing about how vulnerable incarcerated populations are to the virus. But this article, by an incarcerated person named Lacino Hamilton, who has been in prison since before I was born, raises a question I haven't seen addressed anywhere else.
Why have we only heard from prison officials, and not the people locked inside of them, about this crisis? As always, it is the group of people most affected by a crisis that know it best. Hamilton's conclusion, which is one of the most articulate summations I've seen of how we must move forward, continues to prove that point.
For those of you on the outside, I call on you to rethink your approach to gathering, analyzing and sharing information, as opposed to simply trusting official reports that come from oppressive institutions. We need to think about building an approach that is long-range and does not go back to "business as usual" after the virus recedes. And, when it comes to larger goals of pursuing justice and a healthy society for all, we must move forward with the understanding and good will of a broad coalition of people who believe this country should be democratic and participatory, inclusive and affirming of human agency and human capacities for working collaboratively to create change.
Damn.
One bit of good news is that animal trafficking has slowed as a result of economic shutdowns, and illegal trade networks are easier to find and dismantle. At least some of our animal friends get to stay home.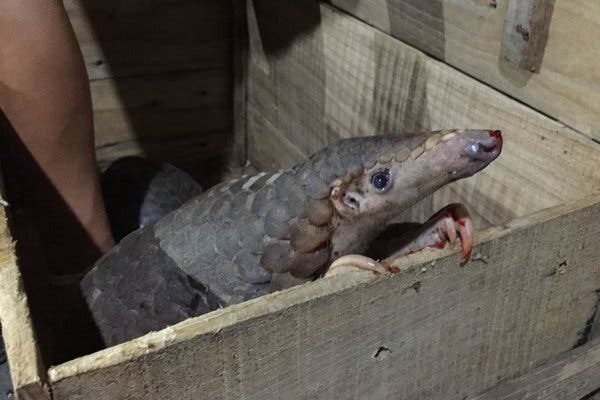 (image via)
(A note about this issue: all the articles referenced are hyperlinked, instead of listed below. It saves me a lot of copying and pasting, and makes it easier to access the source content. If you like it or hate it, lemme know.)
*Hot Goss*
Brought to you by the superb Latifah Azlan.
The ONLY ~*Hot Goss*~ that matters, that deserves our time and attention today is the news of a potential pregnancy. News broke yesterday that Gigi Hadid and Zayn Malik are expecting their first child, which sent Twitter into a tizzy. Now I'm not sure if this is a good idea considering the pair has gone through a few cycles of breaking up and making up over the years but OH MY GOD. OH. MY. GOD. Have you seen Miss Gigi? And have you seen Zayn? Literally, I could not for the life of me name a better looking couple. This unborn child is already chewing gum and side eyeing my outfit while calling me ugly. And as it should!!! The power that this baby has… I do not think we are ready yet. I really don't.