April 2nd
Issue 3.4
Good morning!
Welcome to Issue 3.4 of Digestable, your daily mouthful of real things happening in the world, minus alarmist pandemic news.
I'm all ears for your feedback, or if you're already a fan, share this email with your friends. If you're not yet on the list, click below to sign up.
Today's news, fermented:
Hello, friends.
The news this week has been tough, and I'm measuring my own capacity to comb through stories about the 'US epicenter,' aka the place I will always love more than other places.
So, three items for you today: one, a follow-up from yesterday, two, a reminder that this country is still full of hateful people who disguise their hate as 'fairness,' and an astronomical wish.
Chris Smalls, one of the leaders of the Amazon warehouse strike in Staten Island, NY just a couple days ago, was fired for his organizing. Today, he's back with some fiery words in The Guardian. The beginning of his piece is, "Dear Jeff Bezos," and it includes the line:
"I wasn't trained to be a first responder. We shouldn't be asked to risk our lives to come into work. But we are. And someone has to be held accountable for that, and that person is you."
He closes with a sentiment that really got me, especially because 1. Jeff Bezos is the richest person in the world and 2. he is a writhing sack of garbage, as evidenced by the fact that Amazon started a relief fund that initially seemed to ask for individual donations to support workers affected by the virus. Since an uproar, Amazon has changed the text, but really? Huge company, monopolizing resources and markets, owned by the richest man in the world, you shouldn't ever ask anyone for money. Please.
Chris gets it:
"I don't give a damn about your power. You think you're powerful? We're the ones that have the power. Without us working, what are you going to do? You'll have no money. We have the power. We make money for you. Never forget that."
It was only with these words in my heart that I could bear to read about another disgraceful public act. The state of Idaho has recently passed legislation barring trans athletes from participating in sports on teams that align with their gender identities. It's called, in a dose of classic American irony, the "Fairness in Women's Sports Act," which sounds oddly like "right to work" laws, which are anti-workers' rights, and "right to farm" laws, which are anti-people and land.
Well, shitrockets, lemme tell you something. Boys are most certainly not always boys, and girls are surely not always girls. That is some colonial, capitalist, social order-enforcing, anti-feminist feces you have in that law of yours. Any decision makers whose best effort at 'rights' is calling anti-trans legislation 'fairness for women' can drink a big glass of sewage water and resign.
Whew. Ok. Trans people are perfect. Moving along.
I'll close with a story only possible because of the research and monitoring done by the Desert Fireball Network, which surely has the coolest/hottest name (not to mention, their url ends in .rocks). In 2017, the DFN caught a glimpse of a meteoroid (pictured below) over the Australian sky that didn't do what meteoroids usually do, and went zinging out into space in the opposite direction of others its kind.
My hope for us—as a country, a society, a species, a hugely disruptive part of a beautiful ecosystem that calls this planet home—do as this unnamed fireball did. That we recognize the option to plow through this crisis in the most destructive, corporate-friendly, people-be-damned way, and then return to 'business as usual.' And then we pull a fireball move, flinging ourselves in the opposite direction of all that terrible nonsense with as much fervor as we can muster.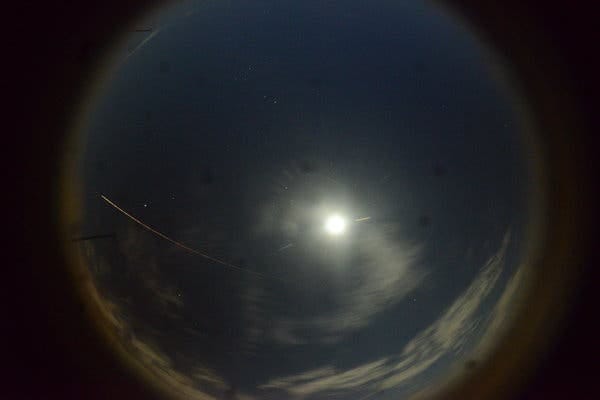 (image via)
*Hot Goss*
The days are getting harder and harder to distinguish from one another, only for the simple reason that celebrities have really dialed down their ridiculous shenanigans after many of their tone-deaf shows of support and attempts at "keeping it positive" garnered mostly backlash and ire.
So I've decided to make today's edition of ~*Hot Goss*~ music-focused because it's something we all do – listen to music – and I imagine even more so in times like these, when we're trying to keep our spirits up and remain as joyous as possible. Plus, I think my original idea of a "The Masked Singer" themed version of ~*Hot Goss*~ was too niche for anyone else to really appreciate other than me and Charlotte, so here I go!
Disclaimer: I am not a music scholar or reviewer in any professional capacity. I just really love listening to music.
Some new tracks to spin while you work from home today:
Canadian singer-songwriter and masked mystery man Orville Peck released a new single yesterday called "Summertime," which you can listen to on Spotify or watch the video of on Youtube. Recommended for fans of Sturgill Simpson or Roy Orbison.

Australian pop artist Troye Sivan is back with a new song called "Take Yourself Home," which you can check out on Spotify here. Recommended for fans of Lorde or Kim Petras.
If you're looking to expand your portfolio of genres, here are some I've been playing on repeat!
Coupé-Décalé – a type of popular dance music originating from Côte d-Ivoire and the Ivorian diaspora in Paris, France. Artists to check out: DJ Arafat, Serge Beynaud, DJ Arsenal, Toofan. Some playlists to check out on Spotify would be Coupe Decale and Coupé Décalé by Amuse.

Pop Yeh Yeh – Malaysian/Singaporean pop-infused rock and roll from the 1960s, inspired by Western favorites such as Elvis Presley and The Everly Brothers but incorporating traditional Malay melodies, instrumentation, and singing styles along with bilingual Malay-English lyrics. Artists to check out: Tan Sri P. Ramlee (the GOAT), M. Osman and the Clans, Kassim Selamat and the Swallows. Most of these artists are not on Spotify but can be found on Youtube, although this Tan Sri P. Ramlee playlist on Spotify is available and a good primer to the genre. 
And of course, no Latifah-compiled music list would be complete without my F A V O R I T E genre of music: emo. Ya girl is sad and she's not afraid to relate to whiny music made by skinny whitebois from all over the United States to show it!
I found this list of the 100 greatest emo songs of all time compiled by the music writers at Vulture and just had to share it with everyone. Even before clicking on the link, I knew what the #1 song would be: "Never Meant" by American Football. There are some bands and songs included on this list that I would not consider to be emo though they are bands I love nonetheless (Paramore's "That's What You Get" for example, especially for it being in the Top 10, but that song is actually the main song of the soundtrack to my life so it's fine). But it's a pretty comprehensive list regardless, spanning emo and emo revival and emo-adjacent of all eras and geographic origin, which makes it a good introduction to the genre if you've ever wanted to start. I certainly know what I'm listening to on this post-birthday Thursday!
Brought to you by the superb Latifah Azlan.
Today's news, raw:
Dear Jeff Bezos, instead of firing me protect your workers from coronavirus, 4/2/20, The Guardian
'Boys Are Boys and Girls Are Girls': Idaho Is First State to Bar Some Transgender Athletes, 4/1/20, NY Times
This Fireball Ignored the Solar System's One-Way Signs, 3/30/20, NY Times