April 30th
Issue 7.4
Good morning!
Welcome to Issue 7.4 of Digestable, your daily mouthful of real things happening in the world, minus alarmist pandemic news.
I'm all ears for your feedback, or if you're already a fan, share this email with your friends. If you're not yet on the list, click below to sign up.
Today's news, fermented:
After yesterday's necessary hiatus from wondering about where all those emissions are still coming from, we're back.
Two things before we get started.
One: today's issue would not be possible without the tremendous Gabriel Coleman, who you may remember from their previous contributions.
Two: today something pretty gross and upsetting is going to come up a lot. Animals were harmed in the making of the news that make up this issue, so please use discretion when clicking on links. I'll do my best to keep it SFAP (safe for animal people), and of course there will be some unharmed friends at the end.
Ok, here goes. Just a couple of days ago, the T**** administration invoked the Defense Production Act to declare that meat supply is critical, and thus mandate that meat processing plants remain open.
There are so many things wrong with this. As a Food and Plant Person, I thought I knew a lot of this stuff, but it turns out that the meat industry is not exempt from the Virus Voila! in which those of us a few steps removed from a system finally see all the nasty stuff under the surface.
Here it is:
Now, here's some words from Gabriel, who as I mentioned is a wise Midwesterner and well-versed in the ways of Big Ag(riculture). Basically, they make the point that the meat and corn industries have long been trying to cover their collective ass for all the huge problems they have caused.
"So as we know this shit is a mess and I have a lot of feelings. There's a bunch of industrial ag apologist stuff showing that farmers are growing more food/acre or more pounds of beef/cow which is supposed to distract from emissions or something. Not to mention that this increased efficiency only drives prices down even further, pushing farmers to bring more land into production to make enough money to not starve because so few of them are growing food. (Bring back the Agricultural Adjustment Act amirite?) Fuck the American Farm Bureau for all this garbage."
Thanks, dear friend.
All this posturing by the meat industry about its emissions reduction is backed up by the T**** Environmental Protection Agency, which has been under-reporting methane emissions.
This is important because cows produce a ton of methane, as does plant-based food when it is left to rot in landfills. One coalition in Oregon is calling for accurate reporting and active reduction of dairy-related emissions, which is vital in de-carbonizing our food system, but they are in the minority. And a startup in the UK is making very uncomfy-looking face masks for cows to wear that (maybe) will reduce their methane footprint. (Taking the 'individual action' hypothesis a little too far, I think.)
There is some good news, which of course comes with a dose of bad. We do have ways to make agriculture more sustainable for farmers and the planet, we just, as is the case with action on climate more generally, lack the political will.
Here's some more good news, that's just good: people are gardening; around the world, school cafeterias are starting to source produce from on-site gardens; the 'gangsta gardener' of Los Angeles hasn't let lockdown stand in his way of planting food forests all over the city; and Black womxn farmers are leading a food revolution. The movement to end racism and injustice in the food system, especially led by BIPOC (Black, indigenous, people of color), is a necessary step towards a more sustainable food system.
Hey, thanks for making it to the bottom of a pretty intense bunch of words. Here's a happy cow (more here).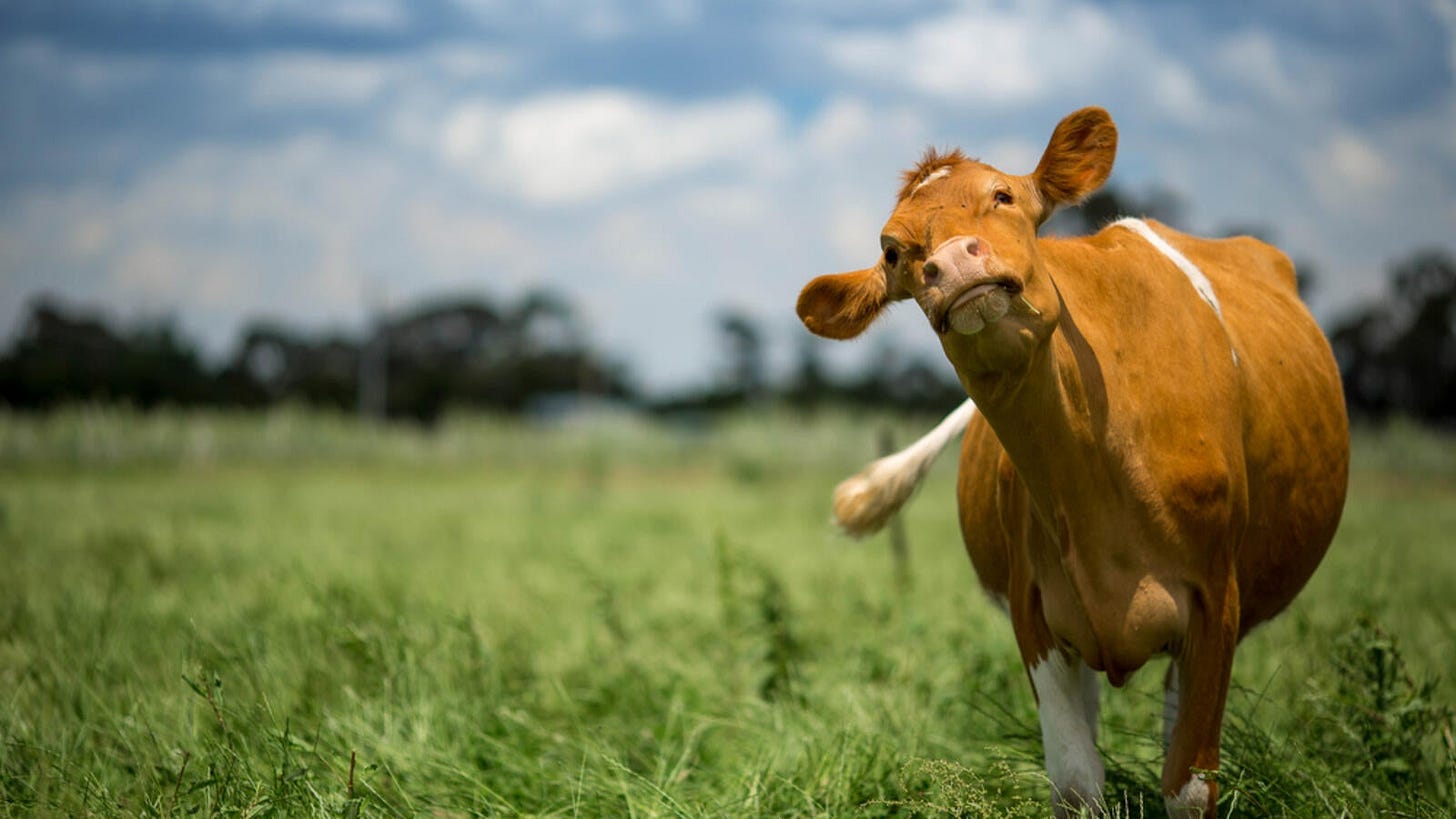 (image via)
*Hot Goss*
Brought to you by the superb Latifah Azlan.
For many of us tucked away at home during this pandemic, working out or maintaining our exercise routines has been one way to keep ourselves sane, clear-headed, and motivated to move. I know lots of people have taken up running during this time, but that b*tch could never be me. I'm more of a home gym type of gal, but I don't have one of those either so clear my living room space of furniture and do yoga with my roommates or keep up with my cardio dance classes instead. It's not a bad setup although it's not the biggest space, so every now and then I do end up stubbing my toe into the sofa or running into a wall. But these are minor mishaps compared to what recently happened to Britney Spears.
In a workout video posted on Instagram, the pop icon revealed how she nearly burnt her home gym down recently after lighting on too many candles during an exercise session. The accident left her with only two exercise machines but did not become big enough of a blaze to cause damage or injury to anyone at the house. I am more surprised by the revelation that people work out with candles than I am that Britney almost burnt her house down by accident. Is this a normal thing to do? I'm almost more often in my bed than I am lifting weights so this could just be my lazy ignorance talking but I have on at least one occasion accidentally fallen asleep with a candle still lighted so I cannot throw much shade here. Oops.