April 6
Issue 4.1
Good morning!
Welcome to Issue 4.1 of Digestable, your daily mouthful of real things happening in the world, minus alarmist pandemic news.
I'm all ears for your feedback, or if you're already a fan, share this email with your friends. If you're not yet on the list, click below to sign up.
Today's news, fermented:
Although I am not part of the "Class of COVID," all the unfortunate folks whose graduations have been interrupted by the global grinding to a halt, I too was homeschooled once.
The year was 2008—yeah, that 2008—and I got lucky. I convinced my parents, one of whom is a teacher, that if teachers can take sabbaticals, so can students. We mobilized a team of my family members, mostly older Jews across Brooklyn, to teach various classes, including my now-late grandfather. He was one of those 'vote Democrat when your kids make you, think Republican the rest of the time' kinda guys. More than any other good person I ever met, he truly believed in capitalism.
We read comics about the origins of capitalism published by the federal government. We talked about subprime mortgages and buying debt. The ongoing financial catastrophe was a convenient case study.
But I did not take well to the idea that anyone who profits off of this system is deserving. While I did not read the news then the way I do now, I had a feeling something wasn't right about this meritocratic, laissez-faire system. For my final project, I redesigned Monopoly as a socialist game. He was displeased.
That year shaped my critical analysis more strongly than any other in grade school; looking back, I see that it was likely a more evident marker of my privilege than any other. My parents and grandparents have college degrees, time to teach a kid, space in which to do so, and more. Thinking about the millions of students who have no choice but to learn at home, there's no way most kids will have an experience like mine.
Home-learning en masse reveals, like so many things these days, the underlying systemic inequity present in all aspects of American life. While school is not exactly an equalizer, it creates a common denominator for students: one or two meals a day, no domestic abuse, a (relatively safe) physical place, structure, social time. Without this (still unquestionably problematic) institution, kids are literally left to their own devices to learn.
Attendance in virus-times tells a pretty clear story about this inequity. Schools in more affluent districts are seeing nearly 100% virtual attendance, most likely because their students (and their parents) have the space and the resources, both inner and technological, to thrive. Many schools in lower-income areas are seeing attendance rates of 50% or lower. The impact of not having internet, needing to care for siblings, or not being able to focus because chaotic lives are even more so these days, is evident.
Not to mention students who receive more attention at school than they may at home. Students with alternate abilities—and their parents—are struggling to keep up. Many students receive support from personal aides, speech therapists, and other specialized counselors at school. Stuck at home, these kids are asked to focus alone and get their needs met by one teacher on a screen.
Surprise of surprises, school districts struggling to support these students turned to the whimpering, thieving dishcloth at the helm of the US department of education. The advice they received was "vague and contradictory." Cool.
Students who are also teachers don't have it easy either. Graduate students at UC Santa Cruz have entered the 4th month of their strike, now under increasingly dire conditions. They began striking in December by withholding grades to demand a cost of living pay increase—much needed when trying to survive on meager means in one of the most expensive places in the country. Rather than responding to these demands, the UC has fired student teachers, causing them to lose their health insurance. The strikers say it best: "times of crisis reveal the true priorities of public institutions."
Yikes.
I have no clever way to connect the crumbling of public institutions to this tiny neon bird, but here it is anyway. Spotted by a Filipino surgeon, these dwarf kingfishers have never been photographed as fledglings until this one here. Baby steps, right?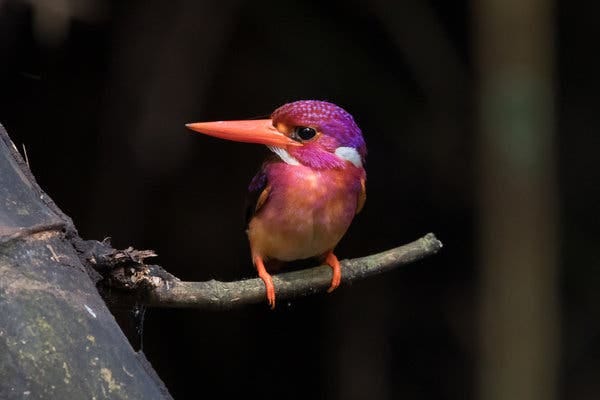 (image via)
*Hot Goss*
Back tomorrow from the superb Latifah Azlan.
Today's news, raw:
'This is crisis teaching': students with disabilities slip through cracks as coronavirus shuts schools, 4/5/20, The Guardian
The University of California Strike Enters Its 4th Month, 4/6/20, The Nation
As School Moves Online, Many Students Stay Logged Out, 4/6/20, NY Times