April 7th
Issue 4.2
Good morning!
Welcome to Issue 4.2 of Digestable, your daily mouthful of real things happening in the world, minus alarmist pandemic news.
I'm all ears for your feedback, or if you're already a fan, share this email with your friends. If you're not yet on the list, click below to sign up.
Today's news, fermented:
Sometimes when I scan through the news I get sucked in, in a good way: there's so much to know, so many things to look at, so much room for surprise.
But not today. It's just Big Oil and Republicans trying to destroy our democracy and our planet. Neither surprising nor particularly compelling, that's all I've got for you on this fine Tuesday.
In DC, Trump has appointed literally "the next Brett Kavanaugh" to the DC circuit court where that bottom-feeding rapist of a 'justice' came from. Not only is this new guy a hater of the people (because these days, if you're anti-healthcare, that's the only thing you can be), the American Bar Association has said he lacks the "minimum professional competence" necessary to fill this new role.
Not that this standard is widely applied in American government these days, but who's counting?
The only other thing I'll say about this nepotistic gowned juvenile is that Mitch McConnell has known him since the aforementioned juvenile was in high school.
Oh, Mitch. If the future of the viability of the human species weren't at stake, I'd say it's almost an accomplishment how focused this multi-chinned corporate pawn has been at delaying climate action in the US.
But we need not go into that—because mid-crisis, the oil industry doesn't need MMcC to pad their shameless continued work on the Keystone XL pipeline, one of the largest and most useless pieces of fossil fuel infrastructure known to these lands. States along the pipeline's route, which begins in Canada and runs through the US, have passed bills making it a felony to protest fossil fuel projects. Furthermore, TC Energy (formerly known as TransCanada), the company behind Keystone XL, flew people in to work on the pipeline, defying quarantine orders, and claiming their services were 'essential' (see also: gun shops.)
Speaking of essential services, the Republicans brought a case to the Supreme Court entitled "Republican National Committee v. Democratic National Committee" that effectively disenfranchises a huge chunk of Wisconsin's voters. Wisconsin, the only state that has chosen to continue with its primary despite the, erm, global health pandemic, had planned to extend the date until which absentee ballots would be counted. This would have created much more opportunity for socially-distanced democratic participation, but we wouldn't want any unnecessary democratizing to go down. So the Republicans sued and won, because, see above, people-haters are making decisions here, and now all absentee ballots in the great state of Wisconsin need to be postmarked by April 7th.
Which is today.
The long and short is that American humans are not doing so hot these days at working together for our group wellness, but here are some caribou that at least know how to walk nicely together.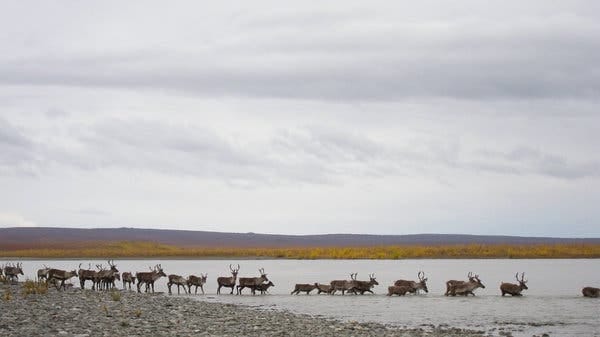 (image via)
*Hot Goss*
It's a special day at ~*Hot Goss*~ today because we are celebrating an OG of all things mess and all things goss – Lindsay Lohan!
Last Friday, Lindsay made her return to music with the release of her brand new single "Back To Me," a clubby pop song about "rediscovering and accepting oneself, shutting out the noise, and moving forward and letting the past go." It has been twelve years since she released music and the themes of the song could not be more apt for the tabloid fixture Lindsay has become in recent years – although this is also nothing new.
This Twitter thread by @pcd2009 is a fantastic reminder of the types of ~*Hot Goss*~ we used to get back in the late 2000s and early 2010s, thanks to "famous for being famous" legend Paris Hilton and her crew of assorted heirs and teen queens like Lindsay Lohan herself. As @pcd2009 said, the Hollywood drama that occurred during this time period would have Leo Tolstoy shaking in his boots and reading through the thread made me reminisce for the good old days of pure, unadulterated mess. I remember being 15 and logging on to the Internet to go to Perez Hilton's website and read all about these people, aghast at the crotch-flashing and drunken shenanigans. And all those DUIs! Oh, the DUIs. Who has carried this torch forward in this day and age? No one. It's all about yelling at celebrities for being out of touch with us peons and their massive displays of wealth at all times now. Famous folks showing their asses still, albeit in a different, not as fun nor escapist way.
Which brings me to ~*Hot Goss Redux*~! Today's question was submitted by Lizzie and she asks: What did you think of Lindsay's new song?
Ehhh… I'm not the biggest of electro-dance-pop in the first place but even this fell a little flat for me. It was just so generic and uninteresting. If you're itching to hear Miss Lindsay sing about her life, I'd recommend going back to the original and putting "Rumors" on repeat. This was the first song she released back in 2004 and boy did it make me feel like hot shit when I listened to it. With lyrics like "Why can't you just let me do/The things I wanna do/I just want to be me/I don't understand why/Would you wanna bring me down/I'm only having fun/I'm gonna live my life (not the way you want me to)" my parents never stood a chance.
Brought to you by the superb Latifah Azlan.
Today's news, raw:
Meet the Next Brett Kavanaugh, 4/6/20, The Nation
The Supreme Court's disturbing order to effectively disenfranchise thousands of Wisconsin voters, 4/6/20, Vox
Big Oil is using the coronavirus pandemic to push through the Keystone XL pipeline, 4/5/20, The Guardian