April 8th
Issue 4.3
Good morning!
Welcome to Issue 4.3 of Digestable, your daily mouthful of real things happening in the world, minus alarmist pandemic news.
I'm all ears for your feedback, or if you're already a fan, share this email with your friends. If you're not yet on the list, click below to sign up.
Today's news, fermented:
Nothing has become more clear amidst this disaster as the sorry state of public institutions and the systems that support them. Most evident are those directly related to this crisis: hospitals and healthcare, elections and electoral politics, water and food systems.
Financially abandoned by governments and often spiritually abandoned by people, this crisis has lifted the veil on how badly we (not corporations) need to invest time and money in reestablishing these systems and institutions so they work for people.
One institution that, despite rampant disinvestment and rude name-calling, defies this pattern is the public library.
All year round, libraries are free and open to everyone. Andrew Carnegie built most of the libraries in the US (in one of the earliest and most successful pre-greenwashing schemes in American history); every city and most towns across the US has one.
Libraries and librarians deliver the kinds of services everyone—but particularly those abandoned by other public institutions—needs. A warm or cool place to sit, books, computers, internet access, information about citizenship, help with resumes and job applications, language classes, events for people of all ages, bowling leagues, musical instruments, you name it.
This has not always been the case (read: they used to be only for old white men), but the free-to-all library is a success story of what can happen with investment (thanks to Carnegie's guilty conscience) + intention and labor toward social change (thanks to women, surprise).
Now, while many libraries are closed, they are still 'second responders.' They don't provide medical care or running water, but libraries are providing free lunch, using 3D printers to print PPE, continuing to provide Wi-Fi access, and providing resources for houseless people. Additionally, lots of programming, information, e-books, and more are still available online.
Radical concept, that an institution would adapt to meet the needs of the people it serves even under changed conditions, hm?
Maybe the state of California is watching. Recently, they made a major change to bail policy—setting it at $0 for most low-level offenses—to allow folks who shouldn't even be in jail in the first place to leave cramped cages where the virus spreads more quickly and dangerously than most other places.
If they really wanted to be like libraries, jails wouldn't exist, and prisons would provide safe and comfortable places for people to learn skills and recover from trauma while receiving mental health support and job counseling?!!!!
Okay. One more questionable institution where something good happened. At the Ocean Park Zoo in Hong Kong, two giant pandas who have lived in the zoo for 13 years, (finally away from the public eye!), mated. It's unclear if this rare and exciting event will yield tiny pandas, but at least these big soft friends don't have to social distance like the rest of us.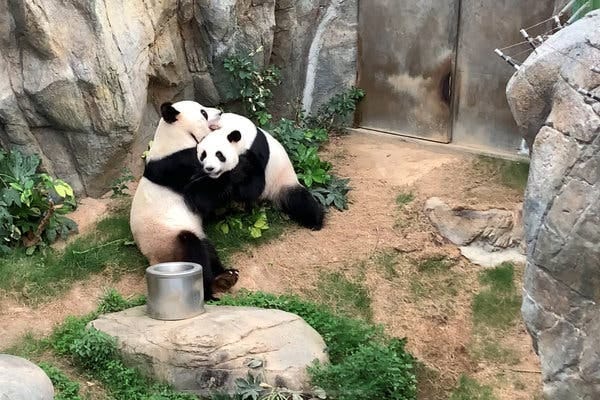 (image via)
*Hot Goss*
I've lost count of the days and weeks since life came to a slow and grinding halt. Time feels ever more elusive nowadays – there is only life before quarantine and life after quarantine. The days are all starting to blur into one, and I am beginning to forget what anything looks like beyond the immediate radius of my neighborhood.
But no matter how slowly I start losing grip on my sanity, I will NEVER, EVER be one of those people who believe that coronavirus is some government-created conspiracy to control us. Which apparently is a school of thought Woody Harrelson subscribes to. I mean, I really shouldn't be surprised considering he just projects that kooky conspiracist energy both in the roles he plays and just his general demeanor you know? But the actor has been posting 'rona conspiracy theories on his Instagram, including a theory going around that 5G mobile phone networks are causing the symptoms of coronavirus and that the virus doesn't actually exist. Of course, this post has now been taken down from his page but the Internet is forever, and I find it especially hilarious that the caption to the photo Woody posted was "My friend Camilla sent this to me today and though I haven't fully vetted it, I find it very interesting." Who wants to bet that "Camilla" doesn't actually exist? Me, I do.
One thing I have been doing in semi-isolation is reflecting on failed relationships ahaaa *hits the woah* -- and I'm not the only one doing so! Khloe Kardashian recently confirmed (in case this was something burgeoning in the deep recesses of your mind) that she hasn't been on a date since ending her relationship with basketball athlete Tristan Thompson in 2019. If you recall, Khloe and Tristan's relationship ended on an extremely rocky note, and in a new Keeping Up with the Kardashians teaser clip, Khloe hinted that she might "never date again." To which I say, same :)))) (click on the link plz the joke will pay off I promise)
And finally, Canadian Prime Minister Justin Trudeau is going viral for using the word 'moistly' in an interview where he was advocating for the wearing of masks when out and about. Look, I know we're all exhausted with D*nald Tr*mp's (I refuse to format his name in bold) impeachment saga but if there's anyone who deserves to be removed from office for any reason, this is definitely the one. IMPEACH!
Brought to you by the superb Latifah Azlan.
Today's news, raw:
Public Libraries' Novel Response to a Novel Virus, 3/31/20, The Atlantic
California Makes Major Bail Change To Slow the Spread of Coronavirus In Jails, 4/6/20, The Appeal
Finally, Some Privacy: After 10 Years, Giant Pandas Mate in Shuttered Zoo, 4/7/20, NY Times