April 9th
Issue 4.4
Good morning!
Welcome to Issue 4.4 of Digestable, your daily mouthful of real things happening in the world, minus alarmist pandemic news.
I'm all ears for your feedback, or if you're already a fan, share this email with your friends. If you're not yet on the list, click below to sign up.
Today's news, fermented:
This is a hard day. All the stuff that's usually going on is still going on—but today is the first day on which we wake up to the very real possibility that the one remaining Democratic candidate is not compelling or ambitious enough to save us from another four years under an orange fascist sponge.
Oh, Bernard.
I've had so many conversations with folks in my life about Bernie's second run for president. Folks I trust and agree with, generally, have opinions across the spectrum about him: from enthused to mistrustful to wary of his ability to work with others to blind devotion.
Bernie is polarizing, but there are so many things that, like his campaign, shouldn't be (climate change, universal health care, etc). A week ago I read the article below, which is entitled Reality has endorsed Bernie Sanders, which I believe is true. No candidate gave us so much ambition for the greater good, shed so much light on the darkest corners of capitalism that keep the majority of us scrambling, or answered the simple question of 'why do Americans deserve to have their basic needs met and live decent lives?' with 'because it's only right.'
Like all other human beings, especially those who operate within the tremendously corrupt American political system, Bernie is not perfect. I have heard that he is abrasive, crazy, uncooperative. I've got a hunch that some of this is internalized antisemitism and some of it is totally legitimate criticism. But yesterday, as in 2016, when there was no path forward for his campaign and a considerable risk on the opposing side, he stopped running.
I'd like to argue that either JB or HC could have done the same thing, if they had been instilled with Bernie's noble move to step out of the way of a candidate who could win the nomination. And lest we forget that HC failed to sufficiently invigorate 2016 voters, despite some claims we've all heard about how this was 'only' sexism, I worry the same about JB. One more note on nobleness: HC recently attacked Bernie, unprovoked, and amidst this crisis, JB has basically been invisible, whereas Bernie has been as vocal as ever.
(Time for the *one* HC joke I will allow myself. That the cover of her memoir tells all, because the question and answer are laid out right there: What Happened//Hillary Clinton. Gets me every time.)
I loved, I love, Bernie and the tremendous cast of elected officials, community organizers, and other human beings at his side because they did not ever apologize for holding and talking about and acting on their strong beliefs about what is right. The fact that a vast majority of younger voters, who will have to live through the worst of the climate catastrophe, are in suffocating debt, and subject to the whims of the gig economy, are excited about Bernie says a lot. I won't get too preachy here, but young people know what's up. I hope that when I am no longer young, I will have the presence of mind to offer my wisdom and then step back and listen to young people.
The good news is that Bernie is the beginning. In the words of Bill McKibben, "reality is real," so if reality continues to endorse candidates who have the good of the people front-of-mind, we're either going to be fine, or it will happen too late and we'll be totally screwed.
Anyway. Thanks, Bernie.
Some other good news is that scientists are using artificial intelligence to gather new data about whales, which is important because whales, like all other living things other than humans, are changing their behaviors in the face of climate change, and old data just isn't useful anymore.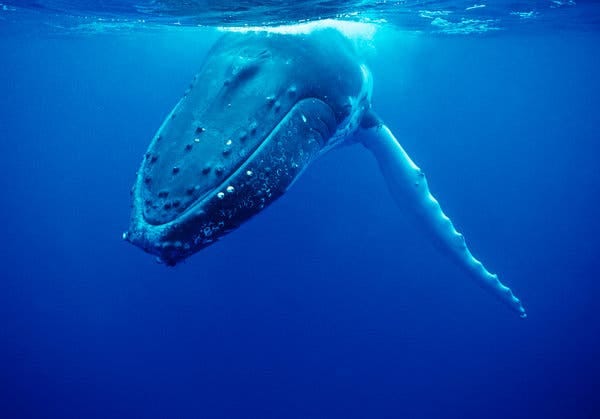 (image via)
*Hot Goss*
The coronavirus outbreak has exposed not only many of the systemic inequalities that exist in our societies, but also the hypocrisy and irony that exists in the international world order and global hierarchy. And I know it's no laughing matter because this is quite literally a matter of life and death, but I find it amusing to see the disparity in the handling of the pandemic in "rich" and "developed" "First World" countries like the United States compared to "developing" "Third World" countries like Malaysia. I won't get into the details here, but I'm sure many of you know what I mean when I say the U.S. federal administration's response to the pandemic has been, uh, disastrous to say the least.
But apparently Brielle Biermann disagrees. I literally do not know who this person is but judging from her Tweet handle (@BrielleZolciak), I am going to guess she is affiliated with the Real Housewives franchise? Anyway, Brielle decided to take it upon herself to be the voice of reason during this global crisis by defending the President of the United StatesD*nald Tr*mp from online bullies. That's right folks, some B/C-rate reality tv star affiliated with a reality show franchise FAMOUS for people bullying and belittling other people is defending another B/C-rate reality tv star who just so happens to be the biggest bully in the country as well as the leader of one of the biggest bullying nations on this planet. A whole ass bullying circle jerk if I do say so myself. Of course, Brielle prefaced her plea with "This is NOT political" which, just as it goes when someone prefaces a statement with "I'm not a racist but—," usually makes it the very thing it claims not to be. And as someone who is a citizen of a country that cyberbullied its Cabinet of Ministers into taking a pay cut during the pandemic, I think a little joshing around can go quite a long way right now, especially when the alleged bullying is literally folks pointing out the mismanagement of the federal government to take precautionary steps against protecting its citizens from a deadly disease, of which it received intelligence reports on since heckin' November of 2019. But what do I know? I'm just a wannabe gossip blogger on a daily newsletter that only my colleagues and perhaps three friends read :)))
I know time is meaningless right now but apparently so are words? Forbes magazine named Kylie Jenner its youngest self-made billionaire again. I mean, sure? I wish I had more to say about this but my readers are smart enough to see through the absurdity. 
Capping it off today with some ~*Hot Goss*~ Redux to answer Taylor and Dave's question on the budding romance between Ben Affleck and Ana de Armas: Is it real or is it a showmance?
I judge all Hollywood romances on a Sliding Showmance scale that has Camilla Cabello/Shaun Mendes on one end (OB VIOUSLY FAKE) and Sarah Michelle Gellar/Freddie Prinze Jr. (GOALS) on the other end, and I find Ben and Ana to be somewhere in the middle, leaning towards the SMG/FPJ end. They do genuinely seem to be smitten with each other in the pap photos that we've seen so far, and the PDA seems natural rather than forced. I also think Ben Affleck is a little old for a showmance, plus with kids and an ex-wife as notoriously proper as Jennifer Garner, I just don't see it happening. So with my PhD in Celebrity Gossip and my MPhil. in Body Language, I judge this romance as real!
Brought to you by the superb Latifah Azlan.
Today's news, raw:
Reality Has Endorsed Bernie Sanders, 3/30/20, The New Yorker
Bernie Sanders's campaign is over, but his legacy is winning, 4/8/20, Vox
AI is helping scientists understand an ocean's worth of data, 4/8/20, NY Times