August 10th
Issue 22.1
Good morning!
Welcome to Issue 22.2 of Digestable, your daily mouthful of real things happening in the world, minus alarmist pandemic news.
I'm all ears for your feedback, or if you're already a fan, share this email with your friends. If you're not yet on the list, click below to sign up.
Today's news, fermented:
Dear readers. I'm coming to you after a weekend COVID scare, one of the closer calls I've had. In these last few days, I've spent a lot of time thinking about how I make decisions, how the assorted layers of my privilege protect me from the reality of this pandemic, and the false/perceived immunity that can come alongside the experience of whiteness in America.
There's a lot to unpack there, but I won't. Gabriel and I spoke the other night and they told me that I'm not 'taking a day off' if I still write, in their words, "a whole ass post" on the days that folks contribute. So I'll leave you with this absurd image of late capitalism, in which a nudist chases a boar who stole his laptop.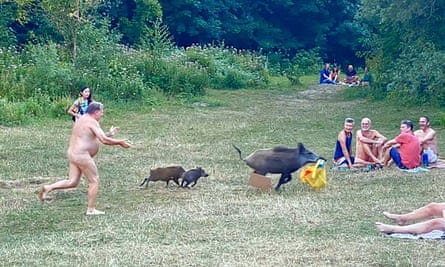 (via)
The Second Look
Half baked cultural criticism from Gabriel Coleman.
Last Tuesday, 2,750 tons of ammonium nitrate in a waterfront warehouse in Beirut exploded, killing over 160 people, injuring thousands more, and leaving 300,000 people without homes.  There's been some great reporting tying this explosion to previous ammonium nitrate explosions near Galveston and Waco, TX in 1947 and 2013, Tianjin in 2015, North Korea in 2004, and even the Oklahoma City bombing in 1995. In these stories, the explosions are normally blamed on mismanagement of the facility or malicious intentions and ammonium nitrate is characterized as a "harmless" and even benevolent fertilizer that only explodes when exposed to "intense stresses heat and pressure," but that's not quite the case.
Nitrogen makes up about 75% of our atmosphere and is a key nutrient that plants need to grow, but in a classic water water everywhere but not a drop to drink situation, plants can't absorb nitrogen from the atmosphere, they need to get it from the soil.  The story is often told that humans did all these weird and wacky things to help our plant friends out: humans poop out lots of nitrogen so farmers in Japan filled their veggie carts with poop from the city to take back to their farms, birds poop out lots of nitrogen so the U.S. government passed the lovely neocolonial Guano Islands Act to harvest guano from bird poop covered islands in the Pacific (and expand the nation's global military presence).  Then our hero, Fritz Haber came along and said "Stoppt den Blödsinn!" (he was German) "I figured out how to synthesize nitrogen from the atmosphere for our plant friends!"
Unfortunately, painting Haber like a Prometheus to plantkind is… just inaccurate.  The real reason he was doing this research in the first place was because it was WWII and Germany was cut off from purchasing saltpeter (potassium nitrate) from Chile to make bombs.  The short version of why explosions work is that the nitrate in ammonium and potassium nitrate is a molecule made up of one nitrogen atom and three oxygen atoms.  Fire needs oxygen to burn and those three concentrated oxygen atoms hanging out with the nitrogen can turn a small spark into a really big one. Bad boy Fritz learned how to synthesize nitrogen to make ammonium nitrate which allowed the Nazis to keep killing lots of people.  That's right, the initial purpose of Fritz Haber's Nobel Peace Prize winning invention was what? To blow big holes in cities for Nazis.
But it doesn't end there, because the Haber-Bosch process was used to manufacture fertilizer.  It was used to manufacture a LOT of fertilizer – so much fertilizer that 50% of the nitrogen in your body and the body of every human on Earth, was probably synthesized using the Haber-Bosch process.  A harbinger of spring familiar to anyone who has lived in rural anywhere is a pick-up truck hauling a tank of pressurized anhydrous ammonia gas ready to be sprayed on a farmer's fields. Literally it's so ubiquitous that one of the first images I found in my search was this toy version of the scene.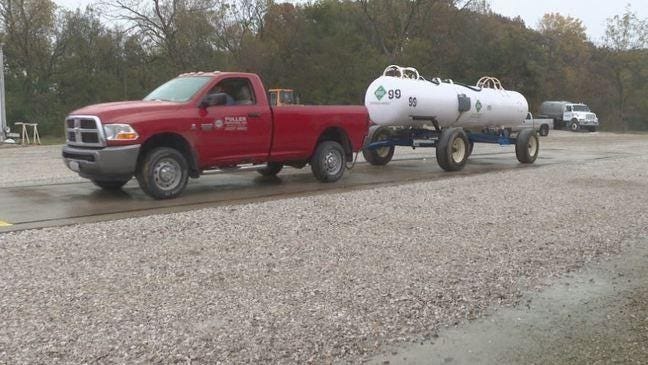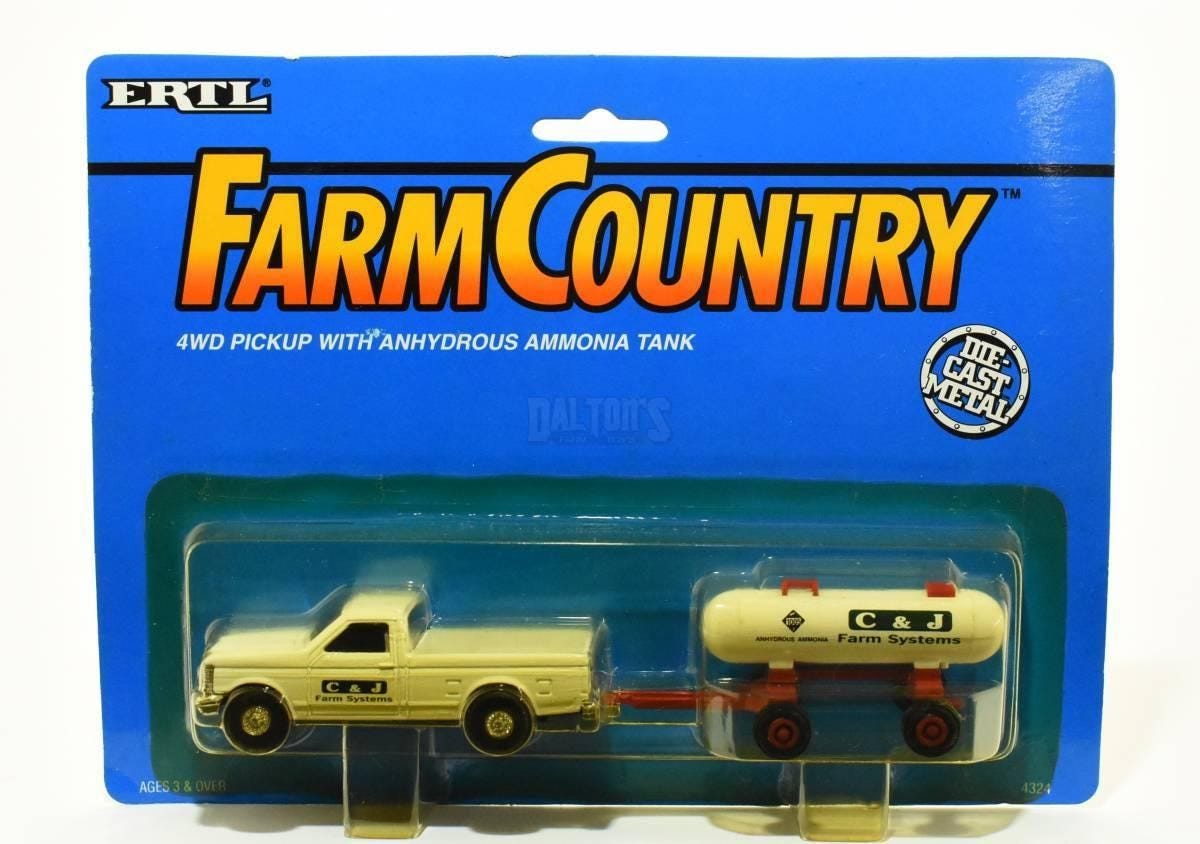 But the readiness and availability of nitrogen fertilizer coupled with pressure on farmers from the industrial agriculture system to produce higher yields leads to the sorry statistic that the average farmer uses twice the nitrogen fertilizer than their crops can actually use.  Suddenly, this nutrient which used to be a limiting factor for plant growth is so abundant that the plants don't know what to do with it so when it rains, all that excess nitrogen (and phosphorous which I haven't mentioned here but it plays a role too) runs off downstream into lakes and rivers.  When it gets there, algae gobble it up and multiply, often drastically changing the character of the body of water and choking out the other fish and plants that thrived in a lower nutrient environment.  A well-known instance of these aquatic explosions is the dead zone in the Gulf of Mexico, where excess nutrients from farms across the entire Mississippi watershed emptying into the Gulf regularly creates such a huge explosion of algae that these tiny plants use up all the oxygen in the water across an area that at times has been as large as the state of New Jersey.
The catastrophe in Beirut is a terrible atrocity but it is one of a string of explosions that together make up a much larger collective tragedy.  Industrial explosions of ammonium nitrate stretch back to midcentury, ammonium nitrate bombs have been dropped on cities since the second world war, and explosions of killing life occur annually and seasonally in our planet's lakes, rivers, and oceans.  The simple process of synthesizing nitrogen from the air using heat, pressure, and a metal catalyst has fundamentally changed so many things about our world and come at innumerable cost.  But maybe the way forward is just as simple, maybe it's smooth to the touch, maybe it's small enough to fit in the palm of your hand.
Stay tuned for next week!
*Hot Goss*
Brought to you by the superb Latifah Azlan.
Is it too early in the morning to ask if we're all showing up to Monday with #WAPs?
Cardi B and Megan Thee Stallion released their collaboration single and music video for "WAP" on Friday morning – and dare I say, it broke the Internet. If you haven't listened to the song or watched the video for it yet, you can click here (clean version; dirty here). It's NSFW! I know we're all sequestered away in our houses, but I figured it might still be a good flag to raise.
Guys, I am just going to come out and say it: I think I am too prudish for this song. WAP celebrates women's sexuality in the same brash and unapologetic way as songs like "Freak-a-Leek" or "Wait (The Whisper Song)" do. Those songs similarly make me feel very uncomfortable so I think it isn't just a matter of two women releasing something as explicit and raunchy as this song. I haven't sat with these feelings long enough to work them out though so I might have to circle back on why at some point in the future.
I do like the visuals in the video, especially the parts where Cardi B and Meg are dancing in against a neon purple and chartreuse backdrop, dressed in similarly colored outfits. The video also featured cameos from celebrities like Normani, Rosalia, Sukihana, and Kylie Jenner. The last of whom have caused some annoyance among the two rappers' fans. So much so that people are starting petitions to have her edited out completely!
To be honest, Kylie didn't really add much to the video. The other cameoed women at least danced a little bit, whilst Normani PERFORMED a full choreographed routine because, well, Normani. But Kylie's feature involved her walking sultrily down a hallway, opening a closed door, and entering a room only to never be seen again in the rest of the video. I guess Cardi and Meg included her in the video to strike up some chatter online and it worked, although Cardi did defend her decision on a couple of Twitter replies to fans. People aren't pleased but have also memed Kylie's cameo. That was actually how I was lured to watch the thing – from seeing people make fun of Kylie Jenner and asking for her to be replaced with Viola Davis instead.
What did you think of "WAP"? Have you been listening to it all weekend or, like me, have you just been enjoying the memes that have come out instead?