August 11th
Issue 22.2
Good morning!
Welcome to Issue 22.2 of Digestable, your daily mouthful of real things happening in the world, minus alarmist pandemic news.
I'm all ears for your feedback, or if you're already a fan, share this email with your friends. If you're not yet on the list, click below to sign up.
Today's news, fermented:
Hey folks, it's time for a transparent update. I spent half the time I usually spend writing just scrolling, and scrolling, and clicking, and reading, about all these other crises that have been bubbling and building through the last many pandemic months, and are now coming to a breaking point.
It kind of sheds some light, now that we've spent a while talking about global crises in an increasingly nonchalant way. What about the global crises of non- or anti-democratic rule? Of fossil capitalism? Of uncompensated labor, of displacement, of ecosystem ruin? Will this era of talking about one global crisis, will we finally have language to talk about, and confront, global crises?
Here's a short list of catastrophes that, while they all happened far away from each other, I think are things that could…really happen anywhere.
Protests have erupted in Belarus in response to what was likely a rigged election. Police met protestors with rubber bullets, tear gas, and Molotov cocktails, supposedly because they were cracking down on 'illegal rallies' rather than defending the 26-year rule of Alexander Lukashenko, who has mismanaged the ongoing pandemic, among other things. Svetlana Tikhanouskaya, the main opposition candidate, fled the country for her safety.
A Japanese oil tanker has run aground off the coast of Mauritius, an island nation in the Indian Ocean off the east coast of the African continent. There are so many things wrong with this picture: namely, an ecosystem, a country, and a group of people will suffer the worst impacts of this crisis, while whatever CEO profits off of that oil tanker company will probably just lose a few hours of sleep in a fancy apartment on the other side of the planet.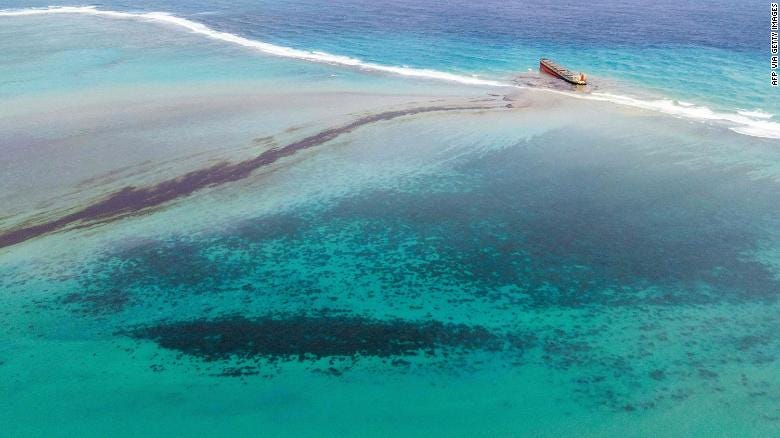 (via)
I've seen some relief funds circulating; I am skeptical of why the company that owns the oil tanker isn't paying for…everything. And what about the fossil fuel corporation that extracted that oil? Is it just magically off the hook? (If I can find any answers, I'll be sure to report back.)
In Lebanon, the government has resigned in the wake of fatal explosions in Beirut. This quote stopped me in my tracks: "The developments follow a weekend of angry, violent anti-establishment protests in which 728 people were wounded and one police officer killed amid a heavy crackdown by security forces." It's hard to know who was violent in a sentence/phenomenon like that, but the fact that over 700 people were injured in protests against a government that had allowed an explosion to happen that also killed hundreds is staggering at the very least. The degree of carnage those in power, evading liability, will allow.
Oh, and ICE is testing children they have kidnapped for coronavirus, establishing they are negative, and then deporting them to their countries of origin, citing a desire to "prevent the introduction" of the virus to the US. This is not only factually miles off the mark but also racist—and deportations have spread the virus from the US to other countries.
Yikes. I can't turn it around from there, so I'll just leave you with this disappointed-looking manatee, one of many friends who live in the Indian Ocean.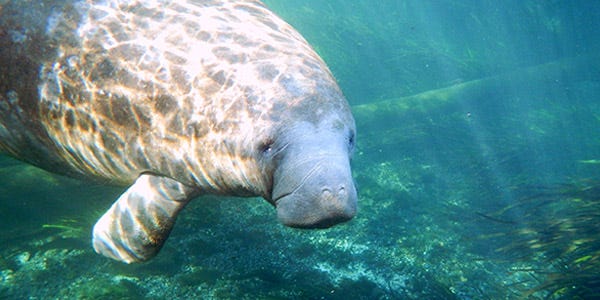 (via)
*Hot Goss*
Brought to you by the superb Latifah Azlan.
In 2019, scandal broke out when it was reported that several top American universities had been accepting bribes of various natures from extremely wealthy parents who were trying to get their children admitted as undergraduates. Operation Varsity Blues, as it was nicknamed, made national headlines in the United States, and garnered even more attention when it was revealed that several high-profile celebrities had been implicated in these crimes.
Two of those celebrities, Lori Loughlin and her husband Mossimo Giannulli, have been waiting for their sentencing hearing for some time now. These poor bubs have not had an easy go since the scandal broke. Lori in particular has been dragged for filth for attempting to weasel her way out of her crimes. She played the "good Christian" card, had her PR people plant stories in industry rags to try and paint her as an unwitting victim, and tried to argue that their $500K bribery was a legit donation to the school (University of Southern California). They turned down a plea deal that had been initially offered last spring to go to trial and decided to go to trial instead, only to regret that decision after pleading guilty to criminal conspiracy charges.
And now, they're waiting for their sentences to be approved. Lori and Mossimo have had to 'downgrade' their lives in the meantime. The couple resigned from their country club – voluntarily, of course, because they are martyrs to the cause. They also had to sell their Bel Air mansion earlier this year, and are now residing in a smaller mini-mansion worth $9.5 million instead of the $18 million that their previous home ran for. My heart is absolutely breaking.
Both Lori and Mossimo are expected to serve jail time, although it will be probably be as little as two months per their plea agreement at the end of their trial. I am sure both people are well prepared for this brief chapter of their lives, given the "prison consultant" they hired earlier this year in hopes of "better understanding the experience." Honestly, they probably could have just called this man, Douglas Hodge, who is the former CEO of an investment firm and another Richie Rich involved in paying more than $850K in bribes so that his bonehead kids can get into good universities. Douglas has submitted a bid for compassionate release, arguing that being locked up during a pandemic is "torture under United Nations guidelines" and wants to serve the remainder of his 9-month sentence at home.
We have to laugh, folks. Because if we don't, we'll cry.