August 13th
Issue 22.4
Good morning!
Welcome to Issue 22.4 of Digestable, your daily mouthful of real things happening in the world, minus alarmist pandemic news.
I'm all ears for your feedback, or if you're already a fan, share this email with your friends. If you're not yet on the list, click below to sign up.
Got questions?
Caro's got answers. Send queries about your family drama, personal struggles, or workplace weirdness to carosadvicecorner@gmail.com to see your questions addressed in her Friday column. Send by noon today to get an answer tomorrow, or anytime for next week.
Today's news, fermented:
On this fine Thursday we will be taking a short break from our regularly scheduled programming to talk about two things that interest me the least: sexism and vanity.
Excited?
It feels important to follow up on what's afoot in Belarus, especially after that big ol downer of a post I sent on Monday. In the wake of the failed elections, women have gathered in massive numbers, all wearing white, to protest both the disastrous electoral process as well as recent police brutality. While protesting, they have formed human chains by linking arms, demanding that detained protestors be freed.
Only in this article did I see an explanation from Lukashenko, the 26-year leader of Belarus, about why Svetlana Tikhanovskaya was not equipped to challenge him.
"Our constitution is not for women. Our society has not matured enough to vote for a woman. This is because by constitution the president handles a lot of power."
Ok, nasty old homie, seems like you yourself are recognizing that your society hasn't matured sufficiently, possibly as a result of your suffocating rule for the last quarter-century? As an American, I've experienced and witnessed a ton of sexism, but it is often more veiled than this (we like to hide our prejudices here and call them 'freedom,' do we not?). I actually laughed aloud when I read that because it seemed so obscenely un-grounded in any sort of fact. It's just a sexist old man spouting nonsense.
It seems that perhaps sexism is preventing the 'maturation' of Belarus. Without knowing nearly enough to speak with authority on a country from which some of my ancestors may have come, I can see from here that they have an issue with authoritarianism and abuse of the police state. Us too! Wild how that happens.
One really has no choice but to look at what's behind both of those things: it's the desire and capacity to control people based on their identities. It's sexism; it's political leanings; in the US and elsewhere it's race, ethnicity, immigration status. And friends, we've been through this before: there can be no effective social control without being able to categorize people.
Which brings us to our next item: AB2676. It's a bill introduced in the California State Assembly, and it would prevent children's stores from separating clothes and toys based on sex/gender. (I abbreviate the two because mainstream American conception of gender in children is aligned with sex, which is aligned with a false binary.) There's an article out today entitled "When children's stores reopen, let's leave boys' and girls' sections behind." It gives a brief history of how American childhood got so gender-segregated, and the psychological damage this does to children, who eventually become adults, and might hold power or political office, et cetera.
Apparently, American babies used to wear white and have long hair, then wear assorted dresses and have long hair until they started going to school (at around 6). Starting in the 1920s and onward, toys and clothes became gendered. The articulation of pink as a 'girl color' was solidified by Mamie Eisenhower's affinity for it after a long battle about if pink was closer to red (a boy color) and blue was affiliated with the Virgin Mary (yikes). The article discusses the absurdity of that battle:
"But there is nothing natural about these childhood gender divisions, nor are they good for kids, even if they are good for retailers' and manufacturers' bottom lines…Gendering kids' toys and clothes limits their growth and development in all kinds of ways, and creates an environment where kids shame and police each other for reaching across that divide…

But they should reach across that divide. Girls' toys tend to foster nurturing and communication; boys' tend to promote spatial skills and leadership. We want our children to develop all those skills, but gendering them makes them harder to access and develop. None of those things needs to belong to one kind of kid."
And then, once we've only developed one set of those skills (or not even that!), we get people who end up in positions of political leadership, causing immeasurable harm.
A prime example: Tr*** has decided the water pressure in his bathroom is insufficient to keep his hair, as he says, "perfect." Lacking communication skills, and possessing vanity in excess (a 'girl' trait!) he is now threatening to change laws about water flow, rather than, um, getting a plumber in the White House.
Here's a chameleon, who obviously doesn't give any sort of shit about gendered colors or activites. I mean, just look at that face.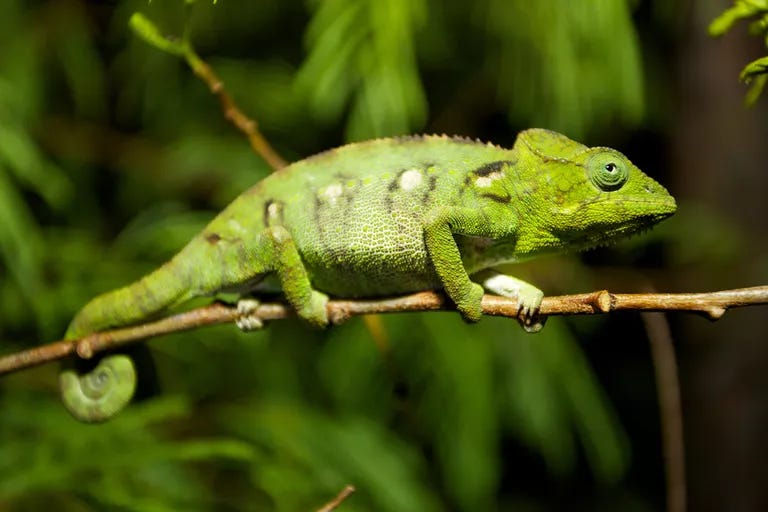 (via)
*Hot Goss*
Back on Monday from the superb Latifah Azlan.