August 14th
Issue 22.5
Good morning!
Welcome to Issue 22.5 of Digestable, your daily mouthful of real things happening in the world, minus alarmist pandemic news.
I'm all ears for your feedback, or if you're already a fan, share this email with your friends. If you're not yet on the list, click below to sign up.
Today's news, fermented:
Earthlings! It's Friday, thank gravity.
I woke up this morning, read all the trash news about catastrophes everywhere, deeply considered writing a satirical response to this article, then spent an hour talking to my therapist how I think I need to smash stuff more often. Instead of doing so, I retweeted this tweet and took some deep breaths.
Here's a hyena, whose sense of humor I will try to emulate in the wind-down of this week. Be safe out there, y'all.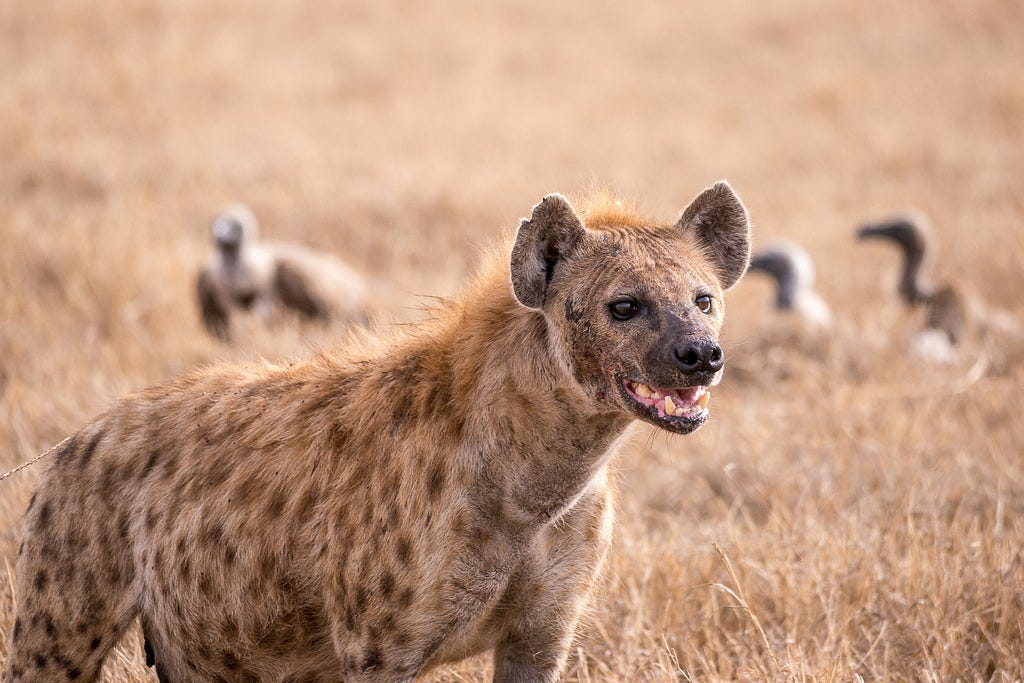 (via)
Caro's Advice Corner
Dear Caro,
A couple of months into quarantine, I told myself I needed to start reading more.  I usually like to stick to my genres (historical fiction, beach reads, etc.), but I want to venture out and read something out of my comfort zone, any recommendations?
Thank you!
Hungry to Read

Dear Hungry to Read,
You are speaking to my soul. Quarantine has given me so much more time to dig into my reading list. It has not only helped transport me to faraway worlds, lands, sometimes even dimensions, but it has overall helped me relax and unwind during my transitions on and off of working from home.  Books, Hungry to Read, are my love language.  A good book has the power to shift your perspectives in ways you would never have thought possible, a good book literally lazer beams you into a different reality (and god is that thrilling).  So in that spirit, I have three book recommendations:
Kafka on the Shore by Haruki Murakami

Now if you've never read a Murakami novel, boy are you in for a ride.  Considered of the magical realism genre, in this novel Murukami transports you into the life of a 15 year old runaway, Kafka Tamura, and that of Nakata, an old man with the ability to talk to cats.  This novel has quite literally been described as metaphysical by others that have read it, and let me tell you, I could NOT put this book down.  Get ready for a beautiful, mysterious ride through Japanese mythology, a world where fish rain down from the sky, and where souls can be stolen.  I think you'll like this one, and I hope you won't be able to put it down either.

Fruit of the Drunken Tree by Ingrid Rojas Contreras

Phew, this is a very personal recommendation.  I flew through this book, and was moved every step of the way.  This is the author, Ingrid Rojas Contreras', own personal story in novel form.  She is from Bogota, Colombia, my home country (although not my home city, that would be Medellin).  Colombia has been experiencing a deeply devastating civil war since a loooong time before I was born.  It is a dark part of our history and unfortunately our present as well.  This is the story of a young Ingrid and her experience living in Bogota during the height of the war.  It is a story about the tough choices women have to make in the face of impossible situations.  I had the pleasure of sharing this book with a couple of my colleagues, and we were all left moved by the experience.  I hope you are moved by it as well.

An Indigenous People's History of the United States by Roxanne Dunbar-Ortiz

Now, I wasn't going to let you off the hook Hungry to Read.  I had to add a non-fiction pick in here.  This book has been at the top of my list for a long time now.  It is our personal and collective responsibility to unlearn what the U.S. education system has taught us about indigenous history.  Facing the truth about this country's settler-colonialist past is a step towards understanding the deep systemic racism that has thrived in this country for centuries.  This book was truly a paradigm shift, and a must read for all.  
I hope you find these picks helpful, Hungry to Read. Getting out of your literary comfort zone is a recipe for adventure. Happy reading!
Caro
DJ M0RO's low-key Music Show
It's been a week of fresh circumstances for me, transitioning to living in a new city, a new house, and working a new job. You know when everything is changing, and you have to spend so much energy just doing the basic things? Before all the steps are habits—even just finding the patterns of my footfalls down the spiral staircase from my now-bedroom into the kitchen, where I don't know where the dishes are kept. So it's only fitting that I've been filling my ears with new music to sooth my tired body and brain which has been working overtime just to make a cup of tea. 
For simplicity's sake (okay okay cuz I'm tired), I'm only going to write about one album that stands out to me, because sometimes ya just gotta focus on one thing (if you think this is radical I AGREE). That album is aloha from Son Little, on which aka Aaron Earl Livingston plays nearly every instrument himself. In his lyrics we find mourning, hear patience, and celebrate joy. On the process of writing and recording the album in eight days flat, Livingston says "letting go can be a scary prospect. But there's beauty in it, too. Everything you leave behind opens up space for something new in your life." Amen. Boy howdy did I need that musical wisdom this week.
Stay for the music video to never give up and re-listen over and over to third eye weeping and hey rose. This album honestly just brought me to all the places with all the feelings I needed during trips back and forth carrying heavy boxes, figuring out where home is (spoiler alert it's my body) and learning new things about myself. Thanks to friend of Digestable and my forever fam Cam, the one connection that made me feel able to move to this wonderful new place and not lose sight of my past, for recommending these timely grooves.
*Hot Goss*
Back on Monday from the superb Latifah Azlan.