August 17th
Issue 23.1
Good morning!
Welcome to Issue 23.1 of Digestable, your daily mouthful of real things happening in the world, minus alarmist pandemic news.
I'm all ears for your feedback, or if you're already a fan, share this email with your friends. If you're not yet on the list, click below to sign up.
Today's news, fermented:
Morning friends.
Coming to you today from the great green state of Vermont. It's 2020, which means I got to experience the singular joy of driving down an idyllic road lined with farms and the occasional Tr*** 2020 sign while blasting Cardi B and Megan Thee Stallion's WAP with the windows down. What a time to be alive.
I've got a little bit WAP-meets-the-left content for you, then handing over to our Monday contributors.
The first: in a social media exchange, Alexandria Ocasio-Cortez quoted Cardi B's 2017 hit Bodak Yellow. Cardi B came back with a tweet: "She better run for president when she turns 35." AOC then responded with a new definition of WAP: Women Against Patriarchy 2020.
(Thanks to Ben for not only facilitating aforementioned pastoral drive but also pointing me in the direction of that powerhouse exchange.)
The second: Emily Atkin, author of Heated, a daily/weekly email newsletter on the climate crisis, published a piece today entitled The WAP we need. It's about the Weatherization Assistance Program, which "provides grants for energy efficiency upgrades, allowing low-income households to significantly lower their electric, heat and water bills." It's a common-sense climate program that Emily begins her explanation of with the heading "There's some holes in this house," a nice adjacent take on "there's some hoes in this house," the background refrain of WAP.
A few tigers are featured in the WAP video (per my analysis, in place of men). The internet is drowning in controversy about this video and everything it represents, as well as the use of big cats. Angry PETA discourse is one realm in which I refuse to step here, so if you're curious, that drama is easy enough to dig up on your own. In the meantime, here's a tiger.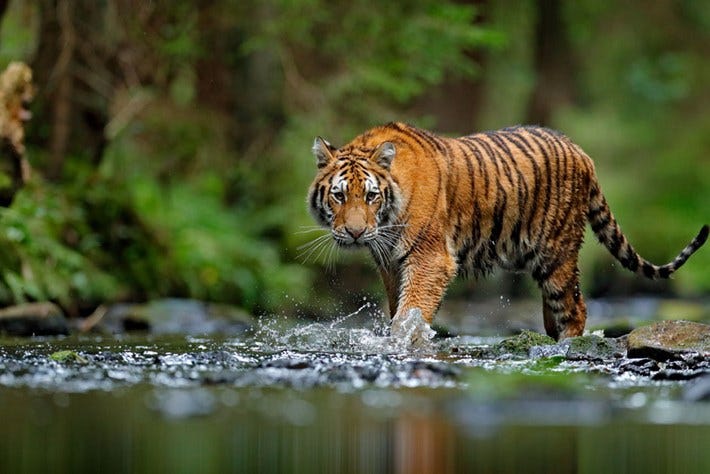 (via)
The Second Look
Half-baked cultural criticism, this week from Katie Maxwell!
I've been preoccupied these last few days with packing up my entire life to move across the ocean, so this week's batch of cultural criticism comes courtesy of my very good friend Katie Maxwell.  I know I teased part two "The Nitrogen Cycle" last week, don't worry I'll have it on your plate, half baked as always, next Monday!        
— Gabriel
When I was five months old in July, 25 years ago, Mom, Dad, Bonnie (the dog), and I moved into the living room of our Oak Park, IL home, because it was the only place in the house that had air conditioning. It was a window unit I used to stand in front of on the couch when I got a little older to hear how the air pressure changed my voice. 😁
That window unit kept us cool during the historic seven-day Chicago Heat Wave that started on July 13th and ended with 739 mostly poor, elderly, and Black Chicagoans dead. But I didn't know when I was growing up that the people who lived close by were afraid to open their windows for relief from the heat because they didn't know if a stray bullet would enter their homes. I didn't know the city morgue was so overwhelmed they used refrigerated trucks to store bodies. These were facts I learned from an award-winning documentary, Cooked: Survival by Zip Code. The story I had been told was about how my family and I were all miserable in the heat.
Thinking back makes me wonder what kind of stories will be told about this particular moment. Will kids talk mainly about how their schooling moved online and the discomfort and boredom they experienced as a result of us not being able to leave our homes? Or will conversations go deeper than that? Will kids and their parents discuss George Floyd's murder, and how #covid19 #climatechange and #racism are all interconnected? Will stories explore the resiliency and the community organizing that leave me hopeful at the end of each day?
Learning about the history of that week through Cooked in recent months since One Earth Film Fest 2020 has been a powerful part of my own relearning process. More broadly, I feel outrage that we haven't moved the needle far enough toward justice in the past 25 years. Did you know the federal government doesn't provide air conditioning in public housing?! This is an untenable reality in a world where heat extremes continue to threaten the most vulnerable folx who are also at greatest risk of contracting COVID19. 
But when I read reports like this one from Media Matters For America that shows how vastly disconnected broadcast media is from people's lived experiences, it all starts to make sense. "Unfortunately, major broadcast TV networks are overwhelmingly failing to report on the links between the climate crisis, extreme weather, and environmental justice," the authors summarized. It's not just that the fossil fuel industry has manipulated the story in their favor for the last several decades, but that the media has bought into their lies. 
Bill McKibben called out this problem on ecoAmerica's Climate Leadership Summit just this past Thursday saying, we have to fit 30 years of work into one decade.
We have a daunting task ahead of us. But we will only succeed by orienting toward justice: to advance the needs of BIPOC communities and to leverage our networks for the next generation.
My hope is that we can use our stories to dig deeper into all that terrifying complexity. I commit to keeping my eyes, my ears, and especially my heart open and accountable to the way racism shapes me, my communities, and the world.
*Hot Goss*
Brought to you by the superb Latifah Azlan.
I was away for a few days at the tail end of last week, detached from devices other than a Kindle, and feeling very relaxed in nature. So what better way to undo all that rest than to write about the Kardashians on a Monday morning?
A lot of attention has been paid to Kim's ongoing family crisis with the unravelling of Kanye West. I'm not here to talk about that. I'm here to talk about the fact that Khloe is now back with her serial cheating former beau and father of her daughter, basketball star Tristan Thompson, which can only mean endless drama in the weeks to come. This story flew under the radar for me, as it was reported in early August that Khloe and Tristan are now back together after having been broken up and ensnared in drama for like, the last 2 years.
Recap incoming: In April 2018, Khloe gave birth to their daughter, True Thompson, under a cloud of soap opera drama, after Tristan had been outed as a serial – serial like the podcast, girl – cheater during her pregnancy. Khloe stayed with him and tried to make it work for a little bit, but the relationship was very on and off due to Tristian's inability to just not cheat. And then of course, the infamous falling out with/shunning of close family friend Jordyn Woods happened because Tristan had apparently kissed Jordyn (who was Kylie Jenner's best friend) at a party both were attending at some point. The drama from this development was so high that even the Pinkett-Smiths got involved at some point, with Jordyn making an appearance on 'Red Table Talk'.
But alas, Khloe and Tristan do have a daughter together after all, and apparently they've also been in "lockdown" together for months. So was it inevitable that they would reconcile? No, it wasn't, but Khloe has always been desperate for this man so it's not entirely surprising. And now they want to buy a house together. It's just such a bad idea. Tristan apparently wants to prove to Khloe that he's changed and sources told People magazine that it was his travel schedule that used to "mess up their relationship." I mean, yes, that's not entirely wrong if we use 'travel schedule' as cover for his infidelities! Which, I suppose, was enabled by that travel schedule. So it really does not bode well to me that it took a literal pandemic that has halted most traveling for Tristan to get his schedule together and not step out on Khloe anymore.
Anyway, it's going to be a mess and we all know it. And you can bet that I'll be following up with that ~*Hot Goss*~ in several months when the cycle inevitably repeats itself.