August 19th
Issue 23.3
Good morning!
Welcome to Issue 23.3 of Digestable, your daily mouthful of real things happening in the world, minus alarmist pandemic news.
I'm all ears for your feedback, or if you're already a fan, share this email with your friends. If you're not yet on the list, click below to sign up.
Send your questions
to carosadvicecorner@gmail.com by noon tomorrow to get some answers in Friday's issue!
Today's news, fermented:
I haven't been paying attention to the DNC. It's not because I don't think what happens there will impact Americans, struggles for justice, or our questionable survival of the climate apocalypse.
Rather, the DNC seems just another perpetuation of the closed-minded liberalism that funds a program but doesn't run it; that makes a statement but doesn't back it up with evidence; that has produced a nation-state that claims to be founded on democratic ideals, but leaves most of its demos, its people, behind.
This morning, I read three very different articles that seem to bolster this hunch I have about American centrism.
The first, Why These Sexual Assault Survivors Support Defunding The Police, discusses how the police state generally just further traumatizes and abandons survivors of sexual violence. Black women and non-binary people are 'hyper-vulnerable' to sexual assault, but much less likely to be believed by the police than white women, leaving exactly the people who need extra support behind.
The second, Louisiana's Covid test proposal would exclude 'thousands' from mail-in voting, explains that per a proposal by Louisiana secretary of state Kyle Ardoin, residents would have to get a positive COVID test in order to vote absentee.
This would keep thousands of voters from eligibility, and comes as testing lags across the state. Interestingly, Ardoin cited the 'majority Republican legislature' as the reason why he made this proposal—he wanted to get it passed 'pragmatically.' Why's that Kyle, because you know that if you appease Republicans, centrist Democrats will roll over and play dead, the way they have been across the country for the last four years?
The third was, We may have just seen the world's highest recorded temperature ever. Has that sunk in?. Basically, it's really freaking hot in Death Valley, and that should be alarming, in spite of its name. Greta is pissed; we're still in a global state of climate denial.
While yes, this is global, lack of inaction on climate has so much to do with the US's active sabotaging of international climate policy since it came to be, way back in the 1990s when we still had a fighting chance of not completely screwing this up.
To tie up this thought about centrism, and failure to believe and support and fight for people who make up this nation, I'll just say this. We need a real democracy, not just a Democrat-cy.
One really great thing did happen, though: The UK reportedly will not be allowing oil and gas corporations to sponsor the global climate talks have been moved to 2021 from this November. This is a *big* deal—and is the result of years of people-powered organizing around the world. These talks have long been derailed and bankrolled by the fossil fuel industry they were supposed to regulate; now, we've got our fighting chance back to actually take international action on climate.
Like our chance, this lil elephant shrew was lost for 50 years, and has now been re-found.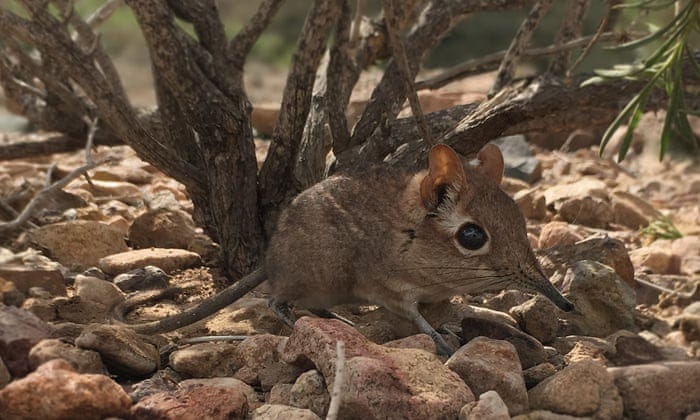 (via)
*Hot Goss*
Back tomorrow from the superb Latifah Azlan.