August 27th
Issue 24.4
Good morning!
Welcome to Issue 24.4 of Digestable, your daily mouthful of real things happening in the world, minus alarmist pandemic news.
I'm all ears for your feedback, or if you're already a fan, share this email with your friends. If you're not yet on the list, click below to sign up.
If you've got questions,
And really, who doesn't have questions these days—send them over to carosadvicecorner@gmail.com by noon today to see your answers in Friday's issue.
Today's news, fermented:
Reading the news this morning—part police terror, part climate chaos, part political disaster—one line from Mariame Kaba's recent opinion piece jumped out at me.
"History is instructive, not because it offers us a blueprint for how to act in the present but because it can help us ask better questions for the future."
This is not what America does. We keep trying the same thing over and over again, and it doesn't work. I remember learning that America is always fighting the last war—whenever this country has lost or done poorly in armed conflict, the strategy has been to meet the next conflict with the same stuff as last time, just more.
Remember when someone tried to bomb a plane with a liquid, and then there were no more liquids allowed on any planes ever? I mention this because it seems emblematic of the generally non-strategic choices that get made here.
Acutely, we're seeing this same strategy in all three realms of today's news. The Republican Party doesn't have a new platform for 2020, which I'd argue is the year most deserving of a new platform…maybe ever.
Mariame Kaba's piece, referenced above, is entitled "Yes, We Mean Literally Abolish the Police." She talks about how brutalizing Black people has been a key facet of being a cop throughout the entire history of American policing. The subtitle of the article is "Because reform won't happen." Kaba discusses how efforts at reform haven't reduced the number of police, which renders reforms useless. This is namely because,
"The only way to diminish police violence is to reduce contact between the public and the police."
Read it again.
Later in the piece, she says,
"Why on earth would we think the same reforms would work now? We need to change our demands. The surest way of reducing police violence is to reduce the power of the police, by cutting budgets and the number of officers.

But don't get me wrong. We are not abandoning our communities to violence. We don't want to just close police departments. We want to make them obsolete."
Then, she goes into all the things we could fund with that money. As you know if you've been reading for a while, this is one of the biggest sticking points for me. Someone I love really, really needs access to all those services, and without them, she is subject to all sorts of violence and neglect under the carceral state. All she needs to thrive is what anyone needs to thrive—which happens to align beautifully with that set of services we could fund in place of police.
If we turn our attention to the climate crisis, and to that nonsense line that everyone from the right to the middle-left spews about how 'addressing the climate crisis is expensive,' we can see this failure to shift our strategy at work again.
Continuing to rely on fossil fuels, the few jobs that industry provides, and the architecture of extractive, destructive, capitalism that enables the industry, is also expensive. Look at the headlines of any newspaper and you'll see the high numbers of people evacuated, expectations of property and infrastructure loss, and record statistics accompanying incoming Hurricane Laura.
Not doing anything is expensive too. And the true cost of the climate crisis, like the epidemic that is the slow and fast violence of white supremacy—is something that cannot be fixed with money. It is the loss of life, and the loss of home.
Last Man Standing, an article about the film Mossville: When Great Trees Fall, investigates the history and present of a small Louisiana town where everyone, except for one last man, has been displaced by environmental racism. I haven't seen the film yet, but this is clearly a story about how systems might but sometimes can't pull you away from the place that is your home, even when your life is in danger.
This is on my mind as Hurricane Laura bursts onto land in the Gulf Coast. As storm surges penetrate up to 30 miles inland. As hundreds of thousands of people are forced to evacuate.
So, will we change the strategy?
Here are some elephant seals, who know a lot about true costs.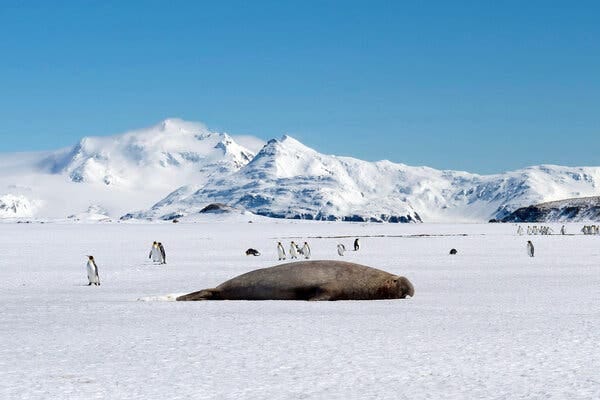 (via)
*Hot Goss*
Brought to you by the superb Latifah Azlan.
Katy Perry's 22-month pregnancy has finally come to an end!
The singer and her husband, actor Orlando Bloom welcomed their daughter, Daisy Dove Bloom, on Wednesday after what felt like the longest celebrity pregnancy on earth, ever. Oddly enough, the announcement was made by UNICEF. The UN agency posted this photo with what was originally an exceptionally long caption of congratulations, imploring folks to give to the organization. That caption appears to have now been scrubbed.
Regardless, Katy and Orlando – both UNICEF Goodwill Ambassadors themselves – each reposted the announcement on to their own Instagram profiles, so I suppose they had approved this beforehand. I guess UNICEF celebrity birth announcements are the new People magazine exclusives! Which is quite an evolution, in my opinion. I don't hate it.
As for the name, I expected Katy Perry's first daughter to have a name far more whimsical than Daisy Dove. I'm actually surprised at how restrained the name sounds. It's a cute name for a Sim or a child, and by all measures will not bring too much grief in the schoolyard when the time comes. I approve it!
Here's someone else I forgot was pregnant: Gigi Hadid! The supermodel posted photos from a maternity photoshoot she did and I gotta say, bitch is gorgeous. I think her due date is coming up in a couple of weeks and I truly feel like this baby will change the world. She is going to step on all our necks with the genes and riches she will be born with, but we will submit because this baby will show us the way. I'm also taking bets on what we think this baby will be named. I am guessing something that pays homage to Gigi and her baby daddy Zayn Malik's shared Muslim heritage whilst still sounding chic and unattainable. Something like Gemma Iman "Mish Mish" Malik perhaps? I'll accept my winnings by Venmo, thank you very much.