August 28th
Issue 24.5
Good morning!
Welcome to Issue 24.5 of Digestable, your daily mouthful of real things happening in the world, minus alarmist pandemic news.
I'm all ears for your feedback, or if you're already a fan, share this email with your friends. If you're not yet on the list, click below to sign up.
Today's news, fermented:
I dreamed last night that I wrote this. So much for linear time.
Today is the long-anticipated Black National Convention. It's not too late to register; tune in tonight from 7pm - 10pm ET.
All week, I've been holding onto probably the most intense and beautiful weekend reading recommendation. It's a special issue of Vanity Fair entitled The Great Fire.
It is guest-edited by Ta-Nehisi Coates, and includes contributions from Black creators and thinkers across many realms. Here's the opening blurb:
"Whiteness thrives in darkness. It has to. It is fully permissible for a thousand Eric Garners to be TORTURED TO DEATH IN THE SHADOWS of the American carceral system, the most sprawling gulag known to man. And so evil does its business in the shadows, ever-fearing, not the heat of THE GREAT FIRE but the light. To clearly see what this country has done, what it is still doing, to construct itself is too much for any human to take. So it was with the slave narrative. So it is with the cell phone."
The virtual cover is this stunning portrait of Breonna Taylor, as painted by Amy Sherald.
Keep loving, keep fighting.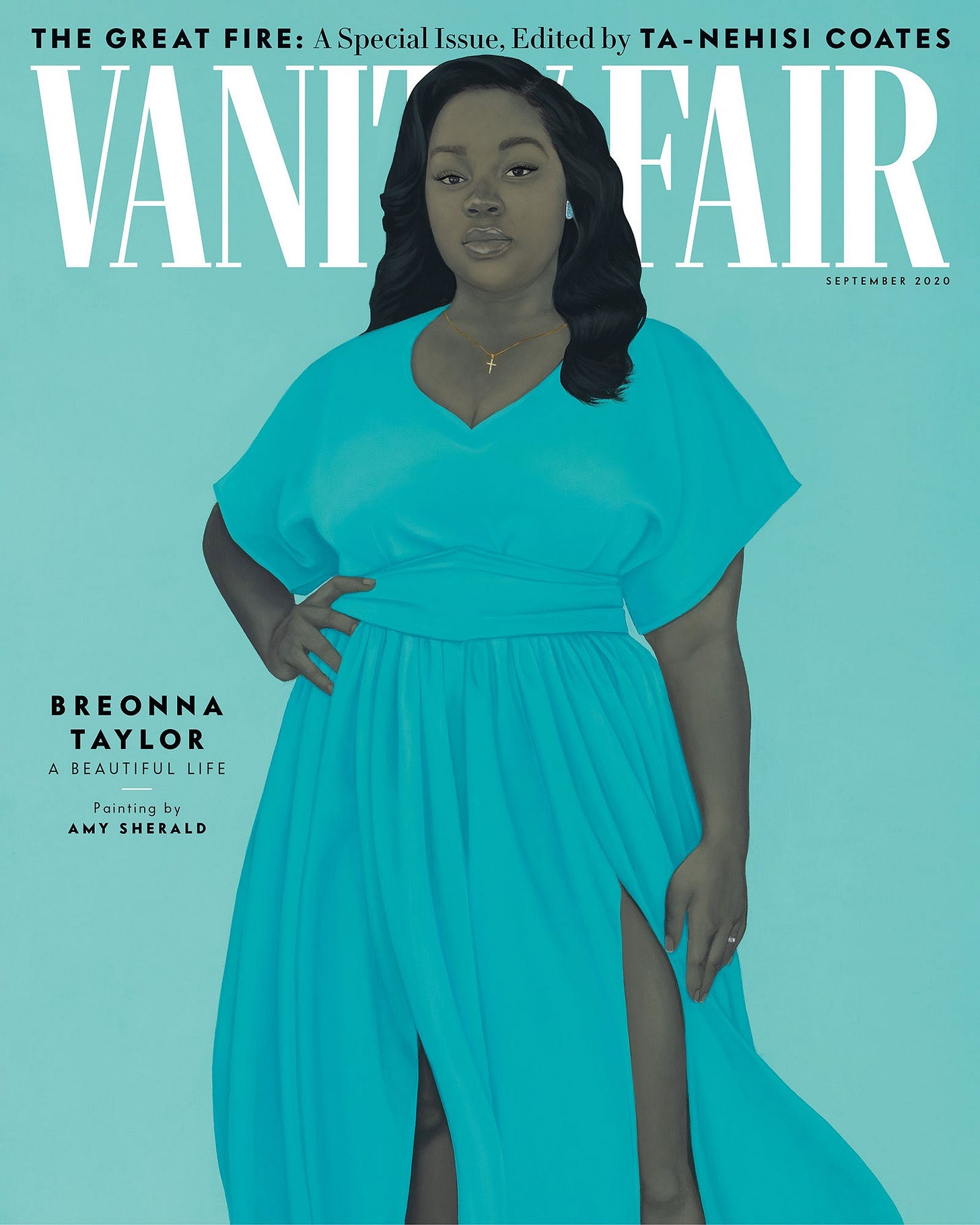 Caro's Advice Corner
Dear Caro,
I have felt really fidgety lately. I am having a really hard time relaxing and have just been restless overall the past couple of weeks. Everything feels so overwhelming right now, how can I relax!?
Yours,
Young and restless
Dear Young and restless,
The world feels like it's imploding on itself, doesn't it?  It can feel like every morning we wake up to something new, to something terrible.  This week it was the police shooting of Jacob Blake in front of his children, the murderous rampage by a 17 year old against BLM protesters (honestly don't even want to say his name and give a murderer more publicity than he already has). 
This world is hard, living is hard.  Systemic racism truly is the longest running, and most harmful pandemic this world has seen.  Processing the news is important, and nowadays more necessary than ever.  As a Non-Black Latinx person in this world, I know that it is my responsibility to continue to educate myself and take action.  But Young and restless, burnout is very real.  I always like to say this to my colleagues and friends, if you can't show up for yourself, you make it harder to show up for the movement. 
So here are some of my top tips for taking care of yourself, for showing up for yourself, so you can show up for the world around you:  
Meditate!!!! I know, I know, this is one of those cliche pieces of advice, but do not underestimate the power of quieting your thoughts.  Now, I know it's not as simple as sitting down, shutting your eyes, and expecting your body to just relax on cue. That is nearly impossible, unless you are very well practiced in meditation.  I suggest starting with a guided meditation, and meditating for shorter periods of time.  My favorite free meditation app is InsightTimer.  There are a TON of free meditations, so many targeting specific goals, such as stress reduction, and getting better sleep.  Another one of my favorites, but costs money unfortunately, is Headspace.  I highly recommend a midday meditation sesh, I find myself getting really worked up throughout the course of the day, and a quick 10 minute meditation is like hitting the re-set button on your brain.

Dance, exercise, or just move around!  I have found that throughout the course of my day, I hold all of my stress in my body, particularly my shoulders.  For days I am feeling extra wound up and tight, I like to do some stretching or yoga. Here is a GREAT 15 min stretch workout that will help you relieve some stress.

Turn off social media.  AHHH I cannot stress this one enough.  Young and restless, I don't know about you, but social media can often feel like a noisy void.  The action is constant, the content often harmful, and this is to my fellow women of color witnessing insane social media conversations...you do NOT have to engage, you do NOT have to educate white folks, and you do NOT need to expose yourself to triggering or harmful content.  Delete, block, unfriend, do it alllll.  I am currently phasing out of a social media sabbatical, and I am feeling a lot more centered and sure of myself and my role in this time.  Finally, do a little something for yourself throughout the week.  Give yourself something nice to look forward to.  I personally love to pop on a facemask (a nice relaxing lavender), steam my face after, make some tea, and put on a show that takes me out of my current mindset and headspace.  Other times, just curling up with a book and some tea does the job.  Create spaces for yourself where your only focus is YOU, your only focus is doing something that you love and look forward to.
Alright, Young and restless.  I hope that you take this advice into the weekend, and do something for yourself.  As I said, this world is quite literally insane, being human takes a LOT of strength, resilience, and patience.  You've got this, I have no doubt.
Restfully yours,
Caro
DJ M0RO's low-key Music Show
Whelp, I promised you an album review and instead you're going to get some podcast recs. No one remembers anything from last Friday anyway, right? Back with that album review in the near future, because all I want to DJ this week is stories for your ears, my friends. But i think it's important to mix up our audio-art, and loyal readers know I'm a dedicated fan of the pods. So here are two not-to-be-missed listens for your weekend.
First up we have author Mira Jacob (The Sleepwalker's Guide to Dancing) and Amanda Stern (creator of the Happy Ending Music & Reading Series) on Stern's podcast Bookable, an immersive audio experience for book-lovers everywhere. The highly unique conversation about Jacob's memoir Good Talk explores communication in difficult circumstances, raising children in this world today, and uncomfy situations. This may seem all-too-familiar, but it's a graceful and supportive approach that sets this pod apart. The whole soundscape lends a dream-quality to the topics approached, gently but firmly. It's one part reality one part magical realism. Listen here and let Jacobs scar your own heart with her words: "We think our hearts break only from endings - the love gone, the rooms empty, the future unhappening as we stand ready to step into it - but what about how they can shatter in the face of what is possible."
Second is the voice of 90s babies' childhoods LeVar Burton (Reading Rainbow) with his exceptional story-telling pod LeVar Burton Reads. From real-talk on mental health, to a built-in collective breath at the beginning of each story, this podcast has offered me so much healing in the face of endless chaos. Try not loving any of the shorts Burton picks to read in his masterful, playful, expressive voice. One that's been living with me all week is Ken Liu's Staying Behind, in case you needed help imagining what life will be like on Earth after everyone you love has been uploaded to a communicable cloud. After the Singularity, is it possible to live a meaningful existence authentic to the physical bodies we have on this planet? As someone who loves the *idea* of watching Black Mirror (but can't handle the nightmares that follow) i attest that this story is not going to set you up for an existential crisis. But it does highlight some real fears around our collective internet experiment, and perhaps will offer you some clarity and language to live in this world with more presence, and more connection.
*Hot Goss*
Brought to you by the superb Latifah Azlan.
I don't think I've written much about Brad Pitt on this column. His divorce from Angelina Jolie has still not been finalized, and there's some drama to that end whereby Angelina's trying to get a new judge on their proceedings based on allegations that the current judge is in financial kahoots with Brad. It's been years now and I wonder if their divorce will ever actually come to be.
But that's not what I'm here to talk about. I'm here to talk about the ~*Hot Goss*~ that Brad is dating again! It's all over the tabloids this week, and his current girlfriend is a German model named Nicole Poturalski. She's been described as "multilingual" and an "Angelina Jolie lookalike" but she resembles a Hadid more to me than she does a Jolie. People just really can't let the past go when it comes to Brad, huh?
According to Page Six, Brad and Nicole have been dating for some time now. Nicole has been posting Instagram stories of "her love" (without mentioning or showing whom the person is) for the last couple of months. They were also spotted at a Kanye West concert last November at the Hollywood Bowl. So it really does seem like they've at least known each other for some time.
The PR rollout for this new couple has already started, with a Hollywood insider saying that Brad and Nicole are "a good match" for each other. I'm not trying to be a downer here, but there is an almost 30-year age gap between the pair. Brad is 56, while Nicole is 27. He's old enough to be her father! Like, but actually – I'm 27 years old myself, and my dad is 53. I cannot fathom the thought of dating a man my dad's age, but maybe I'd change my mind if he was Brad Pitt? Although Brad Pitt has never really done anything for me, so I'd say, probably not.
Regardless, I'm weary of these hunky-aging Hollywood leading lads and their pattern of dating much, much younger supermodels. Come to think of it, I wonder how Brad and Nicole met? Maybe Leonardo DiCaprio introduced them to each other? He's always got a cabal of 20-something models hanging around him. Leo himself is currently dating model Camila Morrone, who only recently (like June 2020 recently) celebrated her 23rd birthday. They've been together for at least two years too, so you can see where I'm going with this timeline. I would make a joke here about Nicole being introduced to Brad because she was aging out of Leo's cabal but then that wouldn't be as snarky as it is factual, would it? Whew, kind of a grimy thought…
Anyway, that's all I have this week. Tune in again on Monday for more ~*Hot Goss*~ -- have a wonderful weekend, everyone!