August 3rd
Issue 21.1
Good morning!
Welcome to Issue 21.1 of Digestable, your daily mouthful of real things happening in the world, minus alarmist pandemic news.
I'm all ears for your feedback, or if you're already a fan, share this email with your friends. If you're not yet on the list, click below to sign up.
Today's news, fermented:
Welcome to this Monday edition of News Whiplash, particularly bad today because of all the pandemic-related horror. As promised in my original edict, you won't find virus statistics here, updates from the poorly-constructed puppets gesticulating about vaccine contracts or (a lack of) mask mandates. Per that guiding principle, please do take a moment and fill out this survey about what you would like to see in the next 20 weeks of Digesting.
As I forecasted (sorry, had to) a couple of months ago, this summer is shaping up to be a devastating season of climate catastrophe. Tropical storm Isaias is 'hovering' just east of Florida, and will be creeping its way up the coast this week, likely making landfall in the Carolinas, as well as up here in the northeast, where we love to forget this stuff happens to us. (Irene, Sandy, anyone? That all went really well.)
I do appreciate the name Isaias, which requires a little bit of pronouncing. I know a lot of folks get this much worse than I do, but whenever someone tells me it's 'easier' to pronounce the name I use than the name I was given, I cringe at how white America loves to make people with interesting aka non-WASP names change those names to further protect white comfort.
Whoever names California wildfires though, man, you gotta get with the program. Literally why would you call a fire that kills people "Camp Fire?" Pick any other short word. Now, we've got the Apple Fire—also confusing to name a fire after a tech company that basically runs the state government, right?—raging its way through Southern California.
But young folks are still finding ways to organize around climate, now with a more explicit focus on racial and environmental justice. And protests work, as we've seen across the country, most lately with the closing of an infamous debtors prison in St. Louis, Missouri.
I'll leave it there, with an acknowledgement that there's lots to learn from those organizers as well as these lizards, which stay so cool that they occasionally freeze solid. Oh, and don't forget to fill out that survey.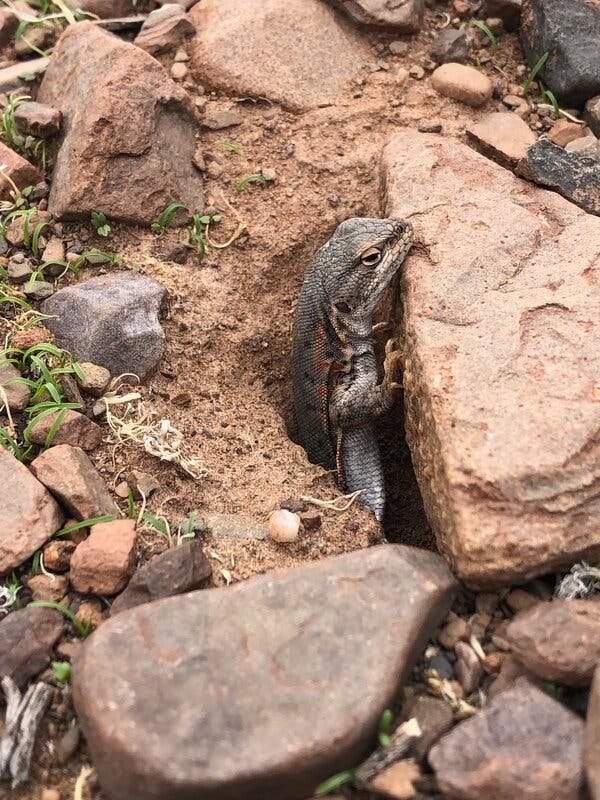 (via)
The Second Look
"Long time long time," sings a fish in a striped shirt and tie in the opening of Niki Lindroth Von Bahr's short film Min Börda (2017), "This is where you come if you want to stay a long time." The stop-motion film follows four groups of anthropomorphic animals late at night at a highway interchange.  In addition to the fish at the Hotel LongStay there is a pair of mice cleaning a fast food restaurant, a call center office staffed by monkeys, and a dog restocking a gigantic warehouse supermarket.  I watch this film pretty much every day, sometimes more than once.  It's beautiful and melancholy and whimsical and speaks to the hard to articulate feelings of distress and isolation that seem to rule my pandemic life.  But the characters of Min Börda are only part of the anthropomorphized menagerie I've spent time with during quarantine.  The island town I've helped build in the video game Animal Crossing has loads of friendly neighbors like pop-star penguin Sprinkle and bookish dog Daisy, along with beautiful parks and gardens, and several unique terrestrial and aquatic ecosystems.  My neighbor Charlise, a sporty lime green bear, just told me that sometimes she gets a craving for green curry and "nothing else will do!"  Same.
The game is a welcome reprieve from the quarantine island that is our apartment in Brooklyn, but I do wonder about the interior lives of these AI animals I call my friends and neighbors. My Animal Crossing island is a place I go to relax and escape, but while I have the power to flip between the world of the game and my life, Colton (horse) and Pancetti (pig) must stay behind, walking through the museum's exhibits and sitting in their little one room houses. Worse, if I were to stop playing, the weeds and sticks would proliferate and the town would deteriorate but my neighbors still be stuck on the island at the mercy of real estate tycoon and raccoon Tom Nook.
Something else I've watched recently, though only once because it is Long, is Solaris, the 1972 film by Andrei Tarkovsky. It's an existential sci-fi psychodrama - like Interstellar but in Russian and with more mesh shirts. The film follows a psychologist heading out to a space station orbiting the alien planet called Solaris. Solaris's ocean, we learn, is a sentient being that projects the thoughts and memories of the movie's human characters into reality. There are a lot of nice long shots of Hunters in the Snow and some really good stuff with the main character's dead wife who comes back to life and knows she's not real but can't quite wrap her head around it which, I mean, I can't exactly relate but I get it. The film ends with the main character having presumably returned home, walking around the lake by his dad's house where we first met him in the film's opening. Then the camera zooms slowly out to reveal that the land with the house and the lake is actually another projection, an entire island of memory floating in Solaris's mysterious ocean.
Min Börda ends in the same way. The animals' songs come to a climax singing "No sorrows, no troubles - when the burden lifts from my shoulders," and we're shown in a slow tracking shot that the highway interchange where the characters are living or working is really just a big asteroid suspended in a starry sky, with the lanes of the highway, like on the island in Solaris's ocean, abruptly terminating into empty space. I'm not quite sure what it is but I feel there's something to be said about our lives in colonized places in all of this. Tarkovsky's researchers projecting their memories onto an alien planet, Animal Crossing's Tom Nook setting up a housing co-op on a supposedly deserted island, and the globalized capitalist non-site of a highway interchange marooned on a space-rock. There's an underlying anxiety in the inhabitants of these colonized spaces, the space station researchers and the dog working at the supermarket and maybe in my neighbors, though they put on a good face, in their connection to place and to their deeper selves. It's an anxiety that's easy to ignore when you're always moving from place to place or just passing through, but when you stay a long time in one place, as many of us are right now, the trouble beneath the surface becomes harder to ignore.
Feel free to get in touch if you want to snag my Criterion Channel login to watch either of these films or if you want my Animal Crossing friend code! ;-)
*Hot Goss*
Brought to you by the superb Latifah Azlan.
cw: sexual harassment; sexual assault
Several weeks ago, I wrote about allegations from current and former employees of The Ellen Degeneres Show that painted the working environment as toxic and abusive. Such rumors have been around for many years, but the Buzzfeed piece linked above was really the first exposé of the show's treatment of its low-level employees. Well, late last week, Buzzfeed released a second piece that talks about "rampant sexual misconduct and harassment" that executive producers of the show engaged in, and now there are whispers that Ellen Degeneres herself is thinking of ending her show.
The second Buzzfeed piece drops names. For example, one ex-employee said that the show's head writer and executive producer Kevin Leman made sexually explicit comments towards or lascivious requests of low-level production assistants who "lacked any power to speak up." All the 36 former employees interviewed for this piece corroborated incidents of harassment, sexual misconduct, and assault not just from Leman but of other top producers of the show.
On the same day that this second Buzzfeed article was published, Ellen Degeneres sent an open letter to her staff about the show's toxic work environment. And now, a few days later, there's talk that Ellen may be ready to call it quits. The Ellen Degeneres Show has been on air since 2003 – that's almost two decades of Ellen propagating a "kindness and positivity" brand for the masses. I guess at some point, it gets a little tired to be perceived as wholesome all the time rather than to just be a good, decent, actually kind person, and the cracks will start to becoming more and more pronounced. Some of Ellen's celebrity counterparts are also now calling her out. I say just hang the hat already.