August 4th
Issue 21.2
Good morning!
Welcome to Issue 21.2 of Digestable, your daily mouthful of real things happening in the world, minus alarmist pandemic news.
I'm all ears for your feedback, or if you're already a fan, share this email with your friends. If you're not yet on the list, click below to sign up.
Today's news, fermented:
I used to be that person at the party who always ended up talking about climate change. Back when we could go to parties, that is.
Often, when I talked and thought about the climate catastrophe, it was in terms of what we could lose—lives, land, safety, clean water, the ability to grow food, big old trees—and then what, if we dismantled corporate power and learned how to be nice to each other, we could gain. It was through the lens of climate that I started to consider what the 'next world' would look like.
Now, it seems almost childish to talk about one crisis without its siblings in disaster. How can we talk about climate without talking about white supremacy? (This one is not new, but the white environmental movement is just now catching on.) How can we talk about climate without talking about borders and migration? How can we talk about climate without talking about pandemics—the ongoing one, and those in the future?
A new study identifies that deaths from global heating (remember when we used to call it warming?) will soon surpass the deaths from all infectious diseases in a given year. It feels a little trite to take a harm reduction view on climate (or pandemics, for that matter) when we really haven't tried that hard to actually address the problem, but here we are, playing with tens, hundreds, of thousands of lives.
Up to 37 percent of the landmass of Bangladesh, a densely-populated, low-lying country whose residents use 1/33rd of the carbon Americans do, was submerged in recent floods. A study confirmed that rich people are responsible for the climate crisis (duh which percent do you think oil and gas execs are in?!). Those same folks are now going to bat with the truly pathetic argument that divestment from fossil fuels violates antitrust laws. Go read the article if you want, but really just know that it's a fucking perversion of the one good piece of corporate law that exists in America, which as you may recall, is a corporation.
Anyway.
Tropical storm/hurricane/I was talking to my 12 year old neighbor yesterday and she was like, "why do they even bother changing what they call it so many times? It's a really big storm!" Isaias is plowing northwards from the Carolinas, after flooding Myrtle Beach, SC and making landfall in Ocean Isle Beach, NC.
The path of Isaias is nearly identical to 2011 storm Irene, which dodged New York City after some preparation and fuss, then pounded New England. The year after, Hurricane Sandy hit NYC head on, and finally seemed to be the wake up call that the metropolis that doesn't stop needed.
As road repairs persist in the tiny town of Waterbury, VT, which got drowned by Irene, and New Yorkers fight with the Army Corps (and the president) about the literal wall they're trying to build in the literal ocean, the coronavirus pandemic happened, and much like in anticipation of those storms, everyone panicked, and then everything, except for the virus/storm, stopped.
Were we ready then? Are we ready now, as hurricane season ramps up, and fire season rages on? Doubtful.
It's becoming ever more clear what we'll lose. What we have to gain is more abstract, but starting to peek through. It raises the question: when the path clears for the next world, as it seems to be, slowly, already, will we be ready then?
Let us learn to be like the water beetle that staged a backdoor escape from this frog after being swallowed alive. (Oh and also please please take a few minutes to fill out this lil feedback form for me!!)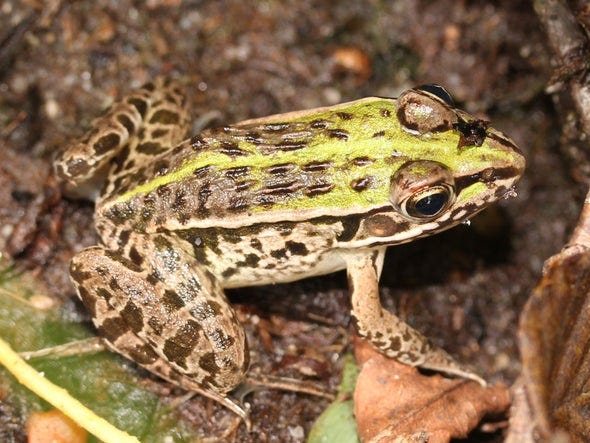 (via)
*Hot Goss*
Brought to you by the superb Latifah Azlan.
I'm not an outdoors person. I would never claim or pretend to be one. I grew up in a highly urbanized city and the extent of my outdoorsy nature goes as far as the tiny, personal farm that my late grandfather tended to. But all this time somewhat locked down in an apartment with neither yard nor balcony has made me fantasize about moving to the countryside. I want to start my own garden because I'm useless at baking bread and all my friends are growing amazing vegetables and herbs on their own. I'm feeling a little left out.
I guess David and Victoria Beckham are trying to be country people too. The celebrity couple owns multiple properties around the world, from skyscraper penthouses in Miami and Dubai to their main Holland Park mansion in London that is worth £31.5million. They also have a retreat in the Cotswolds that they've been isolating in amid the coronavirus pandemic. And unlike me, it seems that the Beckhams are living out their country cosplay fantasies – and upsetting their neighbors in the process.
The Beckhams have been slowly but consistently renovating their countryside cottage and surrounding lands. First, they added a secret underground tunnel connecting their nine-bedroom cottage to a planned underground wine cellar. Then, they upgraded their "luxury" garage to "super" status (?). Now, they want to add a "kidney-shaped swimming lake" and hill onto their property – to fierce objections from their neighbors.
One local resident, Mr. Michael Douglas (no, not that one), sent a stern letter to the town's council about his objections to these planned additions. He warns that the Beckhams' are trying to "bring suburbia" to the Cotswolds and fear that these changes will be a "blot on the landscape." I don't know about bringing suburbia to the Cotswolds, but regardless, I sympathize with Mr. Douglas. I shudder to think of the construction work that will be going on for who knows how long it takes to build a lake and a hill. And yes, if the Beckhams wanted to be in a place with such topography, they could and should have just invested in properties that either already came with or are located in places with these features.
And when I say the Beckhams are living out their country cosplay fantasies, I really do mean it. I mean take a look at this photo that David posted on Instagram. A walking cane? Newsboy cap? PRISTINE, squeaky clean white Adidas sneakers?! See, I know this man and his family aren't out walking children in nature because this is the same kind of outfit I once wore to what was proposed as a hike but quickly turned into a date at an ice-cream parlor in Dorchester when I realized I was not adequately dressed for the occasion. I mean, the fact that my date greeted me with "Is that what you're wearing?" should have been an indicator of how out of depth I was. Who is going to tell the Beckhams that they are also out of depth?!
Gorgeous day
@victoriabeckham
not a massive fan of my cardi but personally I think it's a good look 😎