July 10th
Issue 17.5
Good morning!
Welcome to Issue 17.5 of Digestable, your daily mouthful of real things happening in the world, minus alarmist pandemic news.
I'm all ears for your feedback, or if you're already a fan, share this email with your friends. If you're not yet on the list, click below to sign up.
Today's news, fermented:
Friends! Happy Friday.
I'm gonna get out of the way right quick so you can enjoy some much-needed advice, music recs, and goss. Here are some alarming Brooklyn-centric reads if you need to get le blood pumping about how deeply troubled our systems are:
And here's a gorilla practicing to be a parent in anticipation of some impending offspring.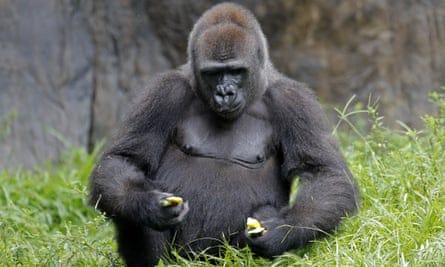 (via)
Caro's Advice Corner
Dear Caro,
I have little to no motivation to work out these days. On top of that, I can't seem to stop eating ice cream! What do you recommend doing to get up and moving? Any tips on not eating ice cream would also be appreciated!!

Thanks,
An ice cream couch surfer
Dear ice cream couch surfer,
Here's the truth, our bodies are changing during quarantine, and that is ok!  In the past couple of years, I have adopted the mentality of working out sans goals, aka -- working out to simply feel good!  (I love the endorphin rush after a good workout sesh)  There truly is an undeniable link between exercising/moving around and mental health.  Now I'm not talking going all out (YEAH RIGHT P90x), but I am talking about adding a healthy balance of movement to your day.  One of the most effective ways to kick start a workout regimen is to start slow.  I like to dance (and ya girl MISSES being able to get her groove on on Saturday nights), it's a really great way to get those endorphins flowing, and once you start dancing for 5 mins, you've already shaken the cobwebs off, and you just want to keep moving! 
Now I myself, am a HUGE fan of salsa, this video is a great way to get some cardio in while having a good time.  Other recommendations I have for "dance" workouts are from one of my other favorite YouTube fitness gals MadFit.  Not only does she have great dance workout videos (a personal fav of mine is her dance workout to Gaga's Rain on Me), but she also has really great 10 min at home workouts.  If you are looking for more basic and targeted workouts, I recommend checking out Chloe Ting's website.  She has an array of free workout programs you can follow!  All of her videos are free on YouTube as well. 

Ok, my final advice here, ice cream couch surfer, is be kind to yourself!  Quarantine is a funny, tricky, time.  Motivation can often get low, and we can also forgive ourselves for those moments.  

Groovingly yours, Caro

Dear Caro, 
Why can I never seem to reach the end of my life to-do list? It feels like it grows longer before I can check everything off. There are some things that have been on it for years. Any advice on getting ahead of your own procrastination and inaction? Am I just lazy or spacey? I really want to do these things, [or need to], but I often just stare at them and console myself that I'll do them eventually. Am I doomed to a life of to-do list dread? 

yours respectfully,
failing life agenda 

Dear failing life agenda,
Wow, a question has not resonated as much as this one. Even us Virgos struggle with the never ending life admin list that just seems to grow rather than shrink. I think the first place to start failing life agenda, is forgiveness. Be easy on yourself! Being human is hard enough, but being human in THIS world, in this very moment right now? Well it's goddamn nearly impossible if I am being quite honest. So let's start here, let's take a big collective breath together...taking a big breath in….and letting that breath out in a slow exhale.
 
Ok now that we've gotten that out of the way, here are some of my tips for both being able to check those life to-do's off while feeling like you can manage it all!  First things first -- organize yaself!  Find a system of organization that works for you!  A way to really allow yourself to braindump everything that lives in your head, in order to free up some headspace and be able to prioritize.  Here are some of my favorite organizational methods:
The first (and if you know me I can already see you rolling your eyes, because I just looooove to rave about this method) is the Bullet Journal method.  Now this is not for everyone, but it is a great, very customizable system of organization.  Here is one of my favorite Bullet Journal set-up videos by Pick Up Limes, one of my favorite YouTube food bloggers.  

The second is an analog system called Kanban, developed by a Japanese engineer for Toyota, that has been adapted by one of my favorite YouTubers Rowena Tsai.  So the system here is to basically visualize your BIG to-do's on sticky notes on your wall or on a visible surface that you interact with daily.  You make three categories of stickies which are "open", "in progress", and "complete" — and voila!  You've got yourself a little visual board of your most important tasks.  I LOVE this one, and if you have seen my at home office, you have probably noticed the multitude of stickies I have on my wall, outlining my present life (have I mentioned I'm a Virgo?).  She describes the system as so:

"This productivity system was born after not being able to fall asleep with a thousand tabs open in my brain.  So I decided to put some lines on my wall, write out all my to do's and big projects on post-it notes to be able to visualize my work"

You can find her videos explaining this system here and here, and you can check out her page with tons of other really helpful and encouraging videos on how to get on top of your life here. Failing life agenda, I wish you luck!  And thanks to your question, I've gotten the kick in the butt I need to pay that doctor's bill from three months ago….happy life organizing!
Motivationally yours, 
Caro
!! DJ M0RO's low-key Music Show !!
Let's dive right in with a truly prophetic take on this time we're living through brought to us by hip-hop artist Supaman. I honestly think it will resonate only deeper as we move through and past coronavirus, and serve as a testament to the strength that that takes. 
I've always really loved Tiny Desk Concerts (hot take!) and the at-home versions haven't disappointed. Especially with the rotating cast that is the Dirty Projectors, who gave a quarantine performance that really just brought me so much joy and harmony. Looking forward to their upcoming EPs this year.
While originally this column was about highlighting new music coming out during the quarantine, I've discovered that it's also helped me re-discover older gems with new resonance. Lyla June's All Nations Rise is a song that returns with compounded meditations and calls to freedom. An updated performance during the benefit concert she co-hosted with Jewel gave me all the feels over the weekend (25:09 for noted appearance, but check out all of the other uh-maze-ing artists in this lineup!)
And for a moment of just pure silliness, I bring you Bardcore/Tavernwave, my new favorite genre. You're welcome and I'm sorry.
*Hot Goss*
Brought to you by the superb Latifah Azlan.
It's been a hot week for ~*Hot Goss*~ and we are coming down from the high, which means I don't have anything particularly juicy to report. Here are some fun, easy, light reads instead:
"Clueless" is one of a few movies that I can rewatch multiple times without being bored. This article from Tom + Lorenzo dissecting the iconic yellow plaid schoolgirl look that we first see Alicia Silverstone's character Cher Horowitz in at the beginning of the movie was an absolute delight to rip through! Highly recommended as a side read during breakfast.
Harry Styles has an app where he read you bedtime stories for a calm night's sleep. And according to Jezebel, it's both highly effective in more ways than one. Sign me up!
Johnny Depp and Amber Heard are in court this week for his libel case against his former ex-wife. The entire trial has been quite a blockbuster affair, with allegations of abuse from both sides of the aisle. A headline that caught my attention was, of course, Johnny explaining that he called Amber a "turd" after she pooped in their bed as a prank. 
And finally, an update from Lady A (solo) regarding the mess that she has been unwittingly dragged into by Lady A (band). In an interview with Vulture, the Seattle-based blues singer explained her interactions with the band regarding the name change and why she's asking for $10 million from the country trio for full rights to the name.
I haven't shared My Favorite Tweet with all of you in a while so here's one from this week! 
Have a good weekend everyone and I'll see you with more goss on Monday.