July 14th
Issue 18.2: We need a Very Big Toolbox
Good morning!
Welcome to Issue 18.2 of Digestable, your daily mouthful of real things happening in the world, minus alarmist pandemic news.
I'm all ears for your feedback, or if you're already a fan, share this email with your friends. If you're not yet on the list, click below to sign up.
Today's news, fermented:
I've read a lot of pieces that are like, 'Black Lives Matter and the climate movement need to stand together.' Or better, 'The fight for racial justice and climate justice is the same fight.' Most of them are pretty good. And also kinda similar.
But there are two pieces that flipped the proverbial table of this conversation in my mind.
Dany Sigwalt, co-executive director of Power Shift Network, published a piece way back at the beginning of June, when the white climate world was starting to wake up, entitled Climate Activists: Here's Why Your Work Depends on Ending Police Violence. She writes:
"To win on climate, we need to reinvent the power structures that haven't functionally changed since slavery. To win on climate, we need to pry our economic systems away from the legacies of colonialism, slavery, genocide, and violence on which our country is founded and push it towards liberation, freedom, autonomy, and justice."
On a friend's recommendation, I've been listening to Season 2 of Scene on Radio, entitled "Seeing White." It's a deep dive into the origins of whiteness, how it has been shaped, deputized, and militarized. It's worth listening to, especially because it starts further back in history than most historical examinations of whiteness that I've seen.
I'm not done with the season yet, but so far, it has illustrated something fundamental: that the idea of whiteness was created (by white people, obv) as a way to continue justifying the existence of the power structures that haven't changed since slavery, which Sigwalt names.
Whiteness thrives on the erasure of nuance in service of social control. The intentional erasure of nuance—specifically, biracial, multi-gendered, intercontinental, class-mobile identities—was, and continues to be, necessary in order to implement social and political and economic control. Without categorized ideas of what Blackness was and was not, lines could not have been drawn about who could and could not be treated as property or human. And the people upholding whiteness have, since its creation, been drawing and re-drawing these arbitrary lines in their service since the invention of the identity called whiteness.
Ayana Johnson, a marine biologist who is brought us the idea of the Blue New Deal, wrote We Can't Solve the Climate Crisis Unless Black Lives Matter. It begins:
"The Black Lives Matter movement is not a distraction from saving the planet. We can't solve the climate crisis without people of color, but we could probably solve it without racists."
She continues,
"This is about how we implement solutions, how we replicate and scale them; it's about communities and governments and corporations changing the way they do things—solving the climate crisis is about everything."
Taking a step back, what do we know about governments and corporations? I'm going to make a sweeping (and accurate!) generalization: they all operate under the guidance, or in some cases (ahem, the US) with the explicitly stated purpose of upholding white supremacy.
So it seems that in both Johnson's and Sigwalt's pieces, the implication is this: we literally cannot address the climate crisis unless we stop doing things the way we have been doing them, which is what got us here. And the unifying, dominant factor in that way of doing things is whiteness—and the cultural and logistical dominance of white supremacy in decision-making and change-steering.
We are going to need a very big toolbox to address the climate crisis. Solar panels and wind turbines are in there; holding the fossil fuel industry legally and financially liable for driving the crisis is in there; policies and innovations and reparations are in there. But our multi tool, that screwdriver that ejects a whole cartridge of attachments to attach or detach anything you could dream up, is the dismantling of white supremacy.
Ok, tool metaphor complete. I had to.
So, it is not a matter of which movement we prioritize. Rather, it is that we must think about the work we do to protect and uplift Black people *and* the work we do to put forth real solutions to the climate crisis as The Work, all of which is urgent and necessary. Whatever generation you are, this is the work that will make up your legacy.
Here's some magic undersea friends to carry with you in this big endeavor.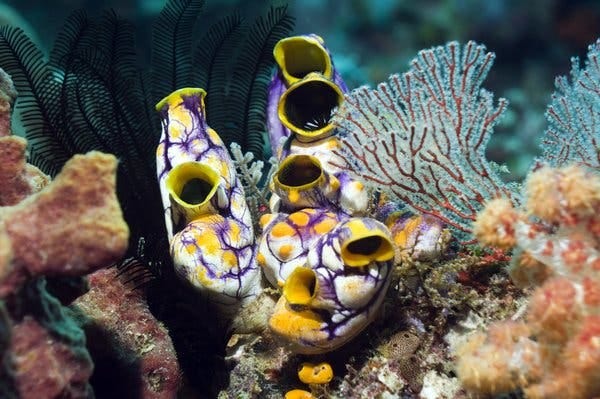 (via)
*Hot Goss*
Brought to you by the superb Latifah Azlan.
There has been a lot of tragic news to start off the week, including the discovery of actress Naya Rivera's remains five days after she went missing at Lake Piru, California.
Naya's disappearance has been in the headlines since last Wednesday. She had taken her four-year-old son, Josey, to the lake for an afternoon on the water when she disappeared. According to statements taken from Josey, the two went into the water for a swim, during which Naya helped her son back into the boat by boosting him onto the deck from behind. However, when Josey looked back, he didn't see his mother, and fell asleep on the boat waiting for her until he was found floating on the lake alone by another boat.
Local authorities had been diving and searching for Naya's body for five days but was severely impeded by the murky waters of Lake Piru. However, her remains were found and recovered yesterday. Authorities believe that Naya's last moments were spent saving Josey from being caught in a current, but she did not have enough energy to save herself and perished by drowning.
This is an incredibly sad and tragic accident, made even more so by the coincidence that Naya's remains were recovered on the seventh anniversary of her Glee co-star Cory Monteith's passing. Several members of the cast of Glee were photographed by Lake Piru yesterday, gathering in Naya's honor.
I was in high school during Glee's heyday and while I had friends who obsessively followed it, I have actually never seen an episode of the show. However, those song covers were absolutely inescapable back in the 2010s, so I have listened to my fair share of Glee covers and Naya was one of my favorite vocalists on the show. Here she is singing "Back to Black" one of the episodes: 
.