July 15th
Issue 18.3
Good morning!
Welcome to Issue 18.3 of Digestable, your daily mouthful of real things happening in the world, minus alarmist pandemic news.
I'm all ears for your feedback, or if you're already a fan, share this email with your friends. If you're not yet on the list, click below to sign up.
Today's news, fermented:
There is some degree to which we all want to know what the future holds. Maybe some of us skew towards interest in the short term; others, the big picture. Every year has been written and dreamed about as the future. Inevitably, when that year arrives, some of what we've imagined echoes around in that reality, and in other ways, those projections were completely off the mark.
Octavia Butler, seer of the future, published Parable of the Talents, which is set in 2032, in 1998. In it, she writes of maniacal Christian gangs roving the land, enslaving and assaulting people against a backdrop of a drought- and fire-ridden former California. Their slogan? Make America Great Again.
Octavia had it right, except that our systems of governance and economy are still formalized and managed by a state. In the era of defunding police, privatized public resources and services, and militarized protections of energy and other infrastructure, not to mention a fascist maniac holding an elected seat, who's to say what's coming?
I laughed this morning at the first line of news I read.
"Earth will be home to 8.8 billion people in 2100, 2 billion fewer than current UN projections, according to a major study published on Wednesday that foresees changes shaped by declining fertility rates and ageing populations."
How is it that we can say, definitively, that Earth "will be" anything distinct in 2100, immediately followed by a recognition that our projection was off the mark? Isn't that 8.8 billion a projection as well?
That line appears in an article entitled, World population in 2100 could be 2 billion below UN forecasts, study suggests. Said study suggests that populations in parts of the Global North will decline drastically, while the population of sub-Saharan Africa will grow dramatically.
The Experts in this article conclude that this means 'bad things' for the Global North economy, but poses significant 'economic opportunity' in Africa. Honestly, that reads to me that these people are really hoping for the aging white people of the North to go re-colonize the African continent, which is a truly horrifying prospect and a pretty disgusting thing to suggest.
I guess statisticians are not known for their creative thinking. The whole article basically takes the economic and social realities of today, picks them up like a big solid blanket, and drops them on top of our still-just-projected reality of 2100.
Please. Did anyone know that July 2020 would look this way in February? If this is what we can do in five months, imagine what we can do in 80 years.
Fueling my deep skepticism of this study's conclusions was the truly inspiring final installment of Movement Generation's webinar series, Course Correction. You can watch a recording here; it's worth your two hours, I promise.
It begins with time traveling to the year 2050, guided by adrienne maree brown. What follows is a celebration of People's Day, and updates from people, now living in liberated bioregional zones, talking about what went down in the last 30 years.
Our friends from the future forecast many things: a challenging, but transformative and liberatory, few years to come for us in 2020; the dismantling of the state in favor of councils and participatory regional governance; freedom from false choices, like those of eating or sleeping safely; freedom from false binaries that categorize in order to control; following of Black, Indigenous, queer, disabled, leadership.
Of course, the Earth is still scarred from millenia of damage—fresh water is scarce, coastlines volatile, crops delicate, forests aflame. There is still work to do, but as Mariama White-Hammond says, navigating the climate catastrophe is a lot less scary if we do it in community.
So when we step into the future—whether through organizing (a form of science fiction), time travel, Western scientific projections, or the passage of time—it is our job to say: Will we carry forward the systems and oppressions that have served us so poorly, or will we take the time to engage in the scary, complicated process of taking them apart, in the name of love and care for our species, which has seen and learned so much?
Here's to taking root among the stars.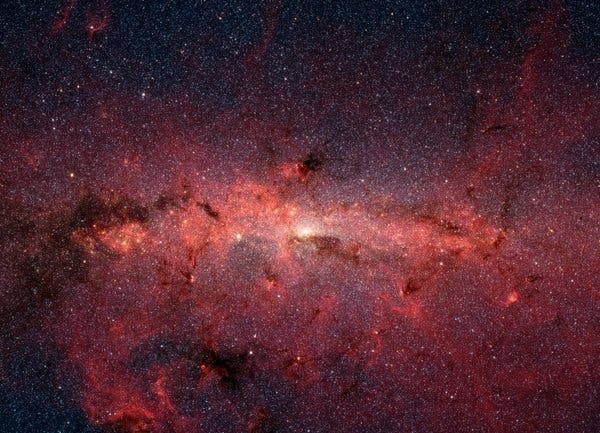 (via)
*Hot Goss*
Brought to you by the superb Latifah Azlan.
Readers, I think it's time I introduce you to the world of celebrity blind items.
Blind items are news stories typically published in gossip columns in which the details of the matter are reported while the identities of the people involved are typically not revealed. These blind items are often scandalous or salacious. And if you know your way around the gossip rags, you'll know that in the world of ~*Hot Goss*~ one blind itemist reigns supreme: Enty. An anonymous, self-described entertainment lawyer, Enty runs the website Crazy Days and Nights (CDAN), where he posts blind items on the celebrities that he allegedly works for or has direct contact with compared to most other gossip sites. What sets Enty's site apart from others is the fact that he does not hesitate to name names or reveal these blind items.
Personally, I don't put much stock into blind items. For every blind that turns out to be true, there are others that have been embellished or made up for the clicks. But I won't deny that they are fun to dive into. So let's get into a blind item that has been making the rounds recently: that of the allegation that two celebrity couples that have divorced this year did so because of differences over the Black Lives Matter movement.
This blind item was first offered up by TV writer Charles Ray Hamilton. His blind item went viral after Armie Hammer and Elizabeth Chambers announced their split last week . The news came as somewhat of a surprise given their decade-long marriage and months-long quarantine with their children in the Cayman Islands. The couple was also a popular guess for many celebrity gossip followers because Armie's Instagram has been active with support over the BLM protests and resources on anti-racism – a stark contrast to Elizabeth's feed full of photos of their children and her yoga/fitness buddies.
But that's one possibility of a couple. The blind says there are two. So who could the other couple be? Kristin Cavallari and Jay Cutler's divorce made quite a splash earlier this year but having followed that closely for this column, I think they had other issues that contributed to the break up than this movement. Plus, they split long before the protests erupted in late May/early June. Megan Green and Brian Austin Green also called it quits for real this year, but there has been no divorce filing yet and their relationship has always been on and off. Other notable divorces this year include Mary-Kate Olsen and Olivier Sarkozy, Kacey Musgraves and Ruston Kelly, and Kelly Clarkson and Brandon Blackstock.
I think I am putting my money down on Kelly Clarkson. News of the divorce broke in mid-June, with sources telling Entertainment Tonight that the everything fell apart mid-quarantine. Us Weekly also ran a story claiming that Kelly was "high-strung" compared to Brandon's "laidback" nature, which we all know is sometimes coded language to describe differences in values between couples. It could be that these differences became even more acute with certain social movements that have gained even more traction over the last couple of months.
See, this is the thing about blind items: we can sit here and speculate all day to no end or resolution. And judging by the nature of this blind, it is likely we will never know who these couples are. But you asked for ~*Hot Goss*~ so ~*Hot Goss*~ I shall deliver. What do you think? Who could these couples be?