July 17th
Issue 18.5
Good morning!
Welcome to Issue 18.5 of Digestable, your daily mouthful of real things happening in the world, minus alarmist pandemic news.
I'm all ears for your feedback, or if you're already a fan, share this email with your friends. If you're not yet on the list, click below to sign up.
Today's news, fermented:
Hi friends, happy Friday! It's been a *week* in my world, so I'm celebrating with the single NYC bagel that was in my freezer. I'll hand it over right quick to our sweet and wise contributors, but wanted to leave y'all with some weekend reading.
As folks who Twitter might have seen, the internet was recently up in arms about Robin DiAngelo's best-selling book, White Fragility. Below are a couple of articles on that controversy, and some others about…the continually alarming state of the world.
Here's a sweet woodpecker from DJ M0RO.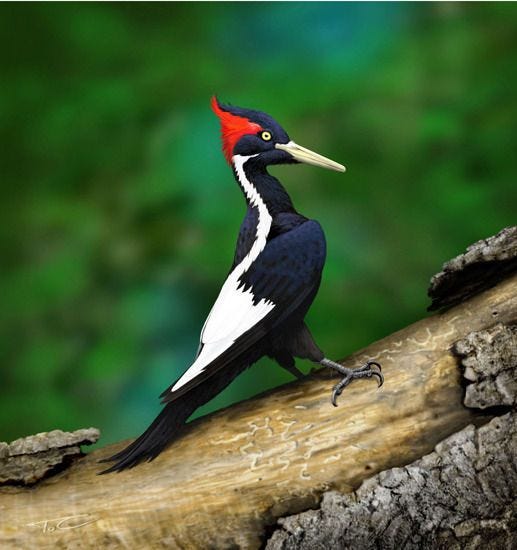 (via)
Caro's Advice Corner
Dear Caro,
My office just told me we'll be working remotely for the next 6 months to a year. I relocated for this job so now I'm not sure what to do. The two places I would go are in opposite directions of where I live now, so it sort of makes sense to stay...but there's also nothing keeping me here. What should I do?
Yours,
Anxious traveler

Dear anxious traveler,
I think your question is going to resonate with SO many readers, it sure as hell resonates with me.  As offices across the country make the tough decision to remain working from home, our stress levels are...well increasing as well.  When I found out that my office was going to have us work from home through the rest of the calendar year...let me tell you, 5pm hit and I leaped for my wine bottle and glass.  

Here's the thing, anxious traveler, I thought this was terrible news...but there might be various silver linings in here (aside from the fact that we are some of the few of the lucky folks that have been able to maintain our steady jobs, which we are all beyond grateful for). OK, the first is...nope, you are right, NOTHING is keeping you here, so the way that I see it, the world is your oyster (well, in an extremely limited capacity, and I definitely do not suggest international travel if you can avoid it). 

I say, do a quick risk assessment of both destinations.  Think about your work from home set-up, think about your mental health in these places, and my honest advice is, go!  Once you've figured out where and what works best for you, keeping health and safety in mind, just go!  The reality is, we are going to be staying put for a WHILE, potentially a year.  There is no reason you should feel like you can't change your living situation for a couple of months.  I myself have been eyeing some long-term stay AirBnbs away from the city, and away from the bedroom where I eat, sleep, and work...phew, these are peculiar times.

Happy journeying, anxious traveler.  Be smart, and put yourself first on this one.  The more we focus on ourselves and improving our environments, the better we are at our jobs.
Humbly yours,
Caro
!! DJ M0RO's low-key Music Show !!
Besides being the most [insert superlative here] couple like omg ever, Tobe & Fat Nwigwe make movement-centered music videos that truly linger. Their latest release is a wave of vision, energy flow, and hope that hasn't yet been extinguished. Tobe has written words for this particular moment, and delivers them with depth and character as the movement of the bodies draws us nearer to home. 
Because I'm feeling low tempo this week, I paired my Nwigwe youtube spiral with the newest nature-centric sounds from Cosmo Sheldrake (brother of Merlin, the mycologist, and son of Alfred, who proposed the concept of "morphic resonance," for personal context) and all of his music is this funky and biolog-y and weird and yummy. Described by one astute YouTuber as "feels like dissociation, but in a good way?" Definitely setting my alarm to this and this forever.
Apparently I'm really into birds this week because Sweet Friend of the Digestable Fam, Connor, recommended I give this story a listen and I'm here to share the magic with the rest of the crew (you!). If you're still feeling pretty chill, I hope you'll also indulge in a briefer and well worthwhile meditation on the current, past and future meaning of silence.
*Hot Goss*
Brought to you by the superb Latifah Azlan.
It has been a heavy week of ~*Hot Goss*~ so I wanted to send us off into the weekend with something light and cheerful – a recommendation for Netflix's recent adaptation of The Baby-Sitters Club.
I grew up an avid reader in Kuala Lumpur, Malaysia, and was fortunate and privileged enough to have a family who constantly gifted me with books to devour. Every Friday, my dad would come home from work around 4PM and we'd go to the bookstore together to spend some time browsing and reading, and if I was lucky, I would get to go home with a new book or two.
I had a lot of favorites growing up but The Baby-Sitters Club was a series that I frequently returned to, either for a reread of the copies I already owned or for new titles that I sought out every Friday. What I loved most about The Baby-Sitters Club was the characters: they were girls I wanted to be friends with and each character was so distinct in style and personality from the other that I saw a bit of myself in each one. My favorite was Claudia, who was spunky and stylish and artsy – all of the things I wanted to be when I grew up.
Netflix recently released their adaptation of this beloved series by way of a ten-episode television show structured much in the same way as the books: with each episode narrated by one of the characters, and revolving around the joys and pressures of their t(w)een life. And having blown through all ten episodes over the course of a weekend (each episode is 30 minutes long), I can wholeheartedly say that it is an absolute delight to watch.
The show is clearly intended for audiences of a certain age, but it is also mature enough to capture adults who may or may not have held the series in high regard growing up. Netflix's adaptation pretty much stays true to the source material but makes crucial updates for modern times that don't feel forced or awkward. Like the books, each character is distinctly their own person and you'll certainly feel drawn to some more than others, but overall will root for the collective club to make it through whatever problem they're facing by the end of the episode.
The book series introduced its readers to a variety of difficult topics such as living with diabetes, grappling with grief, and dealing with divorce. The Netflix adaptation does the same but deftly includes additional topics such as menstruation, immigration, inequality, and gender identity that can help open the door to having these conversations with the little ones in your life. Yes, the show is emotional but in all the right ways. There were multiple moments over the course of the show where I teared up – each time for each different character, both in empathy for and in kinship with their experiences.
Most importantly, it is infectiously and unrelentingly honest yet optimistic – two things we seem to all need right now in this moment of disease and pestilence. So give this a go over the weekend and let yourself be comforted by the tenacity and idealism of this group of 14-year-old teenage girls. I promise you won't regret it.