July 21st
Issue 19.2
Good morning!
Welcome to Issue 19.2 of Digestable, your daily mouthful of real things happening in the world, minus alarmist pandemic news.
I'm all ears for your feedback, or if you're already a fan, share this email with your friends. If you're not yet on the list, click below to sign up.
Today's news, fermented:
Okay folks. It's time to talk about authoritarian rule.
As I mentioned yesterday, the presence of mysterious police snatching people in Portland, OR off the streets made the word 'Gestapo' trend on Twitter. The Gestapo were the secret police of the Nazi state, and were active from 1933 to 1945. Hitler needed them to proceed on his agenda of exterminating the Jews.
One of the things I think about first when considering how it was possible to get that critical mass of people to take up arms and murder innocent strangers is the Milgram experiment. Stanley Milgram first conducted the experiment, also known as the 'obedience to authority' experiment, in 1961 at Yale. It has been replicated all over the world with similar results.
Essentially, without the test subjects' knowledge, each subject was tested to see if they would give electric shocks up to a fatal level to 'another' subject, who was really a recording of screams in response to the electric shocks. The question behind the experiment was: to what degree will individuals respond to authoritative command, even when it goes beyond those individuals' degree of comfort or ethical threshold? The answer was: a very high degree.
So DT's vow to send federal officers to US cities to restore law and order, while it sounds like a replay of pre-election Nixon, is also another replay of the Milgram experiment (as is most law enforcement, for that matter?!). Like, what do you think those mysterious police think they're doing?
Right at the beginning of the George Floyd protests, when every urban downtown was plywood-ed up and guarded by riot police, I went into downtown Boston and played the 'dumb white person' card I keep in my pocket for moments like those. I got a couple of Boston Police officers to tell me, oh so condescendingly, that in their line of work, which is dangerous and important, when the bosses give them orders, they follow them. I almost said 'you dumbass robot, sorry your mommy didn't teach you how to think critically' and biked away, but thought that maybe these folks were not to be trusted at my back.
Anyway, I bring up Hitler because DT's targeting of the American public with mystery police is specifically dialed in to cities. I wish he was right that Chicago, Oakland, Detroit, and New York are all run by the radical left, but really, it seems that he's going after a specific group of Americans—people who are going to vote against him in a few months.
Yesterday, he announced the deployment of Department of Homeland Security agents to Chicago, where he has been one of those white people in power who loves to talk about "Black on Black crime."
Wait, DHS? Yes, Chicago is in the 100-mile border zone where basically anything goes—the 100-mile border zone where almost 2 out of 3 Americans live. Find out if you're in it and more about the free-for-all, Constitution-be-damned stuff that can go down here.
Senators Merkley, Murphy, and Wyden have introduced legislation that would curb the powers of federal agents. I just love that we needed to wait to evoke the Gestapo before deciding it was necessary to curb federal police-types' power. Also, like we can do anything in a Senate controlled by Mitch Chin McNasty. I have nothing else insightful to say.
Here's a nice seal (not to be confused with a not-nice SEAL).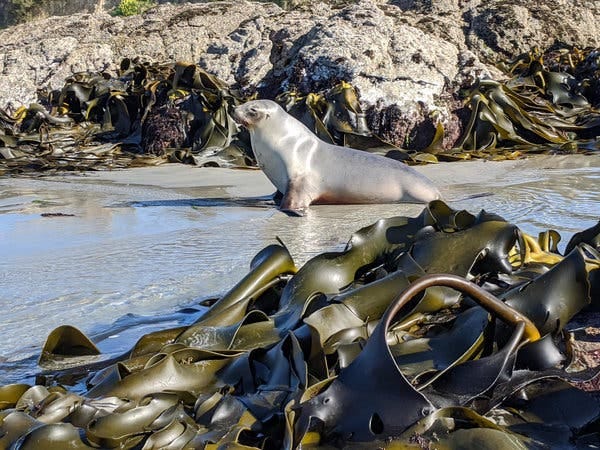 (via)
*Hot Goss*
Back tomorrow from the superb Latifah Azlan.