July 22nd
Issue 19.3
Good morning!
Welcome to Issue 19.3 of Digestable, your daily mouthful of real things happening in the world, minus alarmist pandemic news.
I'm all ears for your feedback, or if you're already a fan, share this email with your friends. If you're not yet on the list, click below to sign up.
Don't forget!
Submit your juicy questions—family Zoom call etiquette, how to remember to eat meals when you work from home all day—to carosadvicecorner@gmail.com by noon tomorrow for Friday's column!
Today's news, fermented:
I have a little confession to make. I'm staying with my partner this week, and there are three (3) animals who live here, a cat and two dogs. I made friends with the more outgoing dog a while ago, but just in the last 24 hours the shyer dog and the kitty have decided they like me. So I spent the last 30 minutes, which normally would have been the 'what am I writing about today' time, on the floor with a dog, and then on the counter with a cat.
All of this is to say—I read an article yesterday about this guy doing research about the benefits of animal therapy (for humans). It seems to be pretty effective and powerful, and gets at a kind of emotional reality that most Western medicine does not. But I didn't want to share the piece because the animal therapist is based in the occupied West Bank, which was mentioned, but not discussed.
As an American Jew, I have a basic grasp on the Israeli occupation of Palestine, but admittedly do not know enough to articulate with any authority. I'm putting a public accountability pin in this: stay tuned for more on what's up in that anciently-sacred part of the world in the next week or so.
One of the things that—again, from my distance/lack of nuanced understanding—has struck me about relationship between Palestinians and Israelis and the land they both call home is that there is a central question of who has a right to be free where. Questions like this (admittedly enormous question) shape the discourse in the US as well, particularly when considering how place-based oppression has been here. Forcibly moving and removing humans to and from this land; turning some pieces of land into reservations and others into segregated, redlined cities and race-exclusive suburbs.
And out of place comes political identity, as we have seen in the president's recent threats to 'radical left cities,' and the impending red/blue/purple-speckled map in November. And out of political identity comes identity politics—one of, in the words of Keeanga-Yamahtta Taylor, "the most controversial and misunderstood terms in all of U.S. politics."
Taylor goes on in this piece, "Until Black Women Are Free, None of Us Will Be Free," to discuss the Combahee River Collective's statement, a radical Black feminist writing that brought us the idea of identity politics. Here's their explanation:
"We believe that the most profound and potentially most radical politics come directly out of our own identity, as opposed to working to end somebody else's oppression. In the case of Black women this is a particularly repugnant, dangerous, threatening, and therefore revolutionary concept because it is obvious from looking at all the political movements that have preceded us that anyone is more worthy of liberation than ourselves. We reject pedestals, queenhood, and walking ten paces behind. To be recognized as human, levelly human, is enough."
Taylor says in her article that, looking at the Combahee River Collective's statement in the wake of Ferguson, provided:
"a powerful intervention for the left as a whole. In a political moment when futile arguments claimed to pit race against class, and identity politics against mass movements, the C.R.C. showed how to understand the relationship between race, class, and gender through the actual experiences of Black women."
The statement explains why this is so important:
"If Black women were free, it would mean that everyone else would have to be free since our freedom would necessitate the destruction of all the systems of oppression."
There's more to be discussed here—freedom in spite of place-based injustice, a better-informed examination of the Israeli occupation—but I'll leave it, today, with the idea of the destruction of all the systems of oppression.
Here is a very cute animal pair from that concerning article.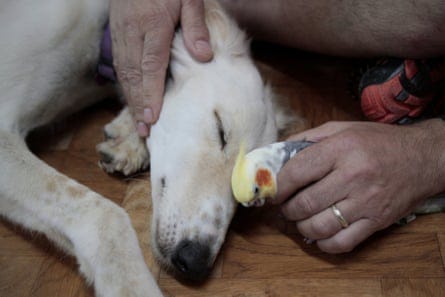 (via)
*Hot Goss*
Brought to you by the superb Latifah Azlan.
Before I dive in with some promised ~*Hot Goss*~ on last week's royal wedding, I just wanted to take a moment to apologize for my absence yesterday. I had fully planned on writing about Princess Beatrice of the House of Windsor's nuptials to Edo Mapelli Mozzi, but came down with a severe case of cramps that rendered me unable. I hope you don't mind that the goss is a little stale by now.
So yes, Princess Beatrice of the British Royal Family quietly married her fiancé Edo in a small and secret wedding in Windsor last weekend. Given the pandemic, not many people were in attendance, but reports stated that the ceremony was arranged for last weekend so that Queen Elizabeth could attend before she leaves for Balmoral at the end of the month. Sources also say that Princess Beatrice ultimately chose to have a smaller, more intimate wedding to avoid massive costs – probably a prudent idea in these times of hardship. Of course it helps when you have a family that owns several estates from which to choose for a low-cost wedding, but you know, I suppose we don't get to choose the station we are born into and this life has just been Beatrice's luck of the draw.
Anyway, I'm personally surprised that the couple went through with a low-key wedding. Earlier this year, the pair had to cancel their original plans due to the coronavirus and there were also some talks that Princess Beatrice wanted an even bigger replacement wedding in 2021 to "bolster the nation's morale" amidst, you know, joblessness, disease, and shrinking economies. I don't know who the genius in the court that leaked this story was, but the idea of a massive taxpayer-funded party for the elites clearly went over well with the general public. I have been binge-watching The Great on Hulu and I think this is where a "Huzzah!" would be appropriate.
Obviously I don't know what changed the calculus for the couple, but the pair went through with the wedding and to be honest, it was quite sweet. Princess Beatrice wore a vintage dress by Norman Hartnell and a diamond fringe tiara – both of which were worn by Queen Elizabeth herself during her wedding in 1947. I think Princess Beatrice may have altered the dress some by adding puffed organza sleeves, which I don't particularly care for but it is a nice dress overall. She is also the first royal in a long time to not have a wedding band made of Welsh gold, which is tradition.
So yes, a simple and sweet wedding for the pair. Congratulations. Shall we briefly talk optics? Because whatever the British Royal Family is doing to stage-manage these nuptials are working. People are praising Princess Beatrice for her small, pandemic-compliant wedding but given the boiling hot water that the royals have also found themselves in given Prince Andrew's, cough, potential involvement in a global human trafficking and sex abuse ring orchestrated by disgraced financier Jeffrey Epstein and has recently captured co-conspirator Ghislaine Maxwell, cough cough cough, it seems clear to me that the royals have needed some scrap of positive press. Prince Andrew and his ex-wife Sarah Ferguson were nowhere to be seen in the official wedding photos of Beatrice and Edo – it was either photos of just the couple or the couple with the Queen and Prince Philip. That's quite curious to me.
This write up has been longer than intended so I'll call it a day here. But while we're on the subject of royalty, happy seventh birthday to Prince George! May you eat all the finest cakes your private bakers and pastry chefs have to offer today.