July 24th
Issue 19.5
Good morning!
Welcome to Issue 19.5 of Digestable, your daily mouthful of real things happening in the world, minus alarmist pandemic news.
I'm all ears for your feedback, or if you're already a fan, share this email with your friends. If you're not yet on the list, click below to sign up.
Today's news, fermented:
Friday!
I have some *good* news: New York State just passed automatic voter registration. It'll take effect on January 1, 2023, and is a big ol step in the direction of Viable Democracy. (Thanks to my sweet mama for this tip!)
For weekend, reading, we've got:
And here's an unfortunate article about what happens to our cellular receptors when we sit too much that I only clicked on because it featured this kitty.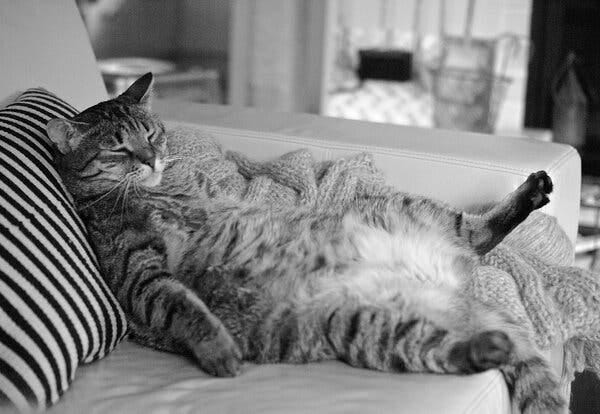 (via)
Caro's Advice Corner
Dear Caro,
It's been sweltering hot and I want to go to the beach!  But I am really nervous because of how crowded beaches can be, especially after seeing photos on the news and social media. Help!
Sincerely,
Sweltering hot

Dear Sweltering hot,
WOW do I feel your pain.  Not only because I'm from the Ocean State (home to some of New England's best beaches ;) -- and I will challenge you on that), but because I myself have experienced the sluggish, uncomfortable feeling of chillin in the sweltering hot heat with no way to cool down. Now, we are of course experiencing a global pandemic, so finding a way to cool down in a safe way has become tougher.  

So let's consider the beach for a hot sec. I did some research, Sweltering hot, so you wouldn't have to, and here is what I found. According to the CDC, here are the different risk scenarios for going to the beach to take into considerations:
Lowest risk: Staff and beach visitors stay at least 6 feet away from people they don't live with. Staff and beach visitors do not share food, equipment, toys, or supplies with people they don't live with.

More risk: Staff and beach visitors get closer — less than 6 feet away from people they don't live with but who live in the same local area*. Staff and beach visitors limit their sharing of food, equipment, toys, or supplies with others — for example, they share only with a next-door neighbor.

Highest risk: Staff and beach visitors get closer — less than 6 feet away from people who live in a different area** where the spread of the virus might be greater. Staff and beach visitors freely share their food, equipment, toys, or supplies with others, even people they don't know.

*Local area could be a town, city, or county.
** Different area could be another town, city, or county.
Now, while I can't tell you whether it is safe to go to the beaches near you or not, just practice good common sense, and make sure to keep your best interest and the best interest of others around you in mind.  Don't be an asshole and not wear a mask going to your spot on the beach, don't be that idiot that brings 30+ friends with them and has a party at the beach...be a decent human being, ya know?  Anyways, I will leave you with these tips and guidelines from the experts at the CDC, and I wish you luck, Sweltering hot!
With care,
Caro

DJ M0RO's low-key Music Show
What follows are the soundtrack highlights from my adventures this week. Featuring music listened to in my car while driving around looking for a new place to call home, and through headphones while walking around the block on a muggy summer day. Welcoming in the coincidence of listening to the 1619 project's episode on the Birth of American Music exactly while trash bigots paid by the government lobby to remove it from classrooms! What a very "noble" move (yuuuuk). As an antidote, relisten and share the episode :)
Vagabon's presence is like a guide on a really introspective (in a good way) day, holding sun and moon qualities alike. Watch her new video for In A Bind (haven't all of our bodies gone awry?) and wait for the sax.
Joan Shelley's new live album makes me feel like I'm in meadow and I love it. Also evokes sensations of tending to houseplants, cuddling with pets, cooking dinner with a housemate, and taking long deep breaths. 
On a personal note I'd like to report that I saw Hamilton for the first time this week. Like, first time ever, in any format. Somehow I'd managed to only hear a few songs here or there, out of context. I cried like, the whole time. Truly it's just so many of my favorite things, *in one thing*! Civics, costumes, nods to almost every musical genre, creatively retold stories, political relevance…. (anyone else seeing it for the first time? and been listening to showtunes alone in their bedroom at home?...)
*Hot Goss*
Brought to you by the superb Latifah Azlan.
I know there's one thing on our minds this morning: Taylor Swift's latest album folklore.
Taylor announced the surprise release of her latest studio album yesterday, which dropped at midnight. And just in time for and anticipation of a quarantined autumn in, this album – complete with collaborations with Bon Iver and Aaron Dessner of The National as well as lowercase font on all song titles – is mellowed and subdued compared to her previous releases. It instantly invokes heavy flannel, LL Bean duck boots, and a nippy but fresh fall breeze blowing through a half-opened window while a three-wick Bath and Body Works' 'Leaves' candle burns on the coffee table.
The album has been getting rave reviews so far but I'm only about halfway through so I really have no further hot takes. Full disclosure: Taylor Swift wouldn't be an artist I'd rush to play if I were given control of the aux cord, but from what I've listened to, folklore might be her best work yet. It is certainly her most mature. I am also impressed by how constantly Taylor shapeshifts – no two albums of hers sound the same and she has dabbled in several different genres across all her albums while still keeping the essence of her artistry and songwriting in each one. folklore actually slightly reminds me of Norman F—cking Rockwell from Lana del Rey, which was also released in late summer of 2019 and carries the same dreamy, reminiscent vibe that folklore has. Both are perfect albums to usher the new season in, though folklore comes a few weeks early for that, but since we're all hunkered down inside anyway, it's pretty much the same, right?
Here is folklore for you to soundtrack your weekend indoors to. Keep safe all, and I'll see you on Monday!