July 2nd
Issue 16.4: What we need
Good morning!
Welcome to Issue 16.4 of Digestable, your daily mouthful of real things happening in the world, minus alarmist pandemic news.
I'm all ears for your feedback, or if you're already a fan, share this email with your friends. If you're not yet on the list, click below to sign up.
Today's news, fermented:
A bunch of years ago, I moved to Bed-Stuy, a stronghold of Black homeowners and community in the heart of Brooklyn. If you're unfamiliar, you should watch Do the Right Thing, which is set in 1989 but is staggeringly relevant today.
I felt, as they say, some type of way about moving to Bed-Stuy. Lots of neighborhoods in New York City were and have been gentrifying over the course of my life, and as a young person, it's hard to afford housing in neighborhoods that are not actively in the process of displacing longtime low-income (often Black and brown) residents. Thus is the folly of Brooklyn.
But Bed-Stuy, unlike Downtown Brooklyn, where I grew up, had and has a sacredness to it. Bed-Stuy is place where Black folks were able to buy property, build community, and nurture political leaders (Shirley Chisholm and others). Moving to Bed-Stuy as a young white person felt like much deeper moral corruption than moving to other neighborhoods that were certainly better off un-gentrified, but don't have the long history of Black people cultivating power in the face of a country and city that didn't want them to have it.
There is nearly no way to absolve yourself of being a gentrifier; I felt this way when I lived in Bed-Stuy. I felt it last week marching through Fort Greene, another historically Black neighborhood, where young white parents stood on the stoops of brownstones they bought out from under Black people, waving Black Lives Matter signs. I have a lot to say about gentrification, but I never figured out how to walk the line of acknowledging systemic problems alongside holding individual responsibility.
All of this is to say. I went to visit my old block in Bed-Stuy yesterday and see a former neighbor, who I'll refer to as M. We've remained close for the five years since I lived on her block; her life was and is hard. Our relationship is part-sibling(ly), part-parental, part-friendship.
We went for a walk, and passed the freshly-painted Black Lives Matter plaza, and talked about how the shitbag mayor almost defunded the Summer Youth Employment Program (SYEP) while leaving the NYPD budget intact. M was mad. SYEP has been a lifeline for her in the past, along with countless other young New Yorkers. It's a way to get job experience, make some money, have something to do during the long sticky NYC summer. It's a way to maintain some stability when life is, as M's has always been, incredibly chaotic and challenging.
For me, defunding the police is objectively necessary and true. I have been pepper sprayed, shoved, harassed by cops in cars while on a bicycle, insert police brutality that happens at protests, so on. I know that they abuse power and the budget. But I have lived a life of relative safety and comfort, so my brushes with the police are annoying and problematic, but not personally emblematic of money that should be spent on a program that makes my life unquestionably better.
As we were walking and talking, M listed off a number of things that would help her out in this uncertain and challenging time—the pandemic is just bitter icing on the difficult cake she has been eating for a long time. Housing (her family is facing eviction); access to education (her under-funded special ed school lost her high school diploma); food, mental health counseling.
All of my writing and explaining is not worth half as much as her truth. People—most often Black and brown people—who have been systematically disallowed from accessing services I have always had at my fingertips, need stuff to live. 'Defunding the police' sounds like a radical demand, but it's actually a cry to fund basic services and needs. If you have a problem with that, you gotta spend some time thinking and learning deeply about your resistance.
For some afternoon reading, here's It's Time to Invest in Black Trans Power, an article by a Black trans woman that demands for similar meeting of basic needs, as well as some deep considering and structural power shifts (always good).
If you need help jogging your mind out of this messed up world to help imagine a future in which we're paying people to kill us instead of help us, think about these 300-pound wombats.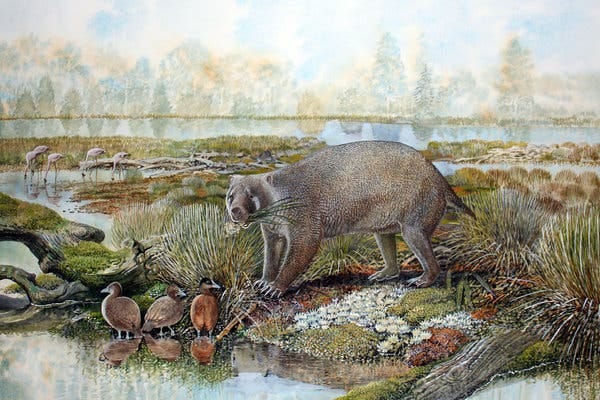 (image via)
*Hot Goss*
Brought to you by the superb Latifah Azlan.
You know, there are few things that make me do a double take when it comes to ~*Hot Goss*~ because in all the years I've been using celebrity gossip outlets as my primary news source, I've read almost all of it.
Until today. Here is the headline I saw: "Paris Jackson to portray Jesus as a lesbian in controversial new film."
I.
I have a headache reading that sentence. The movie, which is currently in pre-production, also stars musician Gavin Rossdale and actress Bella Thorne but I don't quite know what the plot is? Unsurprisingly, many people are mobilizing to stop the production of this movie, calling it "blasphemous" and "Christianophobic garbage."
I know we're all going slightly nuts in quarantine but really, what does it take to come up with something like this? Asking for myself because I need to spice up my life in lockdown.
Oh here's another "Wtf even" moment for today. Lili Reinhart, who plays Betty Cooper on the CW series Riverdale, is sorry for using her sideboob to bring awareness to the murder of Breonna Taylor. I mean, I just– *throws up hands in exasperation*
Your thirst traps are not the device to call for justice that you think it is.
Please stop.
Thank you.