July 30th
Issue 20.4
Good morning!
Welcome to Issue 20.4 of Digestable, your daily mouthful of real things happening in the world, minus alarmist pandemic news.
I'm all ears for your feedback, or if you're already a fan, share this email with your friends. If you're not yet on the list, click below to sign up.
Today's news, fermented:
Let's start with an update, which I will entitle, this is why we can't have nice things, via Gabriel. They wrote to me yesterday, in response to the Baffler piece I shared yesterday, that "the Sheraton sanctuary was shut down a bit ago and people relocated to the purposeful encampment in Powderhorn Park until THAT was forced to dissolve, and now folks are scattered throughout several encampments in city parks.  Here's a piece about Powderhorn with a bit of history!"
As usual, it's disappointing to see that the ways in which we are successfully making a world for the many get shut down by the few, but we're practicing. This is a long haul.
Other bits of news today suggest that this work is long, but at least we have some tools. The first thing that came to my attention confirmed a fear I'm sure many of us have. Lawrence Douglas, a law professor and author of Will He Go? believes that we are on the road to a constitutional crisis if there is any room to doubt the results of November's election—which the lag-time of counting mailed ballots will surely leave room for.
In an interview, Douglas explains that there are basically no constitutional plans to address this (this being DT not leaving office post-election), and utters the phrase, "we might not have a president," which, imho, we already sort of don't. History people: what's up with that constitutional shortcoming? Did fascism just not exist in any form in the 1780s?
The moral: mail your ballots early, volunteer to count them if you can, tell all your friends, and get ready for some first-rate chaos.
The good news: evidence suggests that it's possible to talk people out of bigotry, which is an important thing to do with your T****-loving circle. This is a really hard task that I in my isolated lefty bubble don't really encounter. Let me tell you, getting shoved by MAGA bros while blockading an entrance to the 2017 inauguration did not inspire me to have these conversations.
But it's 2020, and the stakes are just…so unimaginably high. Know people in swing states who are planning to vote the wrong way? Have those conversations, pull out all of your arguments, get your siblings to call your dad too, send postcards, whatever you have to do. I in my liberal bubble will be talking to the more center-lefties in my circle about why Biden is an idiot and we need to continue to push him on everything while dismantling white supremacy, which is a related task, also probably a good use of time.
Anyway, that article says what a lot of us already knew—that listening deeply and meeting people where they're at is how you move them. It requires a lot of patience and compassion, both of which can be resources in short supply in these pandemic times.
Some good resource-related news: the Esselen Tribe, based in what is now California, just got some of their land back. It's the first land-return for this tribe, which lost nearly 900 of its 1,000 members in the 1800s, in the words of the article, "to disease and other causes by the early 1800s." Are they glossing over genocide here or…no, they definitely are. The president of the land conservancy that was involved in the land transfer also refers to it as "a spectacular property," which feels really ironic and sad.
There's a lot of work to do in the realm of mainstream media talking about land return (surprise). I did also recently learn that landowners can return their land to tribal governments and maintain ownership over it, but just will pay taxes and receive services from those tribal governments, rather than the US. Own some land? Know someone who does? Might be something to look into.
Back to swing states for a moment—check out this completely absurd tweet (and the replies, if you want a laugh) from the Pennsylvania treasury department.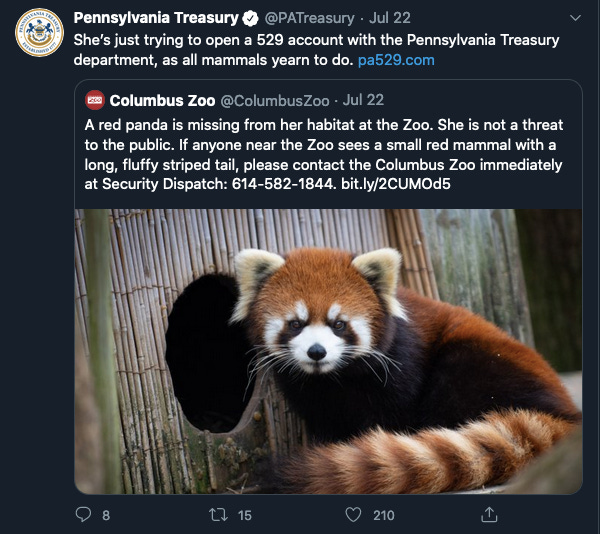 *Hot Goss*
Brought to you by the superb Latifah Azlan.
I've wanted a reason to write about Paul Mescal for some time now, and today, I am going to seize the moment.
There is nothing that I love more than a good coming-of-age story – tv, movie, book, whatever the form. And the past year, a lot of hype has been centered around Normal People, first as a book written by author Sally Rooney and then its ensuing tv adaptation jointly produced by BBC Three, Hulu, and Screen Ireland. Briefly, Normal People follows the relationship between Marianne and Connell from high school through to their undergraduate years at Trinity College in Dublin, Ireland. As you can expect, there is a lot of love and heartbreak and immaturity and maturing and coming of age.
I've not yet read the book but did start watching the series on Hulu until I realized that I just cannot go through this good of a coming-of-age story alone, in quarantine. I got as far as two episodes and had to make a strong pact with myself that I would take it slow. As far as the tv series go, it is absolutely, breathtakingly beautiful. And there was a lot – a lot – of sobbing on my part just in two episodes. So you see why I had to just not.
Paul Mescal, who plays Connell in the adaptation, is a standout. And given that he was nominated for an Emmy for Outstanding Lead Actor in a Limited Series or TV Movie on Tuesday, I am clearly not the only one who thinks so! He's in a category alongside heavyweights like Jeremy Irons (for "Watchmen") and Hugh Jackman (for "Bad Education") but the man's holding his own. Full list of Emmy nominations here if you are interested!
There are also rumors that Paul may be dating indie singer Phoebe Bridgers, according to photos of the two at a café together in Ireland. When I first saw this headline, I could feel my heart palpitating. What a sweet pairing! So now, I am really hoping this is real. Paul also hit back at British papers claiming him to be British on articles regarding Emmy nominations by tweeting a simple "I'm Irish." A man who stands up for what he believes in?! I'm hot and bothered already.
Anyway, this is to say that despite my attempts to swear off white men, I am simply human and have no self-control. I will upgrade myself from a Victorian-era pigeonlike orphan Timotheé to a beefy rugby player-esque IRISH Paul however. Because, self-respect. You're welcome, self.