July 6th
Issue 17.1: Now What?
Good morning!
Welcome to Issue 17.1 of Digestable, your daily mouthful of real things happening in the world, minus alarmist pandemic news.
I'm all ears for your feedback, or if you're already a fan, share this email with your friends. If you're not yet on the list, click below to sign up.
Today's news, fermented:
At a protest on Saturday, a white guy started up a "Black Lives Matter" chant. And then I found myself walking among a group of entirely white people saying "Black Lives Matter" in a kind of singsongy tone, which lost steam after a few blocks.
Great, I thought, really great. That's all?
After spending a week in New York, where protests are still shutting down streets and filling bridges and highways, it's good to step back. Protesting is often, especially when the cops have decided it's not worth intervening, especially when we've been inside for months, pretty fun. Every protest I went to, I ran into some friends, made some new ones.
But now that we've figured out which NY city councilors voted the wrong way on last week's budget, chanting "Black Lives Matter" seems like an acknowledgement that we are, in the words of Erin Aubry Kaplan, "moving into position at the starting line, but [this] is not the race." Kaplan's article, Everyone's an Antiracist. Now What? demands that we not call the beginning of this fight the end. (The piece also opens with a great Dr. Seuss analogy.)
The question of Now What? is coming up all over the country, in cities that have voted to dismantle or defund police departments, in places that have resisted doing so, and in response to pro-cop rallies.
Ja'Mal Green, a Chicago organizer, has an idea: JP Morgan Chase, the biggest bank in the US, should give $1 billion to Black neighborhoods in Chicago to repair harm done by the bank's racist lending practices. The shape of cities—who lives where and why, and what resources are available in those places—is at the root of why, post-Civil Rights Act, Black people are still so often subject to inhumane conditions and treatment in urban areas. Ja'Mal's plan gets at some of those core injustices.
While we're on core American injustices: indigenous activists have demanded that the US government acknowledge its original sin (stealing native land, committing brutal acts of genocide) since it occurred. This past weekend, land protectors protested on the unceded Lakota land where Mount Rushmore is located; they have been tear-gassed and arrested for their defiance of T****'s appearance for a July 4th address. (Find info on bail funds to support here.) DT said some truly horrifying stuff, but this is not new.
The good news is: indigenous-led protest is effective. The Atlantic Coast Pipeline, a monster of fossil fuel infrastructure that would have crossed the Appalachian Trail, transporting fracked gas, is officially cancelled (imho, best use of cancel culture).
This is great, and checks out on many fronts: other fracking companies are filing for bankruptcy, and indigenous people are the most-equipped to protect land. More please.
Here's a dolphin eating a fish it chased into a shell. May we (as the dolphin) learn to do the same with the fracking industry's (the fish) financial viability (the shell).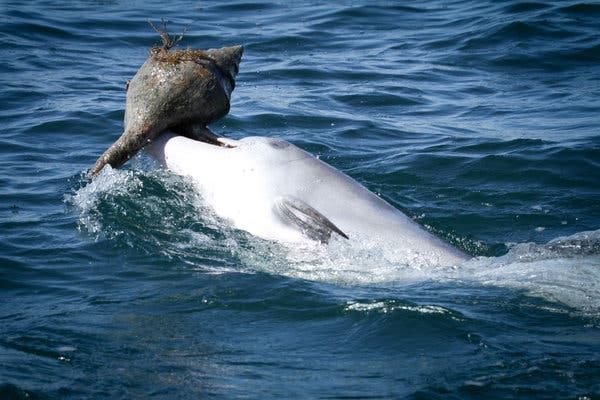 (image via)
*Hot Goss*
Brought to you by the superb Latifah Azlan.
I hate to do this to you on a serene Monday morning but I have no choice.
Kanye West has announced that he will be running for president.
I know. I know, I know, I know. I'm so sorry for even giving this clearly obvious attempt at attention-grabbing any air on this column, but I couldn't not write about it. I know you hoes would be asking me about this ~*Hot Goss*~ all day long, so here you go. Kanye says a lot of things, and this may be his wildest or boldest proclamation yet, but it remains to be seen if this plan will actually materialize. According to Politico, he hasn't filed the necessary paperwork with the Federal Election Commission nor has he gotten the necessary signatures to appear on ballots this November – the deadline of which has passed in six states. But laws are also flexible and I guess exceptions can be made if you have enough money or connections to facilitate such changes. Make of this news what you will. I will be mostly ignoring it, I guess.
If you want Ghislaine Maxwell updates, you can find them here and here.
And finally, here are photos of our favorite ubiquitous celebrity couple BenAna (Ben Affleck and Ana de Armas) taking a walk last week and laughing. Look, these carefully staged shots are just too much guys. It's veering into Shawn Mendes and Camila Cabello territory now, which is not cute. And there is just no way Ben Affleck is this funny of a dude. I know it, and I can feel it in my bones. So please let up or I'm gonna have to downgrade you from a Lenny Kravitz/Nicole Kidman to a Ben Affleck/Jennifer Lopez on my Sliding Showmance Scale.