July 7th
Issue 17.2: Enough is not actually enough
Good morning!
Welcome to Issue 17.2 of Digestable, your daily mouthful of real things happening in the world, minus alarmist pandemic news.
I'm all ears for your feedback, or if you're already a fan, share this email with your friends. If you're not yet on the list, click below to sign up.
Today's news, fermented:
(content warning: violence)
One hundred and sixty people were killed with guns over the July 4th weekend.
Some of them were children: eight-year-old Secoriea Turner in Atlanta, a six-year-old in Philadelphia.
Many were older; parents, grandparents. Everyone was somebody's someone.
Lori Lightfoot, the Chicago mayor who replaced Rahm Emmanuel in 2019, worried about turning back the small progress that has been made on gun violence in the city. Keisha Lance Bottoms, mayor of Atlanta, said "enough is enough."
What does that even mean?
I'm not an expert, but I'd venture to say that the violence in American cities is a direct result of divestment in people and investment in security (read: police, also security ≠ safety). Add in incentivizing white people to leave cities and move to suburbs (the GI bill, among others; see the investment in the American highway system and auto manufacturing), criminalizing literally everything (loitering, jay-walking, selling loose cigarettes), especially low-level drug offenses for crack and heroin (but not cocaine, drug of CEOs), and then starting a literal war to stop the sale of those drugs, and then continuing to invest in people, not police, for decades. I think we actually do have some idea of what went so horribly wrong.
Again, not an expert…but those calls to defund the police, as I and so many others have written about, is not just about what that money is currently funding, but what is left un-funded.
For a start, here's a visual guide to how to understand your city's budget. Don't live in a city? Great, wherever you live, there's some kind of budget. And that budget is made up of your, and others', money. Take it back and spend it in ways that ensure safety and comfort for all people—housing and food assistance and job placement and education, not police.
Along with the police, the other entity most harmfully sucking public funding is, you guessed it, the fossil fuel industry. Over 5,600 fossil fuel companies have taken at least $3 billion in US Covid-19 aid. The two- to three-thousand dollar course of experimental coronavirus treatment? As low as we could go. But three billion dollars, who needs it?
More and more, it is evident that police aren't protecting us, and the fossil fuel industry is becoming completely unviable and as obviously dangerous as it always has been (see yesterday's phenomenal Dakota Access pipeline victory).
And suddenly, people who so many Americans look past and choose not to see—service workers, grocery store clerks, nurses, delivery drivers—have become essential.
Aya Brown, (who I grew up with!) has been drawing Black women who are essential workers since April. See more of her work here, as well as the one below. I think it's pretty clear who is most deserving of investment and protection.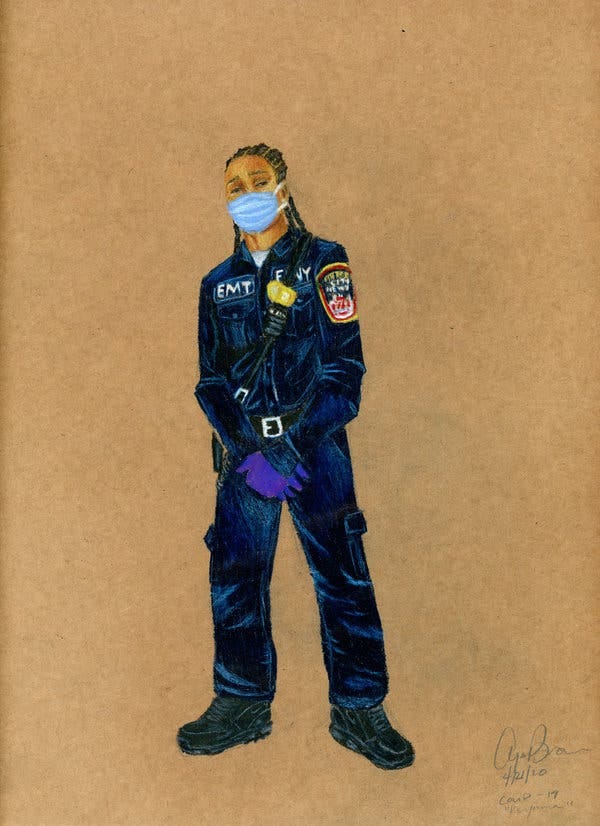 (image via)
*Hot Goss*
Brought to you by the superb Latifah Azlan.
Do you remember a time pre-quarantine when all anyone could talk about was the Netflix reality show Love Is Blind?
I was definitely part of the hype, following the show from beginning to end when it first debuted and attending weekly watch gatherings at my friend Amy's house. For a while the stars of Love Is Blind were the only names people talked about. All of that has been eclipsed by the bajillion things that have happened since the 'rona brought everything to a halt. But I've got a ~*Hot Goss*~ update for you today, and it's about our favorite messy man from that show, Mark Cuevas.
For those not in the know, Mark was a contestant on Love Is Blind, a reality show on Netflix where single people try to find and fall in love with their "soulmate" without ever seeing each other face-to-face during the first ten days of their courtship. Eventually, after deciding on their match, the couples (4 "successful" matches in total) are whisked away to Mexico for a couple's retreat before getting engaged and moving into the same apartment in Atlanta. The end goal, of course, is walking down a production aisle and getting married.
Mark was part of a pairing with Jessica Batten, who was ten years older than her beau and became fixated on the fact that she would be 44 years old when Mark turns 34 and that another contestant on the show didn't choose her to be his partner. Unsurprisingly, the pair did not end up getting married and have since gone on to date other people.
That is, until Mark was recently exposed as a cheater! In a Reddit post on the Love Is Blind subreddit (currently deleted but you can read the comment thread here), a fan of the show shared news that her co-worker was dating Mark. LC Chamblin, another former contestant of the show then left a comment saying that she had been dating Mark since May, thinking that they were exclusive.
What an absolute ride. Those of us who followed Love Is Blind all season can attest to how frustrating it was to see Mark let himself be repeatedly disrespected by Jessica but damn, maybe we should all collectively admit that Jessica may have been right! And to be honest, thinking back to the show, there were definitely red flags for Mark's well-concealed fuccboi vibes.
Exhibit A: 
I mean, really, ya'll know at least one girl who's been on and off with a manchild who has the exact same bed setup as Mark. Think of how much you hate that guy and is frustrated with your friend for putting themselves through the emotional rollercoaster! But we were so horrified by Jessica letting her dog drink out of her wine glass and her baby voice that we gave Mark a pass. SMH. Mark's embiggening is our collective failure and we should just sit with ourselves on this one.