July 8th
Issue 17.3: One step on a broad stairway
Good morning!
Welcome to Issue 17.3 of Digestable, your daily mouthful of real things happening in the world, minus alarmist pandemic news.
I'm all ears for your feedback, or if you're already a fan, share this email with your friends. If you're not yet on the list, click below to sign up.
Today's news, fermented:
What made you start saying, "Defund the police?"
Was it the other people at the protest? Was it when arresting cops for killing people isn't enough? When you saw the budget?
Derecka Purnell, a human rights lawyer who grew up in St. Louis, just published a piece: How I Became a Police Abolitionist. She explains that she has not always identified this way, and in fact,
""Police abolition" initially repulsed me. The idea seemed white and utopic. I'd seen too much sexual violence and buried too many friends to consider getting rid of police in St. Louis, let alone the nation. But in reality, the police were a placebo. Calling them felt like something, as the legal scholar Michelle Alexander explains, and something feels like everything when your other option is nothing."
And it seems, looking as we have at so many city budgets, that the "other option is nothing" because the money that would fund crisis response teams, food assistance, housing services, mental health counseling, job placement, is instead going to police, the one "something."
All of these potential services that could be provided will only become available if we decide, as a society and purported democracy, to commit to the mattering of Black lives. This matter of mattering is not just about what isn't present, but also about what is. Earlier in the article, Purnell describes the neighborhood where she grew up:
"Our neighborhood made us sick. A Praxair industrial gas-storage facility was at one end of my block. A junkyard with exposed military airplane and helicopter parts was at the other. The fish-seasoning plant in our backyard did not smell as bad as the yeast from the Budweiser factory nearby. Car honks and fumes from Interstate 70 crept through my childhood bedroom window, where, if I stood on my toes, I could see the St. Louis arch."
The existence of environmental injustice—including but not limited to the placement of landfills, fossil fuel refineries and plastics factories, of industrial facilities pumping out toxic waste, highways—is a clear sign that people who make decisions about the siting of those things are fine with Black lives not mattering. This becomes a 'threat multiplier,' essentially making everything bad worse. Asthma keeping kids home from school, lack of access to clean air and water impeding brain and body development, chronic health issues following adults through their lives, mental health problems popping up in response to a lifetime of environment-induced stress.
Discussing environmental harms alongside violence, Purnell says that,
"When people dismiss abolitionists for not caring about victims or safety, they tend to forget that we are those victims, those survivors of violence."
As always, it is people who have experienced harm—police violence, sexual abuse, homelessness, hunger, mental health crises—who are often the best equipped to divine the appropriate response to those harms.
Drawing on examples Purnell puts forward, this can include:
Among others. Purnell makes a suggestion:
"Rather than thinking of abolition as just getting rid of police, I think about it as an invitation to create and support lots of different answers to the problem of harm in society, and, most exciting, as an opportunity to reduce and eliminate harm in the first place."
And then reminds us that,
"Defunding the police is one step on a broad stairway toward abolition."
You can find the rest of the article here.
As always, here's a funky creature to jog your thinking out of this world into the one we need.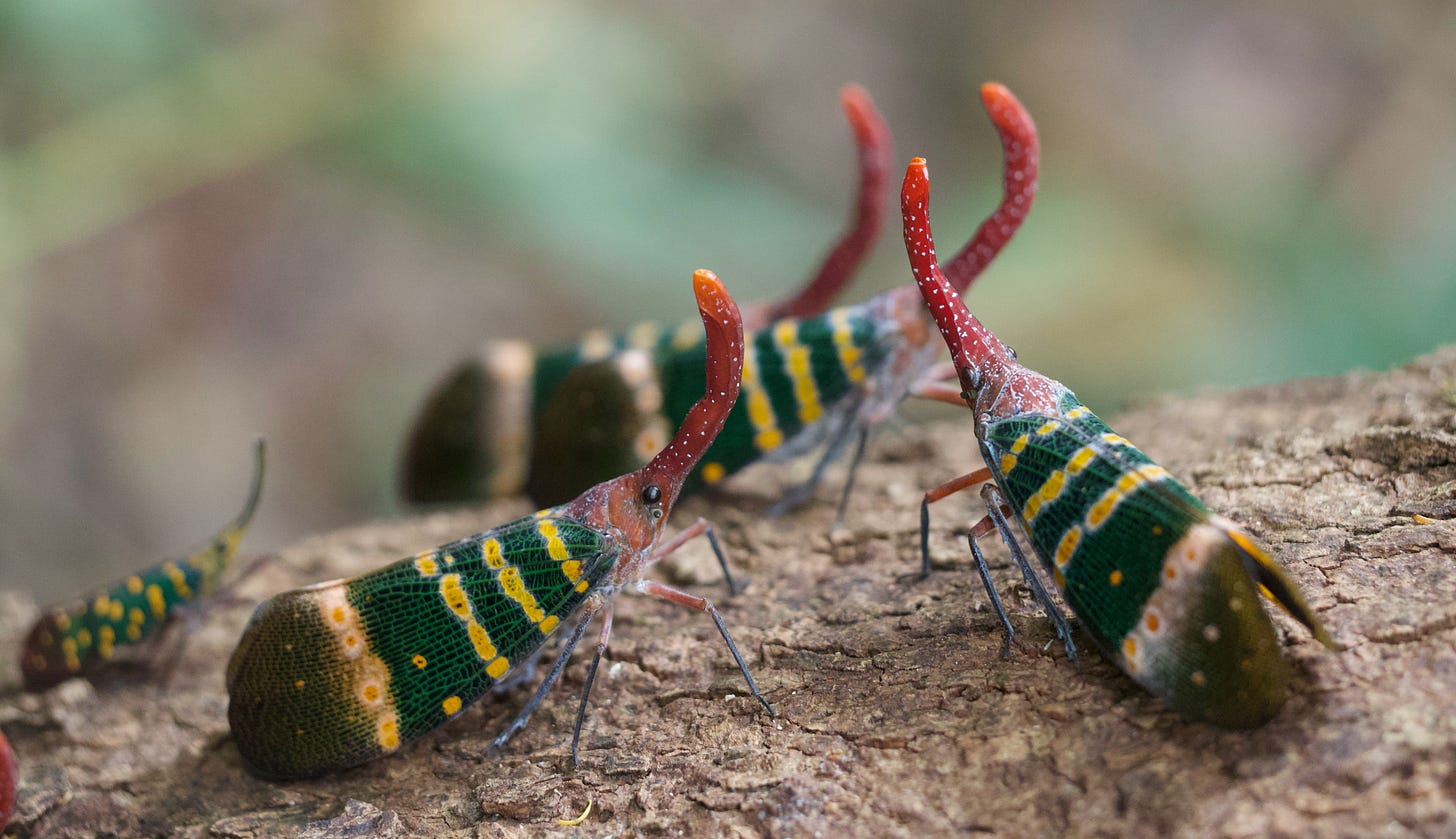 (image via)
*Hot Goss*
Brought to you by the superb Latifah Azlan.
Are you a conspiracy theorist?
I'd like to think that I'm not. I sarcastically tell people I'm a flat earther, just to see that split second of reaction from people where they can't fully make out if I'm telling the truth or not because it's funny. But otherwise, I generally don't put much stock into conspiracy theories. And with people like Alex Jones and sites like QAnon really poisoning people's minds, I feel like it can be even more important to reject these loony tunes beliefs as vehemently as possible.
However, I admit that sometimes, I indulge these theories. Only when it's fun though. Only as it relates to pop culture and celebrity! My favorite celebrity conspiracy theory is the belief that Avril Lavigne, pop star and infamous sk8tr gurl, passed away in the early 2000s and was replaced by a clone named Melissa Vandella, who has been masquerading as Avril for the last few decades. Of course, there's proof to back these claims up: Avril always wore pants on the red carpet whereas Melissa prefers dresses and skirts; the corners of Avril's eyes turn downwards but the corners of Melissa's eyes flick upwards; and there's a photo of "Avril" with the name 'Melissa' written on her hand. I don't know about you, but I am totally convinced.
But what I'm about to share with you today may possibly be one of the best celebrity conspiracy theories of all time, peddled no less by a congressional candidate in Florida named K.W. Miller. In a recent Twitter rant, this deranged man claims that Beyoncé is actually an Italian woman named Ann Marie Lastrassi who is masquerading as a Black woman on behalf of George Soros' (of course, who else) "deep state agenda for the Black Lives Matter movement."
Sound whackadoodle? See for yourself: 
K.W. Miller goes on to present his case as to why Beyon – I mean, Ann Marie Lastrassi is a globalist agent, diving deep into the lyrics of the hit song 'Formation' as proof for his claims. My favorite piece of evidence, however, has to be K.W. Miller's attempts at deciphering just who "Becky with the good hair" may be – like ALL OF US tried to in 2016 when Lemonade first dropped.
And how perfectly convenient of the Soros Foundation to just happen to have a person named Becky Hogge on staff. So absolutely curious! I tried verifying Becky Hogge as the potential "Becky with the good hair" but could not find any photos of her or her hair online so it's inconclusive for now. But here's what I really think: I think that K.W. Miller was late to the Lemonade party and is now trying to figure out with whom Jay-Z was cheating on Beyonce that led her to create this album (yes, every single one of those hyperlinks directs to an article about Becky with the good hair – and there are plenty more what those came from).
For some reason though, he feels ashamed by his indulging in celebrity gossip and sleuthing, so he had to resort to masking it in right wing conspiracy theories to make it palatable or acceptable to the people he seems to want to appeal to. A conspiracy theory sandwich! To which I say, friend, there is no shame! Even Fox News and Br*itb*rt were covering this story extensively in 2016 when we were all abuzz with speculation. Don't believe me? Just google "who is Becky with the good hair" followed by either one of those outlets and you'll see several articles they have published on this particular conspiracy theory ;)