June 10th
Issue 13.3
Good morning!
Welcome to Issue 13.3 of Digestable, your daily mouthful of real things happening in the world, minus alarmist pandemic news.
I'm all ears for your feedback, or if you're already a fan, share this email with your friends. If you're not yet on the list, click below to sign up.
*a reminder*
Don't forget to submit your questions to carosadvicecorner@gmail.com by tomorrow at NOON with the subject "Dear Caro" !
Today's news, fermented:
How tempted am I to write today's issue about the absolute nonsense of corporate responses saying they care about Black lives?
So tempted. If you want a bit of that, head over to Popular Information, where Judd Legum has done a spectacular job of stringing out some bad ones.
When corporations say they care about anything, it's nonsense, because corporate wealth is inextricably tied to long histories of racism and theft of resources and land. Today, I want to talk about a different mis-calibration of history.
We've heard a lot about George Floyd lately. And Ahmaud Arbery, Eric Garner, Philando Castile, Trayvon Martin, Michael Brown, and so many more. All of these men should be alive today.
It is well-known that Black men are targeted and portrayed as violent, and this is part of why they are too often pursued and murdered by police. I'm sure that some of the galvanization around George Floyd's murder had to do with the truly heartless act of violence and the visual of his death. But Breonna Taylor's murderers are still free; as are Tony McDade's and Nina Pop's.
Our movements, even those that seek to be intersectional movements for justice, tend to center men, and thus decenter women, and often erase trans people entirely.
When white people talk about Blackness, or civil rights, or police violence, nine out of 10 times, MLK is invoked. Not only does this completely ignore the existence of all the Black women and trans people who have made liberation movements run, but it does injustice to MLK. Even men's legacies don't thrive when we disproportionately turn to their words and leadership to be the voices of these diverse movements.
In her piece, "Using MLK to Quell Outrage Distorts His Legacy," Jeanne Theoharis chronicles MLK's countless callings-out of racism in the North, police brutality, and law-and-order culture. She recounts MLK's endorsement of a 'stall-in,' in which protestors in New York City planned to stall cars on the highway en route to the 1964 World's Fair so that people could no longer choose to not see inequality. How could someone who recognizes the need for bold and transformative action to dismantle systems that cannot be effectively reformed not look upon today's movements with pride?
And of course, MLK's success as an organizer and speaker existed in concert with lots of powerful, eloquent Black women. Keisha N. Blain writes, in "The Black Women Who Paved the Way for This Moment," that
"When most black women in the U.S. did not have access to the vote, these women boldly confronted the hypocrisy of white America, often drawing upon their knowledge of history. And they did so in public spaces—in mass community meetings, at local parks, and on sidewalks. These women harnessed the power of their voices, passion, and the raw authenticity of their political message to rally black people across the nation and the globe."
There's a ton of writing on the women of the Black Panther Party (here and here and here and more), who were crucial to the Party's impact. And now it's June, Pride month, and thus time (again) to remind white gays and queers that we can walk around in tiny shorts and bind our chests and hold hands with people who look like our siblings because Stonewall was a riot led by Black trans people.
If you've been donating to bail funds and Black-led organizations and are looking to further diversify where you're sending money, donate to GLITS, a housing program for Black trans women, based in New York City.
While we're on money, here's some writing on cities that are taking on the project of defunding their police departments and funding public health and safety programs. Here's some helpful graphics about where money for police budgets comes from in the first place.
I want to close with one of the few truly impactful and genuine company acknowledgments of the ongoing uprising and fight for Black lives. It's pretty upsetting, not what one would expect from BabyNames.com.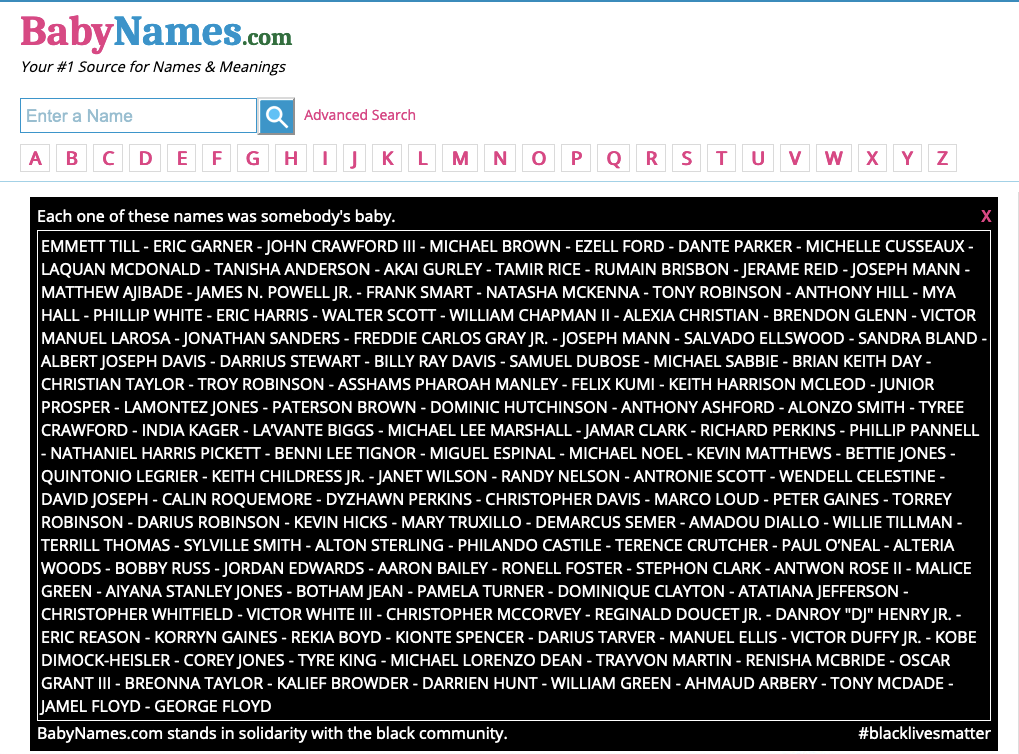 (image via)
*Hot Goss*
Brought to you by the superb Latifah Azlan.
Do you work out?
I try to. Prior to the pandemic, I went to a dance class thrice a week, which was the only work out I consistently and enthusiastically committed to regularly. When lockdown happened, my dance classes moved online and for the first few months of being cooped up at home, I stuck to my thrice weekly dancing schedule to continue getting some exercise in. All of that has fallen by the wayside now, and I'm not ashamed to admit it because I'm just decidedly not a work-outer. Some of you are. And then some of you are Crossfitters, which, well this story's for you.
Crossfit is one of those trendy gym things that I do not trust. The people who are into it are just a little too into it for me not to be suspicious that ya'll aren't actually doing culty shit in whatever warehouse ya'll congregate at. The one person I know who does Crossfit regularly only ever talks about Crossfit. Like babe, lifting tires is not a personality trait, you know? Anyway, CEO and founder (ahem, cult leader) Greg Glassman "retired" from his position yesterday because he was caught being a racist prick. Color me shocked :)
I say "retired" because given the plethora of horrible, terrible things that he has been caught on tape or Twitter saying, I can't imagine Crossfit's board of investors or shareholders or whatever the rest of the cult leadership is called staying silent and letting Greg continue at the helm. Especially not when big name athletes, celebrity spokespeople, brands, and gyms cut ties with Crossfit like, almost immediately after the first racist thing happened. And what was that you asked? Oh nothing. Just Greg Glassman calling the coronavirus "FLOYD-19" in a reply to a tweet by the Institute for Health Metrics and Evaluation about racism and public health. A racist is never only publicly racist once though, so of course more things – audio recordings, emails – were leaked of Greg saying racist things.
To be fair to my Crossfitting and Crossfitted friends, many people have spoken out against Greg and his racism, but I still wonder if Crossfit is going to be able to shake this scandal from their brand. Maybe, maybe not. Either way, I'm never stepping foot inside a Crossfit studio.