June 11th
Issue 13.4
Good morning!
Welcome to Issue 13.4 of Digestable, your daily mouthful of real things happening in the world, minus alarmist pandemic news.
I'm all ears for your feedback, or if you're already a fan, share this email with your friends. If you're not yet on the list, click below to sign up.
Today's news, fermented:
Yesterday, sitting in the passenger seat of my partner's car, driving across the border from Vermont to New Hampshire, aka the middle of nowhere, I got a bunch of texts from my dad about all the protests my parents were going to in New York.
I said something like 'thanks for helping me out with my fomo' and turned my phone off.
I'm recounting this adolescent moment for you all as an entry point to saying: I promised some people who love me that I would take a one (1) day break from reading the news. That day is today, thus the journey to the middle of nowhere.
I have/feel an immense amount of privilege; yesterday, it enabled me to get in a car and go to a place that is quiet and safe and beautiful. While I have a bunch of feelings about having this kind of privilege, I need not air them here. That's my work to do, you know?
And as a person who has trouble taking breaks, and is often crippled by FOMO (fear of missing out), this journey to the woods requires reminding myself of a concept offered by Jenny Odell, author of How to Do Nothing: Resisting the Attention Economy. She calls it NOSMO: the Necessity Of Sometimes Missing Out. The idea is that you will always be missing something, and rather than freaking out about all the things you might miss, you're better off focusing your attention with intention on the things you really want to participate in.
So today, I'm going to be in the woods. There will always be more movement to move, and breaks are important.
One more thought on movements. I've spoken with a bunch of folks who aren't comfortable with protesting for an assortment of reasons, and are looking for their place in the ongoing movement for racial justice, the climate movement, so on. You may have seen this graphic flying around the internet; it's been really helpful in those conversations about where we all fit in the big story of making change. Deepa Iyer, creator of the graphic, has some helpful words to accompany the visual.
Today's animal takes the form of this hilarious fish mitten we encountered in the aforementioned woods.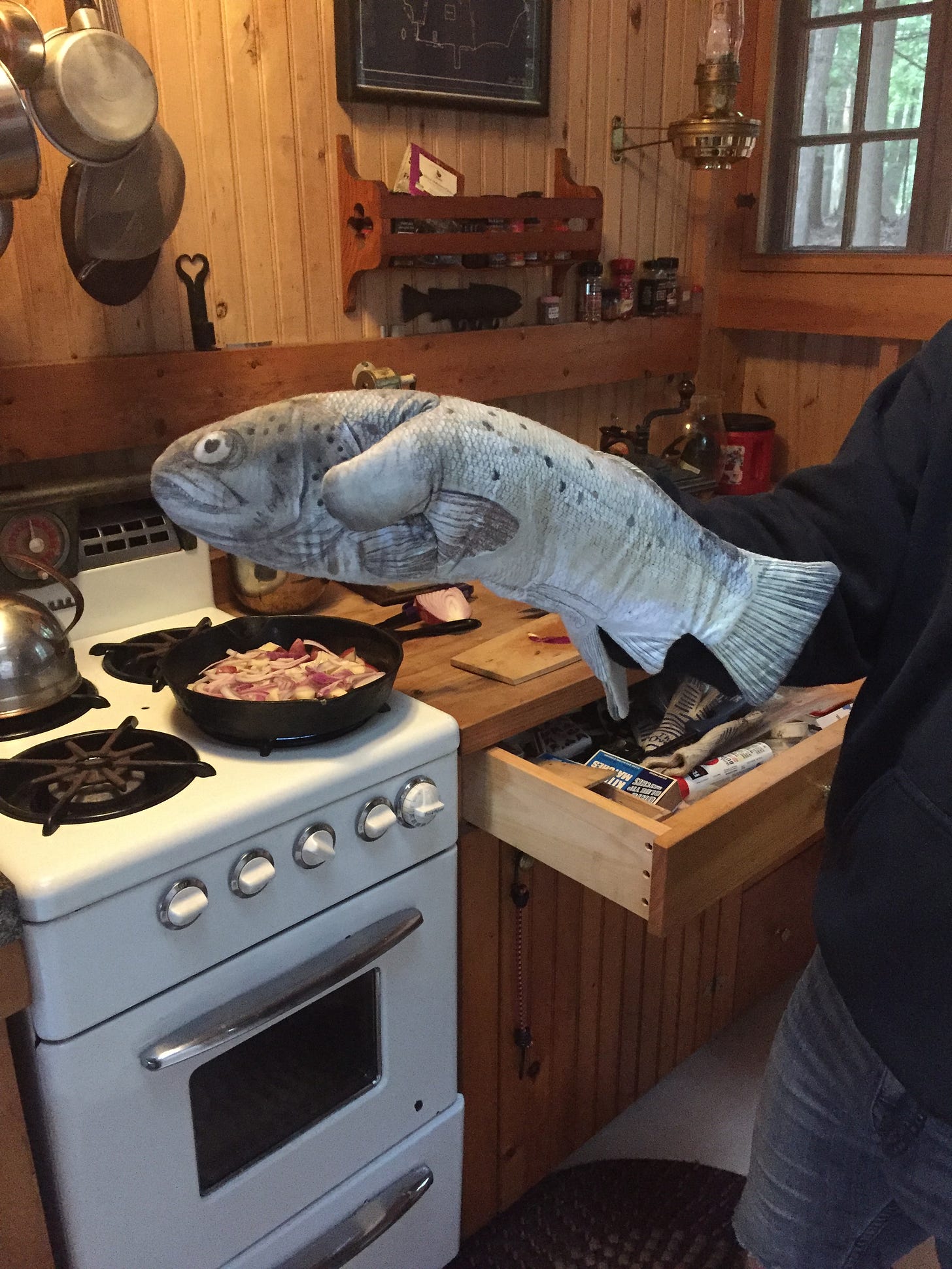 *Hot Goss*
Brought to you by the superb Latifah Azlan.
Last night, I watched Knives Out, a whodunit movie about a famed author who is found dead in his mansion after his 85th birthday party. It was actually a really good movie with astute commentary on class and politics, enhanced further by the brilliant performances of all the actors involved. More specifically, Ana de Armas really stole the show, so imagine my amusement when I saw this piece of ~*Hot Goss*~ from a few days ago.  
Last weekend, paparazzi snapped photos of a giant cutout of Ana de Armas that were staged on her boyfriend Ben Affleck's lawn. And when I say giant, I mean you gotta see this thing. It's actually kind of ridiculous, made even more so by the fact that one of Ben's daughters was the one to place it out there (allegedly, according to witnesses).
My readers may know that Ana is an up and coming actress who really found her breakthrough as Marta in Knives Out. Over the last few months, her burgeoning relationship with Ben has also become somewhat of a mainstay on gossip sites, with Taylor even submitting a ~*Hot Goss*~ Redux question on whether or not I thought theirs was a romance or a showmance.  
What I'm trying to say is that Ana does not need these cringy shenanigans. Maybe the cutout was placed on the front lawn to troll the paparazzi, who have certainly been hot on BenAna's trail these last couple of weeks. But it's still so bizarre to me. Or maybe I just haven't been in love with Ben Affleck?  
An update from J.K. Rowling: she believes she is being persecuted over her TERF-y beliefs. I mean, ya'll can read her statement (linked below) on the backlash she's been receiving all week for her tweets about trans women this past weekend. I mean, it really can't be easy for her to see the Potterheads slowly turn their backs on her these last few years. It also probably didn't help that stars of her own franchise – Daniel Radcliffe, Katie Leung, Evanna Lynch, Eddie Redmayne, Emma Watson – have all come out in support of trans rights these last few days in a not-so-subtle rebuke of her beliefs.  
All I want to say on this is homegirl found time to write a whole damn essay about "her reasons for speaking out on sex and gender issues" when – again – anti-racism uprisings are happening all across the world. Even in her own backyard where statues of slaveholders have been torn down and thrown into rivers. Look at this Karen-ass shit. AND ON PRIDE MONTH TOO. A total shame.