June 12th
Issue 13.5
Good morning!
Welcome to Issue 13.5 of Digestable, your daily mouthful of real things happening in the world, minus alarmist pandemic news.
I'm all ears for your feedback, or if you're already a fan, share this email with your friends. If you're not yet on the list, click below to sign up.
Today's news, fermented:
Hi friends.
I'm still in the woods, so this'll be a short one from me. I just ran my hand through my hair and a spider appeared so…you get the picture.
According to the NY Times, which as y'all know I simultaneously mistrust and loathe and rely on, public opinion on the Black Lives Matter movement has improved as much in the last few weeks as it had in the previous two years. My read of this is that it's a big deal. Shifts in public opinion means we're moving along that bell curve of change-making, which means that sooner or later, the people who never previously expressed interest in letting go of white supremacy will move into the camp of 'everyone else is doing it, it's probably a good idea for me to get with the program.'
Keep up those hard talks with your family and community members, folks.
Here are some sweet Red Knots, which are not doing so hot this season because of food shortages along the East Coast. Read more here.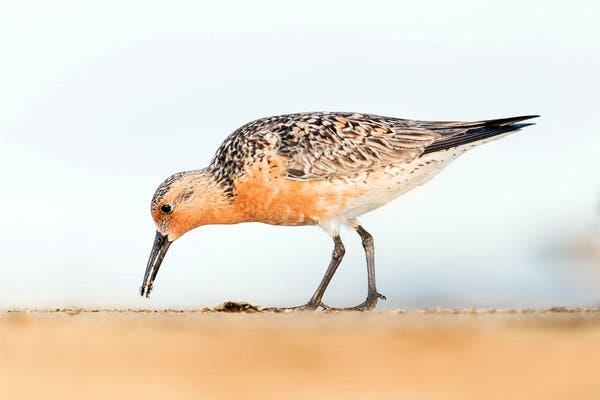 (image via)
Caro's Advice Corner
Back next week! In the meantime, submit your juicy Qs to carosadvicecorner@gmail.com.
MoRo's Music Show
!~! DJ M0RO's low-key Music Show !~!

Listening to music helps me interpet how I'm feeling. It reflects back a way of seeing the world or a situation through beauty, craft, and perspective. This week I've been navigating the news, [life,] a new job, and a geographical change while filling my ears and soul with:
...Jorja Smith's newest tune rose rouge which, according to the internet, is a "re-imagined jazz cover of st germain's original," which has put me in the right mood this morning. >fun fact< the song was originally based on a sample from Marlena Shaw's 1973 woman of the ghetto. The googler g-ds also informed me that this will be a part of a larger collaboration, out Sept 2020, of a constellation of other uk-based artists covering some r&b/jazz/hip-hop classics from blue note records. 

...basically the reason I started this column: to be able to recommend lady moon and the eclipse's latest album to a critical mass of people. Journey to the Cosmic Soul is ev.er.y.thing. I needed, "a ride you never heard before," actual nourishment for the psyche, a physical journey. I thought I'd have more to write about it but everything I've tried hasn't done lady moon justice so please, just go enjoy your listening experience so you feel what I mean. Dancing highly recommended (duh) !

...honestly leon bridges new track sweeter is really hitting the spot right now. Ft terrace martin, it made me feel soothed and comforted, washed clean and ready to fight another day. "hoping for a life more sweeter/ instead I'm just a story repeating/ why do I fear with skin dark as night?"

Carry lyrics like these with you in your back pocket always.
*Hot Goss*
Brought to you by the superb Latifah Azlan.
Readers, do you remember at the start of quarantine szn, a bunch of celebrities led by Gal Gadot got together to film themselves singing "Imagine" as some sort of symbol that we are all in this fight against coronavirus together? A stunt that rightfully got all of those involved dragged through the mud and raked through the coals for how vapid and tone-deaf (in more ways than one) it was?
Well, there's a racism version of it :) and it's just as bad :)
The NAACP released a PSA yesterday called "I Take Responsibility" which features many a white celebrity such as Sarah Paulson, Julianne Moore, Stanley Tucci, Kristen Bell and others apologizing for racism. It's so bad, guys. And I don't know if this ad concept is on the NAACP or not, but it's essentially a series of clips of these famous folks talking about taking responsibility for all the times they've enabled or engaged in racist behavior. The ad then ends with each celebrity saying "I stand against hate" before directing viewers to this website.
Now, I understand the concept behind the campaign. My logic brain says it makes sense. The execution, however? MAJOR CRINGE. Too scripted, too disingenuous. And the fact that some of these actors are very clearly looking off to a side script while filming really is the melted frosting on this collapsing cake. I mean, ya'll are actors in some way, shape or form and still couldn't be bothered to memorize the two or three lines you had for this PSA? Return those Oscars and Emmys and Golden Globes right quick, you do not deserve them!
And now, instead of talking about the Movement for Black Lives and Black leadership in this moment, we're giving this misguided campaign air instead. And I fully take responsibility for being part of the problem! But now that you've watched the PSA and are ready to take responsibility yourself, consider making a donation to Snap 4 Freedom, an organization working towards systemic divestment of the prison industrial complex and investments towards community support for Black trans and queer people.
My Favorite Tweet: