June 15th
Issue 14.2
Good morning!
Welcome to Issue 14.1 of Digestable, your daily mouthful of real things happening in the world, minus alarmist pandemic news.
I'm all ears for your feedback, or if you're already a fan, share this email with your friends. If you're not yet on the list, click below to sign up.
Today's news, fermented:
Last week, I took a news break. This weekend, I went to a beautiful vigil and march in honor of murdered Black trans women in the wake of Dominique 'Rem'mie' Fells and Riah Milton's deaths last week.
Yesterday, I listened in on an amazing presentation by a staff member at Families for Justice as Healing, a Boston-based organization led by formerly incarcerated women fighting to end the incarceration of women in Massachusetts. We heard about community-led residential re-entry programs like Kimya's House and weekly actions to contribute to the organization's Building Up People Not Prisons campaign.
Today, I looked at the news. Beyoncé has written a letter to the Kentucky AG demanding justice for Breonna Taylor. The imbecile running this country has delayed his controversial, new-virus-hotspot-creating first rally in Tulsa, of all places, until after Juneteenth.
Please, please forgive me for talking about Beyoncé and the needling child in the White House in the same paragraph.
But the point is—people who hold power over Americans have taken notice of the uprising demanding a transformation of the systems that perpetuate and militarize white supremacy.
We see people who Americans listen to step in all the time; it often seems that once a notable's attention is gotten, the people's movement that got it in the first place loses steam. The inimitable Angela Davis said, in an interview last Friday,
"One never knows when conditions may give rise to a conjuncture such as the current one that rapidly shifts popular consciousness and suddenly allows us to move in the direction of radical change. If one does not engage in the ongoing work when such a moment arises, we cannot take advantage of the opportunities to change. And, of course, this moment will pass."
In short: we are in a moment. But will we let it pass?
The way we mobilize the energy of now is many-fold. It looks like lots of people making recurring donations to transformative justice organizations led by Black people. It looks like white people calling their electeds to say that current policing laws don't actually make them feel safer, and those elected will get voted out if nothing changes. It looks like a lot of people having a lot of hard conversations both across and within identities about what dismantling white supremacy looks like, and why every single person stands to benefit from this necessary transformation of our society.
This article in the embattled NY Times brought a smile to my face. It's about how stoop culture, and the geographic ease of checking in on your neighbors, kept people going while the virus raged (and still rages) through the city.
I often refer to New York as my third parent. Everyone knows that New Yorkers talk fast and can have a hard edge. That's true about me. But the most important thing, I think, about being a New Yorker, is that we actually do (despite the stereotype) all really like to talk to each other about difficult stuff. The stoop gatherings, the chats waiting to cross the street or for the subway to move, paired with the unmatched diversity of experience and opinion means that not only can we hold a good argument, we can listen, and be humbled by all we have to learn from each other.
This is how we propel this moment into a big, unquestionable movement. We refuse to stop talking about difficult things (how white folks have benefited from white supremacy unknowingly our whole lives, how trusted institutions have reinforced ancient discriminatory policies, how to do all the work that needs to be done). Of course, we have to act on those conversations, but if we cannot sit on our proverbial stoops, whatever they may look like, without talking about dismantling white supremacy, we will have taken a big step.
May white supremacy someday (soon) become extinct like so many ocean friends that mysteriously left the premises 445 million years ago.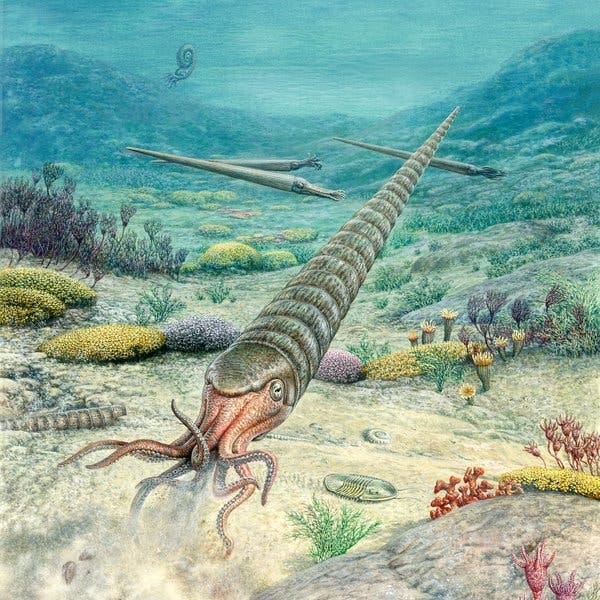 (image via)
*Hot Goss*
Back soon from the superb Latifah Azlan.