June 18th
Issue 14.4
Good morning!
Welcome to Issue 14.4 of Digestable, your daily mouthful of real things happening in the world, minus alarmist pandemic news.
I'm all ears for your feedback, or if you're already a fan, share this email with your friends. If you're not yet on the list, click below to sign up.
Today's news, fermented:
Yesterday I was on the phone with a new friend, and last Monday's call, hosted by Movement for Black Lives, also featuring the head of Sierra Club and a lot of their donors, came up.
I mentioned this pairing, and got a "that's weird!" in response.
It is weird. The environmental movement has, and has long had, a white people problem. There's a lot of writing about the eugenicist, racist history of conservationists, including John Muir, founder of the Sierra Club. You can find it here, and here, and here and this really pathetic article here.
So it's a little surprising to see the Sierra Club and Movement for Black Lives in the same virtual space. These two organizations making a co-appearance doesn't mean the problem is over, but it's a sign that the environmental movement is finally realizing that we cannot have 'a clean environment' or whatever the rallying call is unless we have climate justice (which climate justice organizers have been saying forever).
The big new development of late I've noticed is that now, white people (and non-Black POC) are putting together the pieces: we can't have climate justice unless we have Black liberation.
Finally, environmental groups like the Sierra Club are proclaiming that Black Lives Matter and posting stuff on their websites, like Racism Is Killing the Planet, and What Does it Mean to Defund the Police?. I think it's really great that this is happening, and it's a huge opportunity to introduce the Sierra Club's audience to this writing and these ideas. But the lightbox that pops up when you land on the organization's site says it all; this organization's primary focus is not Black liberation or climate justice.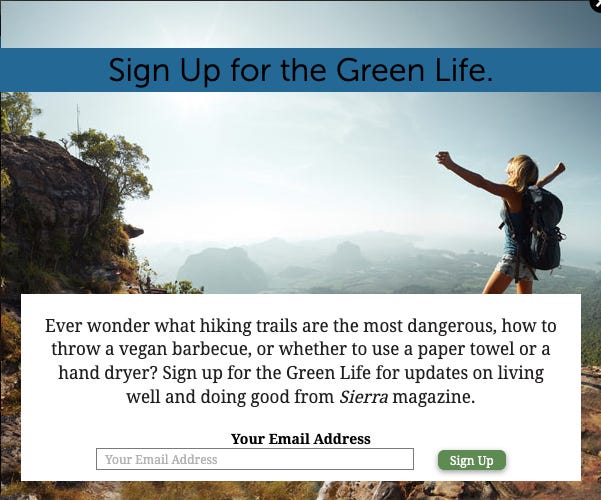 Again, this is not a personal attack on the members of the Sierra Club or the people who work for them. It's just a moment of reckoning with the serious shortcomings of the environmental movement.
Mary Heglar, a self-described "Black Climate Person," wrote about why we need to fight for climate justice (and in turn, the environment) and racial justice at the same time. She says:
"Typically, when the environmental movement has attempted to reach out to Black communities, it turns into something I've called "existential exceptionalism." The conversation goes something like, "Oh, you're worried about police violence? Well, you need to be worried about these POLAR BEARS!" Climate change is framed as the issue that threatens "all of us" and therefore should be everyone's priority. Climate change, the myth goes, is the Great Equalizer."
(If we've ever talked about how I came to climate justice organizing, you know that I have a particular spot of loathing and nausea-inducement for the classic 'polar bears' argument. For another time.)
Mary goes on to explain that when messaging from white-led organizations message that 'climate change harms everyone,' the fact that "climate change hurts Black people first and worst" is erased. She says it best:
"So it's not just time to talk about climate—it's time to talk about it as the Black issue it is. It's time to stop whitewashing it. In other words, it's time to stop #AllLivesMattering the climate crisis."
I could copy and paste the entire article here, but really, you should just read it.
There are a bunch of statements and articles floating around about why climate justice is a race issue (1, 2, 3, 4, 5). But the piece that illustrated for me why it is not only unethical and non-factual to treat climate justice and racial justice as separate issues, but actually impossible for the climate movement to succeed without demilitarizing the police, is Emily Atkin's article, "Big Oil Needs the Police."
(Emily writes Heated, a superb climate newsletter that is more thoroughly researched than this one, with an explicit climate focus. She relies on subscribers to support this work.)
The article talks about how the fossil fuel industry needs militarized security forces to protect infrastructure and quash protests. It also discusses that, because direct action is such a common and necessary tactic to chip away at fossil empire, those activists must be okay to risk arrest, which is so much more possible and less dangerous for white people.
So, climate folks who have participated in direct action before, here's your chance. In keeping with the first principle of Six Nineteen mobilization (tomorrow!), "we keep us safe," it's not too late to join an action near you.
Also, here's some good news. A pair of Nebraska farmers has returned a piece of land to the native Ponca people in an effort to halt the expansion of the Keystone XL pipeline. Tribal status can (/should, but often is ignored) be an asset in protecting land from use for fossil fuel infrastructure. Not to mention—indigenous people make up less than five percent of the world's population, but protect about 80% of the world's biodiversity. That land is in good hands.
Here are some pretty parrots I stole from Nat Geo's website when reading that fact.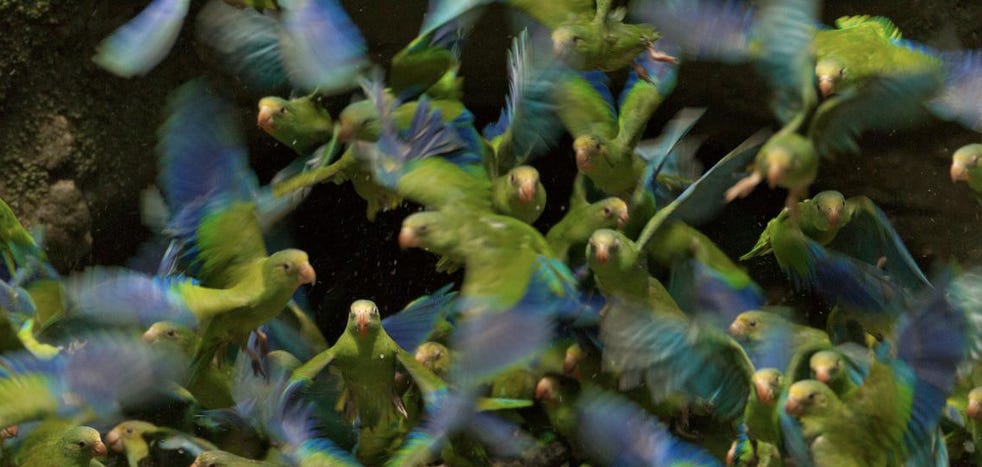 (image via)
*Hot Goss*
Brought to you by the superb Latifah Azlan.
I am a woman of many contradictions. Like that Billy Joel song but less saccharine, you know? But my biggest contradiction would be my disdain for monarchy whilst still faithfully following ~*Hot Goss*~ from the British Royal Family (BRF) – something I've written about quite a few times in this column. And today, I come bearing goss on probably the most beloved member of the BRF, Princess Diana.
Yesterday, an announcement was made on the production of a new film titled "Spencer," which centers on a weekend in the early 1990s when the late Princess Diana decided to separate from Prince Charles. And who better to play Diana than Kristen Stewart?
Lots of people. There are lots more people who could have filled this role better and while I see the vague resemblance between the two, I just… has the People's Princess not suffered enough? Even in death we keep hounding her. And I, cough, appreciate Kristen Stewart for what she is but no. Not OUR Diana. Please. The Commonwealth will revolt.
I don't know if you've heard but Megan Fox and Brian Austin Green have split up after several years of marriage. Maybe some of you will care enough to know that both parties have immediately procured rebounds to keep that divorce heartbreak at bay during quarantine szn – Megan with Machine Gun Kelly and Brian with Courtney Stodden. But I am more interested in this rebound retrospective Pajiba put together in honor of the news. And what I am getting from reading this article is that I have been following celebrity goss for far too long, since I remember every single one of these couples.
I physically recoiled at the memory of Jennifer Aniston and Vince Vaughn as a couple, mostly because I have the most irrational disdain for the latter. Actually, I really hate him. Like, despise. I absolutely refuse to watch a movie that he stars in because of how much I dislike him. But that's a story for another day.