June 1st
Issue 12.1
Good morning!
Welcome to Issue 12.1 of Digestable, your daily mouthful of real things happening in the world, minus alarmist pandemic news.
I'm all ears for your feedback, or if you're already a fan, share this email with your friends. If you're not yet on the list, click below to sign up.
Today's news, fermented:
Yesterday around 10:30pm, at an intersection in Downtown Boston not far from the office I worked in pre-pandemic, a Boston police officer blew a whistle. Most of the officers were wearing riot gear and holding wooden batons. Some were wearing masks; most had face shields as well, and some wore tear gas masks.
In response to the whistle, the cops, somewhere between 50 and 100 of them, retreated from the circle they'd made to hold the intersection. The remaining people from the Black Lives Matter protest that began four hours prior and many neighborhoods away watched as the cops did some cryptic hand-signaling, organized themselves into a pod, and began to walk away.
This was not the only time yesterday that the crowd sent the cops away; earlier, one police car drove towards a mass of people, and the people started running towards it, some throwing plastic water bottles, others yelling and holding signs. The car reversed and backed off of the street. Later, another police car, this one with a flat tire, did the same. After that, a large group of police, standing face to face with a row of protestors, stood immovable as the protestors took a knee, and demanded the same of the police. They did not oblige, but similarly, turned and retreated.
A friend had asked me yesterday morning if I'd wanted to marshal. It was a funny thought, based on the footage I'd seen of other cities. What was there to marshal?
And then it was nice to have a yellow vest on, because traffic stops when you do. In a group thread, we shared information about where tensions were rising towards the end of the march, checked in about our spacing, the size of the crowd. One estimate was 26,000 people, which we all assumed was low.
When most people had gone home, one of the members of the group said, "Tens of thousands of people, and sixty marshals? That's pretty good evidence we don't need cops."
And it was so clear, watching all of these unarmed, angry, sometimes crying people, standing in rows or on bent knees in front of these armed, silent police, that they were not here to protect anybody but themselves.
Before heading out yesterday, my household had a conversation about the virus exposure risk of gathering in a large crowd. Sure, we'd be more vulnerable than we, a very careful group, had been in the last couple months.
On Friday, I read this article, entitled "There's Only One Possible Conclusion: White America Likes Its Killer Cops." It's full of excellent detail and explanation; you should read it yourself. But the thesis is that white people's comfort with cops killing Black people is the main reason it keeps happening and often goes unpunished.
The decision to be in the streets in quarantimes is personal, and there are plenty of other ways to organize. But as a low-risk white person (both regarding the virus and the color of my skin) it felt necessary to be out in the world. My privilege is good for stopping traffic. My privilege is good for watching cops bristle at verbal confrontation by Black people and using the staggering power white supremacy has given my whiteness to make those cops feel uncomfortable about retaliating.
And my presence is necessary, whether it is in the streets or in this movement, because there is nothing about Blackness or Black people that causes police violence. It is people who look more or less like those who stole this land and called it America: myself, my fellow white people. It is our responsibility to fight, now and fast, to dismantle the systems that we and our ancestors have sailed along on for the last 400 years.
Last night, there was also looting in SoHo, one of the wealthiest neighborhoods in New York. It is so obvious that the state is failing Black people. There's misinformation flying around the internet about a blackout in DC. There's a video of the protest I was at 'turning violent' that shows a can of colored, harmless gas spewing. Of course I didn't see it all, but my guess is that the internet is feeding off of what it wants to see—Black people being violent—to justify white America's comfort in, and reliance on, police violence against Black people.
Before you fall into the hole of twitter or start scrolling through the headlines of a center-left news outlet, read this article: "How Western media would cover Minneapolis if it happened in another country." It offers some necessary perspective on how big, and how address-able, America's nasty racism problem is.
Here's a pretty bird from an article on how 'more people are watching birds' that has one tiny mention of the fact that while this benign activity is readily available who do not need to fear for their lives while doing so, it's yet another thing Black people have not been able to do in peace.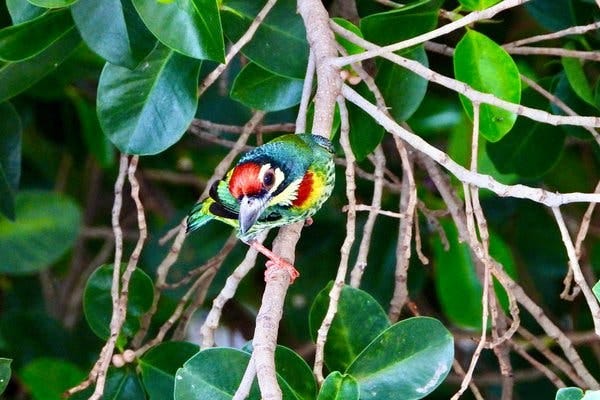 (image via)
*Hot Goss*
Brought to you by the superb Latifah Azlan.
It has been a truly heartbreaking week, and to be honest with you, it does not feel right to write about celebrity gossip at a time like this. And yet, it is very much at a time like this that we need little windows of escapism, however briefly, to recharge and reenergize our tired and weary selves.
It is also very much at a time like this when celebrities just love to offer their opinions. Some better than other, of course, but most… could have gone unsaid, probably? Here's a fun thread of all the dumb shit famous people have said in the last seven days to scroll through on your lunch break.
One of the ways that people have shown support for the Black Lives Matter movement and protests happening across the country has been to donate money to various bail funds. The Richie Riches of the world have also contributed to this cause although some contributions have perplexed more than others. Take Virgil Abloh, for example. Virgil Abloh is a prominent streetwear designer and artistic director of Louis Vuitton's menswear division who charges hundreds of dollars for tote bags, hoodies, and socks at his brand "Off-White." He also donated a whopping $50 to the Minnesota Freedom Fund to help bail out protesters who have been arrested in Minneapolis. I guess we shouldn't judge or shame people for helping out the cause in whatever way they can. But this man's net worth is an estimated $4 million dollars. His donation isn't even enough to buy the cheapest pair of socks on his website! Sis, it ain't even enough to cover this box of markers that goes for $51 (on sale from $102!). I just… bye.
Pivoting to ~*Hot Goss*~ that makes you go "Fck yeah!" – the K-pop fandom rises up again. To the uninitiated, K-pop fandoms are some of the most intense fandoms to exist on this planet. Of all of the stan factions that exist, I'd wager that the BTS Army is one of the biggest, most vocal, and most powerful. And last night, when Dallas PD referred people to a snitching app to rat out protestors, the K-pop fandom came together to flood the app with fancams until the app broke. TRULY STELLAR, MAGNIFICENT WORK ALL. I mean, again, the BTS Army ain't called that for nothing. The thought of some poor Dallas PD grunt opening up the app to see Jungkook hip thrusting is making me keel over my blueberry waffles in glee.
I hope my little frivolous column gave you some respite, even if for five or ten minutes today. Tomorrow, we'll take a deep dive into the ~*Hot Goss*~ that has taken up all my time and energy this past weekend: the bombshell revelation that Kylie Jenner and Kylie Cosmetics inflated their net worth to hype up the company's sale. What's that? You can't wait? ME NEITHER.