June 22nd
Issue 15.1
Good morning!
Welcome to Issue 15.1 of Digestable, your daily mouthful of real things happening in the world, minus alarmist pandemic news.
I'm all ears for your feedback, or if you're already a fan, share this email with your friends. If you're not yet on the list, click below to sign up.
Today's news, fermented:
Where to begin?
First—I hope everyone had a beautiful Juneteenth weekend, in the streets, online, talking to your neighbors, wherever you found yourselves.
Second—aside from organizing, I tried to take a little news break this weekend. When I did my morning scan through headlines and early digests, I was expecting coverage of this weekend's mobilizations. But there was almost none.
America's focus is so often splintered; segregation and inequality mean that people of different identities are often fighting different fights. The pandemic changed that; for months, there were maps and figures and speculations dominating the news cycle. Then, the protests: finally, journalists had images, had people in the streets, to report on.
But today, we are back to everything. I'd say the front pages of the internet look most similar to pre-pandemic times as they have since March.
It's a relief, it's alarming, it's overwhelming. I'm not entirely sure what it means, but here's my thought.
The pandemic concentrated American attention. The protests were a much needed break from the images of empty streets, and refocused that attention. White people, who often hadn't previously turned out in numbers to Black Lives Matter protests, were working at home, probably spending a lot more time scrolling through social media and the news, and felt more called to show up this time around. This moment became a movement.
And now here we are.
There are a few articles that jumped out to me that suggest this moment is truly becoming a movement. Protesting is exciting, but unless there's direct action involved, it can easily fail to lead to meaningful change. The demand to defund the police is a real, concrete, change that can occur. In Boston, banners were dropped, and in cities across the US, budgets are getting finalized, and people are testifying and calling and writing like never before to invest in Black communities.
Here's what I saw that suggests, despite the news cycle reverting to its all-over-the-place-ness that gives so many readers (myself included) the feeling that everything is bad/impossible, real change is afoot.
The cherry on top of all this is that the Associated Press, the news organization that employs over 3,000 people and generates almost 600 million dollars in revenue every year, changed its style guide to capitalize the B in 'black.' When we liberate our language, we liberate our minds, which makes it all the more urgent to liberate all our people.
No matter how deeply we liberate our minds, we still won't be able to imagine the vibrant colors that populate this hummingbird's field of vision.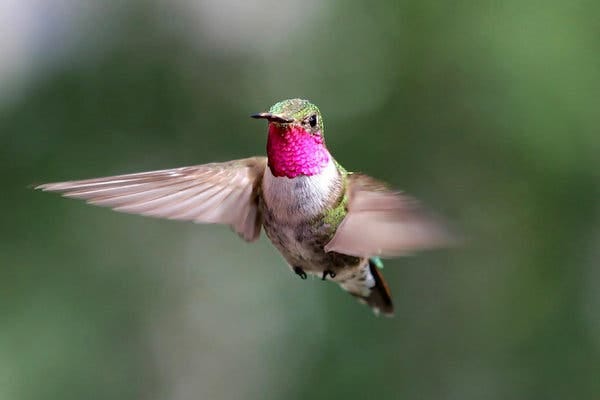 (image via)
*Hot Goss*
Brought to you by the superb Latifah Azlan.
Today, all I want to talk about is Tr*mp's unhinged rally in Tulsa – and how he got bigly Punk'd by Gen Z Tik Tokers and K-Pop stans from across the world.
Tr*mp's rally in Tulsa was supposed to be this Sentient Malfunctioning Tanning Bed's return to form after months of being away from the campaign trail due to coronavirus (thank you Miss 'Rona). The Tr*mp team hyped up the fact that over 1 million tickets were requested for this rally, with hundreds of thousands of people scheduled to attend – so much so that the team even set up an outdoor rally area so that Tr*mp could address more people who couldn't make it indoors.
As with everything Tr*mp talks about and touches, the rally turned out to be a whopper of a bust. Attendance was much lower than anticipated and advertised, and the team's outdoor space had to be dismantled mid-rally because it became quite clear that it was not needed.
And we've got Zoomers, Tik Tokers, and K-pop stans to thank for this brilliant display of pranktivism (prank+activism). The three groups – probably the most technologically advanced subsets of society – united and organized around the country to claim tickets to the Tr*mp rally in Tulsa and then threw that shit in the trash without any intention of ever using them. Here is the New York Times' story on how they managed to pull it off. It's truly brilliant and all I gotta say is the kids? They'll be alright.