June 23rd
Issue 15.2
Good morning!
Welcome to Issue 15.2 of Digestable, your daily mouthful of real things happening in the world, minus alarmist pandemic news.
I'm all ears for your feedback, or if you're already a fan, share this email with your friends. If you're not yet on the list, click below to sign up.
Today's news, fermented:
(cw: violence)
When Ahmaud Arbery was killed, there was no national outcry. When video of his murder emerged, the outcry came.
When George Floyd was murdered, along with footage of him, gasping for his life, his breath, his mother, the nation erupted.
Elie Mystal, The Nation's justice correspondent and a voice I often look to, wrote, weeks and weeks ago, about how we didn't need to see that Ahmaud was lynched. He asked,
"Why do white people need video? Why does the white justice system refuse to even consider taking action against the destroyers of black lives unless there is video? Why do we have to wait until the entire black community can be traumatized by video evidence of a lynching before some white people are moved to act?"
I raise this question again now because Rayshard Brooks, a 27-year old Black man, was murdered on June 12th by Atlanta police. In looking for more substantive coverage, I found that the NY Times had published something—one thing—about Brooks' murder, and it's an 11-minute video. There's other coverage (here's one, two), but it's all about the fact that Rayshard was murdered by the police, not that he was a real person with a life until he had that life taken away.
It's evident that generally speaking, the news media, which is overwhelmingly funded and created for white people, not to mention designed to allow white people to feel comfortable with the racism and genocide this country is built on that continues to allow white people to experience more freedom and wealth than any other group of people, needs video evidence not to believe that Black people are killed—but to believe it is important enough to cover.
(I am sorry for that long sentence; America's concerning history is lengthy. I am not sorry for not providing sources for all those claims. If you think I'm wrong, and that the news is not constantly reinforcing and affirming white supremacy, go ahead and find me a source.)
The answer to 'what do we do about this insidious ancient problem' is always to change the systems that have allowed that problem to continue. I think part of the solution is about the news—diversifying funding and producers, challenging white audiences' comfort—but the real solution is about the police.
Again we turn to Elie, voice of wisdom. In "To the White People Who Keep Asking How to 'Help,'" he writes:
"White people know who the racists are. They're in their freaking families. They're in their companies. They're in their networks and clubs and social media feeds. I don't need to hear that you really understand how police brutality is a systemic threat to my health and well-being—your racist uncle does. Your boss does. Your "let's not put politics above friendship" sorority sister does. Go make some racists know that their opinions are frowned on in this society. Go make them know that you hate them as much as I do. That makes less work for me."
Go read the whole article, but if you don't believe that Black people need to be filmed dying to be worth us paying attention to, go get angry at the police (if you aren't already, which oh my god, I hope you are).
Another article of Elie's from last week, pre-Juneteenth protests, "America's Racist Police Won't Be Dismantled by 2 Weeks of Protests," reminds us that,
"Already, the infrastructure is in place for this country to ignore police brutality the moment everybody stops shouting about it. Despite the general unrest, politicians from both parties have offered a steady stream of excuses for the police brutality being inflicted, ironically, on people demonstrating against police brutality."
Protesting is good. Keep protesting. But call your elected officials and tell them you'll vote them out of office if they don't defund the police. There's even a NY Times article about why this has to happen.
Here's a seahorse that tosses norms on their head (by being a pregnant dad). Be like the seahorse. Call your reps.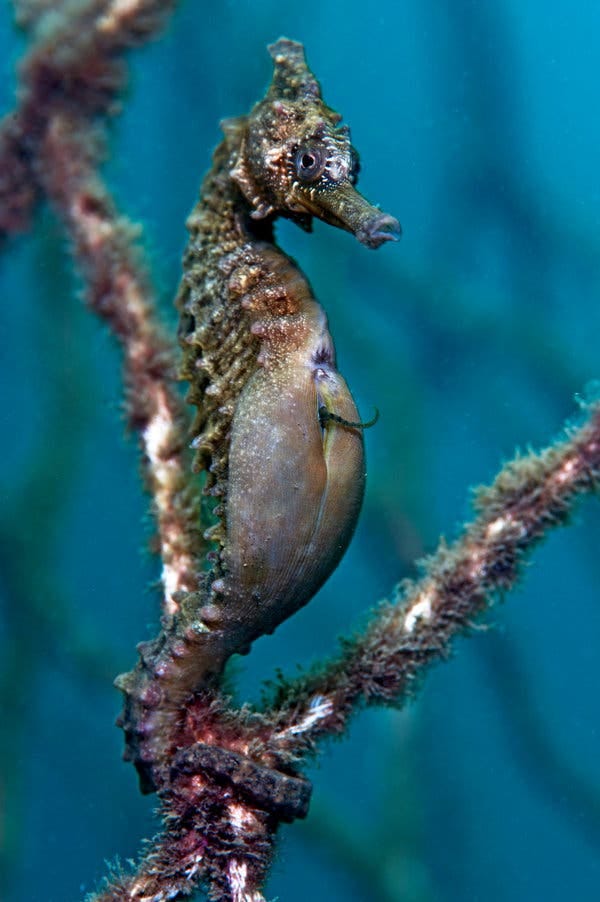 (image via)
*Hot Goss*
Brought to you by the superb Latifah Azlan.