June 30th
Issue 16.2: We keep us safe.
Good morning!
Welcome to Issue 16.2 of Digestable, your daily mouthful of real things happening in the world, minus alarmist pandemic news.
I'm all ears for your feedback, or if you're already a fan, share this email with your friends. If you're not yet on the list, click below to sign up.
Today's news, fermented:
(cw: violence)
As a white American, it took me awhile to really believe that the government, and people employed by the government, and programs paid for by the government, would knowingly do stuff that kills civilians. That state-sanctioned violence wasn't an accident at all. Looking back, that feels really naive.
This violence often looks different from what one would picture as 'the government killing people.' It looks like neglect (the AIDS crisis, the current pandemic); it looks like misinformation (false sterilizations, infecting people with diseases to use them as guinea pigs for medicine); it looks like a petty crime (that leads to police murder), and so many other ways. This kind of violence is intimately linked with the history of the US and the 'pursuit of economic activity,' which justified chattel slavery and genocide of indigenous people on this land.
These days, the fact that state-funded violence at the hands of people trained to kill are all funded by us, is on the public mind. What I've been hearing at City Hall and other protests is that people are demanding control over this money that is theirs. It's time.
And yet there is endless resistance: it's almost as though the entire US government is using paternalism as an excuse. As though it's impossible to believe we can take care of ourselves. Sure, things aren't perfect at City Hall. I've been wary to write about CHOP/CHAZ in Seattle, because the media is never completely honest about stuff like that, but I'm sure it's not perfect there. As I said yesterday, and still believe, we're practicing. It's not like the current system is keeping us safe anyway.
Right on cue, the Supreme Court has given the Trump administration the green light to carry out federal executions on people who have experienced similar jury bias and shallow evidence protocols. This is literally the government killing people, as justified by some often very shaky logic.
The judge overseeing George Floyd's case has threatened to move the case to a different venue (although it's unclear where) if attorneys don't stop publicly talking about it. From what I understand, this is about bias—as though all-white juries haven't been making biased decisions for a long time.
Bernie Sanders, the homie, gosh if you need a cry just think about if he was maybe gonna be our president, has come through with an opinion piece on why cutting the military budget by 10% (74 billion dollars!!!) would help Americans who need it most. The military shows up at protests (in Military Police form); kills civilians all over the planet, and discharges officers who join private armed forces that defend fossil fuel infrastructure, and more, and more, and more. Defunding the military and defunding the police are liberatory siblings. Thanks Uncle Bernie.
Here's a flying snake. Stay safe out there y'all.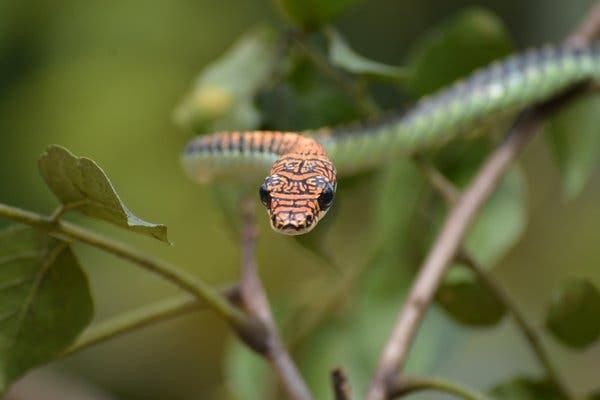 (image via)
*Hot Goss*
Brought to you by the superb Latifah Azlan.
We are officially halfway through 2020, folks! And boy what a year of goss it has been.
Living 9,293 miles from home, I am currently watching with envy as Malaysia slowly reopens our economy and society. People are taking all the precautions they need to be able to enjoy newly lifted movement restrictions. When I called my dad for his birthday on Sunday, he was already on his way out to the mall with my mom to run some errands. It made me slightly tear up.
Some people have asked me whether or not it's a little premature for Malaysia to reopen and I would say no. We are gradually reopening in phases after several months of actual lockdown. As in, an entire country halting its activities to contain this disease. No one was allowed to leave their compound, apartment, or house for at least six weeks. No running, no walks in the neighborhood, no driving around in cars, certainly no interstate travel. Highways were barricaded, and neighborhoods that were considered to be 'rona hotspots were literally cordoned off and people barred from entry or exit. The Movement Control Order was enforced under heavy penalties, but at the same time, testing was made widely available, reaching up to 25,000 a day at its peak. That's not to say that our response has been perfect (on the contrary, some aspects has been absolutely shameful), but it has been effective seeing as we flattened the curve by late April.
So you know, a very different scenario from the United States, where there has been an absence of a federally coordinated response to the pandemic, made even worse by white people who seem to throw tantrums at the slightest mention or sight of a mask. I refuse to brand these people as "Karens" because that obscures the reality that mostly W H I T E people are throwing around their entitlement and selfishness to accost and assault workers for daring to enforce common-sense policies that have been scientifically proven to slow down the spread of this disease. So own that shit, white folks. Please ask yourselves why so many of these adults are so comfortable acting out this way, in public, and what ideas of "liberty" and "freedom" have been taught to mean to you.
Which brings me to our actual ~*Hot Goss*~ of the day: country stars Chase Rice and Chris Janson recently held big concerts in Tennessee and Idaho respectively – and of course not a mask was seen in sight. The organizers of the Tennessee concert did say that they checked temperatures, limited capacity, and provided hand sanitizers to attendees but social distancing was ultimately voluntary and unenforceable, whereas masks were unrequired for guests.
Sigh. I mean at this point, if you're not taking this seriously, then there's nothing this dinky gossip column can say or do to change your mind. I'm weary because the U.S. hasn't been able to get this under control and I'm truly losing it seeing videos on the daily of people acting like total brats just because they couldn't go into a grocery store without wearing a mask for 20 minutes. Some of us have stayed at home since March, okay Gertrude? So spare me the theatrics.
Also, here's a song that Chase Rice sang at his concert: "Dear Corona, you don't know the heart of a country fan / You don't know that we don't give a damn."
I- do these people know that a disease can't hear you? That she equally if not more does not give a damn that you're "country fans" or whatever tough Americana image that being a country fan is supposed to invoke when that comes up? That's not how it works!
I am leaving this column today with this Favorite Tweet: