June 9th
Issue 13.2
Good morning!
Welcome to Issue 13.2 of Digestable, your daily mouthful of real things happening in the world, minus alarmist pandemic news.
I'm all ears for your feedback, or if you're already a fan, share this email with your friends. If you're not yet on the list, click below to sign up.
Today's news, fermented:
Yesterday, I did a lot of careful feeding of my sourdough starter. It's been languishing in the fridge these last couple of weeks, and needed a little extra love and attention.
I started thinking about all the people I know, and even more that I've heard about, who got starters at the beginning of the pandemic, eager for something to provide structure in a time where so many folks were un- or underemployed.
And then I thought, did I stop hearing about all this bread baking because something arguably more important has been on our minds? I know that in this last bit of time, baking has been far from my first priority, so let's give everyone the benefit of the doubt.
Then I had a moment of worry that folks recently invigorated by the movement to dismantle the police and white supremacy would feel the way they felt about their sourdough starters—everyone's got one, posting about it on social media, little idea how to care for it. Optical allyship with your starter? Maybe too much of a stretch, but you get the picture.
Luckily, I found some good signs this morning (well, not exactly good) that this movement in this form is here to stay.
The first thing, which hadn't crossed my mind completely until the internet helped me, is that a lot of people are unemployed. Being busy with work, aka fighting to survive under capitalism, is a really good way to keep people from having time or energy to fight the systems of oppression. Guess what, suckers, your failed bailout that is still hooking it up for oil companies while people are waiting on unemployment is coming back to bite you in your federal ass.
Anyway. Protestors, only a small portion of of whom are embedded deeply in the longer-term fights for justice represented in moments of protest, are collectively challenging oppressive systems on a deeper level than just the single call of the moment. The fact that Black people are dying of the virus at disproportionate rates means that any conversation about Black Lives Matter must also include a discussion of our racist health system.
There are so, so many examples of the American health system taking advantage of Black people, from recent re-openings of businesses primarily patronized by Black people and other folks of color, to the Tuskegee experiment, where Black men were told they were getting free health care but were actually getting studied for having a disease nobody told them they had. There's such a long list of other atrocious ways in which American health systems have taken advantage of or ignored Black people. The fact that protestors are, en masse, connecting police-related anti-Blackness to health-related anti-Blackness, is unsurprising for this pandemic moment, but suggests that for once, non-Black Americans are thinking really deeply about dismantling the racism that runs through this country's veins.
Another sign that this movement is not just a moment is that that phenomenon itself is being discussed. Money is getting moved. Lives are changing. There's even a pathetic article in the Washington Post (owned by Jeff Bezos, owner of Amazon and Whole Foods, in case you forgot) whose headline says this is 'not the moment' for transformation that protestors think it is, but then says that actually this moment is different from ones in the past lower down in the article. (If you can't get through the paywall, you'll have to trust me, and remember that it's the same guy putting up a paywall as the guy who fires workers while becoming a trillionaire.)
It seems to me that the establishment is doing exactly what corporations do when there's new information released that threatens their profits, but in this case the corporation is America and its profit is white supremacy. Corporations sow doubt; Exxon paid for fake science to cover up climate change. Now, we're being offered an old white man who doesn't support defunding the police who also wants to "harness growing activism against systemic racism" as an alternative to the tear gas monster in the whitest White House. People are finally seeing that electing 'Democrats' doesn't do much for justice, and yet the American establishment is insisting that continuing to do so is our only hope. They're scared; this is how we know change is possible.
I'll close with one last sign that this movement is reaching the halls of power. Every business and its friends have made statements about how much they 'care' about racial justice. Even British Petroleum, in its latest rebrand as 'bp,' has put out a statement in which its CEO said, "I want bp to be right there in the mix—trying to help where we can. It is who we are, and part of our history." This would be funny if it wasn't so dark; one of the most problematic corporations in human history is claiming to care about injustice while trying to ignore its past (and present, and likely future) of successful extortion and abuse. All this is to say that, when fossil fuel execs start to make statements, you know nasty old rich people who want to make money before we summarily mute the human species are paying attention.
Here's a dumbo octopus, which like those execs, looks really silly when you compare them to the other members of their species (or I guess, technically, class).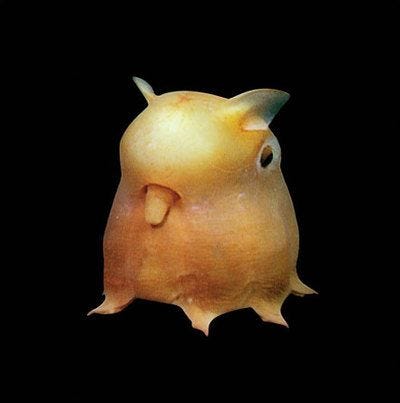 (image via)
*Hot Goss*
Brought to you by the superb Latifah Azlan.
In Malay, we have a saying called "mulut masin" – or salty mouth – to describe someone who says something that inevitably turns out to come true. And so several weeks ago, when I made a plea to the gossip gods for more drama from the culinary world, I could not have predicted what happened last night.
If you have looked up recipes even once on the Internet, I don't need to tell you what Bon Appétit is, but just in case, it is a monthly American food and entertainment magazine that typically contains recipes, entertaining ideas, and food and beverage reviews. The recipes and personalities behind the publication are much beloved, and although the magazine itself has been published since 1956, its increasingly popular online presence over the years has made it a ubiquitous source for all things culinary for many people. And when photos of editor Adam Rapoport in brownface leaked yesterday, the latest culinary controversy heated up real quickly. And we thought Alison Roman was a hoot.
Many of Bon Appétit's staffers quickly called for Adam's resignation. Sohla El-Waylly, a chef and assistant editor at the publication, revealed in a series of Instagram stories the "systematic racism that runs rampant within Conde Nast [parent publication] as a whole" – including the fact that only white editors are paid for their video appearances, but not the people of color who work at Bon Appétit. The debacle concluded with Adam's resignation from the magazine after ten years at its helm but damn, I really oversalted on this one, didn't I? My bad.
The truth is, the food industry, especially in Western countries, have long had a blind spot when it comes to race and racism. We've touched upon this some during our coverage of the Alison Roman goss. Often times, the (Western) food and beverage industry Columbuses recipes, ingredients, and techniques from non-Western cultures and markets "dumbed down" or "simplified" versions of these foreign culinary traditions to their Western, often predominantly white audience to gush over. If we're lucky, these publications will give credit or inspiration where those are due. If we're not, they won't. And often times, these Western, white cooks and chefs are heralded as savants when it comes to creating new flavor palates and culture-fusion recipes.
Recently, I learnt that Worcestershire sauce was actually inspired by budu, a sauce made from fermented anchovies that originated in Malaysia and is famous in the region. This video from Food Insider shows how Worcestershire sauce was conceived of, created, and popularized in the UK by the Lea & Perrins company in Worcester, England. This video even featured a map of where Lord Sandys, a nobleman who sailed "in the Far East," found inspiration for this sauce. The map clearly showed that he sailed to what was then known as British Malaya, where he most probably encountered budu. Notice here how colonization enabled this fusion of cultures to occur. At the same time, notice how you've only probably ever heard of Worcestershire sauce and not budu – unsurprising, given that even in this video tracing the history of this condiment, budu was not mentioned or credited as an inspiration. In fact, where Lord Sandys was shown to sail to on the map in this video was not even marked, erasing again a core culinary foundation for the Worcestershire sauce we know, love, and splash in our recipes today.
With all that being said, I miss Anthony Bourdain. Yesterday, June 8, marked the two year anniversary of his unexpected and untimely death. Anthony was beloved by so many people because of his respect and reverence for food culture that neither appropriated nor laid claim. I can't recall any other chef or food personality who allowed non-White, non-American people to take the lead in showcasing their own cultures. And by doing so, he truly used food as a gateway to other countries, other cultures, and other people in a way that few could achieve.