Juneteenth
Issue 14.5
Good morning!
Welcome to Issue 14.5 of Digestable, your daily mouthful of real things happening in the world, minus alarmist pandemic news.
I'm all ears for your feedback, or if you're already a fan, share this email with your friends. If you're not yet on the list, click below to sign up.
Today's news, fermented:
Happy Juneteenth!
Today is the beginning of three days of mobilizations around the country and the world. Sign up to join one, or find an event near you.
There's plenty about Juneteenth from our lovely contributors below, so I'll just leave y'all to it with a couple of long-form reading recommendations for the weekend (and beginning of a lifetime, I hope) of anti-racist study.
I'm sure you've all heard the list of books one could read; the NY Times bestseller list is abound with these titles. Yesterday, I did see a post that said something like "white supremacy is when the best-selling book about race is by a white woman." I saw an article somewhere about how White Fragility only cites white people and Ta-Nehisi Coates, but I can't find it. Send it to me if you do?

Rather than rehash the booklist, here are some articles I think are worth your time. Also, if there are articles that you've found really impactful that are more long-form about race and racism in America, do send them! I'd love to compile a second list.
Here's a few to start.
This beautiful online graphic novel entitled The Massacre of Black Wall Street, recounting the violent events that took place in a thriving Black neighborhood in Tulsa, OK, in 1921.

Ta-Nehisi Coates's The Case for Reparations, written in 2014 but still very timely (and will be…probably until reparations are paid).

The monumentous 1619 Project, by Nikole Hannah-Jones
It's a super short list, but I hope you'll be joining virtual and in-person actions this weekend, and won't have too much time for reading.
Here's a pretty fish. Be safe out there, friends.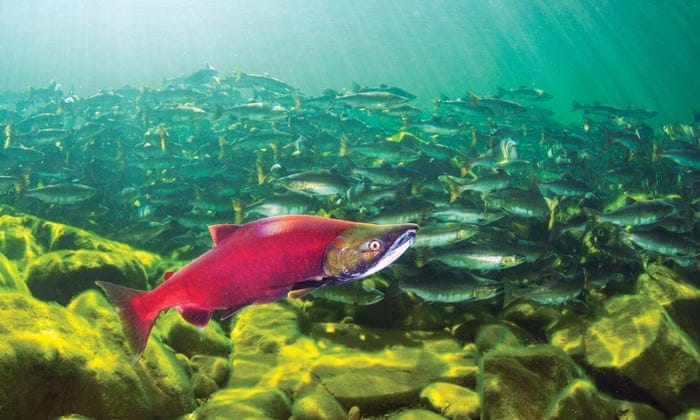 (image via)
Caro's Advice Corner
Do the learning, do the work.
Juneteenth commemorates the ending of slavery in the United States in 1865 (the official ending was signaled by the surrender of the Confederacy in Virginia).  Although this was the "official" end of slavery, months after the Emancipation Proclomation was signed, it did not immediately end slavery.  Fast forward to today, and we have a mass incarceration system—slavery by another name (if you haven't already, watch Ava DuVernay's documentary 13th, currently free on YouTube), and systemic and structural racism.  Juneteenth is both a day of remembrance and a day of self development and action.  
Some ways you can plug into today's activities:
Here are a slew of ways you can get involved today and through the weekend. You can search events around the country here (it indicates whether it is a virtual or in person event).
For those in Boston, here are some events happening around the city and online:
Learn more about Juneteenth:
!! DJ M0RO's low-key Music Show !!
I feel really fortunate for a neverending long list of things, but consistently high on that list is growing up in a house filled with music. My parents, brother, grandparents and cousins each have their own tastes and styles, all play an instrument (my dad is currently in three bands?!) and there's usually someone recommending something to someone. 
This week I've been relistening to Our Native Daughters, introduced into my life by my mom. Show up for the powerfully reimagined folk songs built on painful histories, stay for the dizzying lineup of angels on earth that is Rhiannon Giddens, Amythyst Kiah, Leyla McCalla, and Allison Russell.
From the liner notes of the album, Giddens' words must be quoted: "There is surely racism in this country — it's baked into our oldest institutions — just as there is sexism, millennia old. At the intersection of the two stands the African American woman. Used, abused, ignored and scorned, she has in the face of these things been unbelievably brave, groundbreaking and insistent. Black women have historically had the most to lose, and have therefore been the fiercest fighters for justice — in large, public ways that are only beginning to be highlighted, and in countless domestic ways that will most likely never be acknowledged."
Stories of black women's struggle, resistance, and resilience wrapped in the poetry of harmony, banjo, and collaboration make this album worthy of your ears and of the 2020 Americana group of the year (for which it was just nominated )
Highly recommend digging into all of these amazing women's archives of other projects, but want to especially shout out Leyla McCalla's Capitalist Blues for right now. Just wow - hope ya'll are ready for some songs that really just name the "thing" (and somehow make you dance with tears/laughter at the same time?)
*Hot Goss*
Brought to you by the superb Latifah Azlan.
I've been getting some requests to write about the beef between rappers J. Cole and Noname – so here we go!
Earlier this week, J. Cole released a track called "Snow on tha Bluff" that addresses activism, social media, and the Black Lives Matter movement. The track also appeared to criticize Chicago rapper Noname and her activism, who called out top rappers for their silence following the murder of George Floyd in May. Though J. Cole later tweeted that he stood by his song, that didn't stop Noname from dropping her own track, "Song 33," responding to the J. Cole diss and making broader commentaries on the disenfranchisement of Black women.
"Song 33"  also dropped on the week of the discovery of the body of 19-year-old activist Oluwatoyin Salau, which makes its lyrics even more punchy in the face of J. Cole's criticism and tone-policing of Noname's activism. And it seems like J. Cole got the hint: he tweeted a link to "Song 33" upon its release and not a word was heard from him since. Beef = rested.
Earlier this week, we were also gifted with this video of cop? mall cop? Stacy Talbert having a meltdown in the parking lot of a McDonald's because her order was late and it meant that people were out here executing some kind of ACAB conspiracy to poison law enforcement (lies, btw). You can read the story here, and its follow up here. I just wanted to set up this context for My Favorite Tweet: