March 17th
Issue 1.2
Good morning!
Welcome to Issue 1.2 of Digestable, your daily mouthful of real things happening in the world, minus alarmist pandemic news.
See yesterday's note about how I'm still figuring out how this works — apparently 'all this' includes calendars. Yesterday was March 16th, not 14th (but maybe I was on the North Pole, where time zones don't exist?)
Anyway, oops. Still seeking your feedback, or if you're already a fan, send your friends over to the Digestable website to subscribe, or forward them this email.
Today's news, fermented:
Apple, the company not the fruit, has been fined the largest fine in French history. Why? Because the company carefully determined how to allow other businesses to resell their products, and did so in a way that unfairly set up Apple stores as the clear best locale at which to purchase their products. While this may seem like small potatoes (aka apples of the earth), this is one of many ways in which Big Tech continues to concentrate their exorbitant profits. Big Tech monopolies are modern Big Oil monopolies.
I recently relocated to a home 'office,' as is the trend these days. A question arose, while four of us in my apartment chugged away on the strength of our single router. Is the internet going to break? Great opportunity for my favorite figure of speech, a yes, and: as in so many cases, this crisis is pulling back the veil on underlying systemic issues. The internet wasn't built for this kind of use! So basically, we'll see. Upside is that a number of big providers have agreed to stop penalizing folks who have fallen behind on payments, which they probably never should have been doing in the first place (same goes for evictions and being imprisoned).
Moving on to other systems that don't work: meat-based diets and resource exhaustion-based agriculture. Good thing we're seeing a pea and lentil renaissance, (the best kind of renaissance). Brought about by more Americans eating plant-based diets, and more farmers using regenerative, carbon-sequestering farming practices, here's yet another systemic change that is all too long in the works.
Breaking news is that birds are still smarter than humans and their systems are damn near perfect. Scientists are now spending lots of hours and research dollars to figure out how bird nests are so resilient. Maybe humans should have just continued to consider ourselves part of nature and build in response to our ecosystems, rather than in defiance of them…and not tear open the planet to extract energy to build ugly buildings that can't stand up to the warming we caused? I guess that's besides the point.
Good news is that penguins have been given free rein to explore US aquariums in the absence of human visitors, and Yo-Yo Ma is playing us #songsofcomfort through the Twitter horn.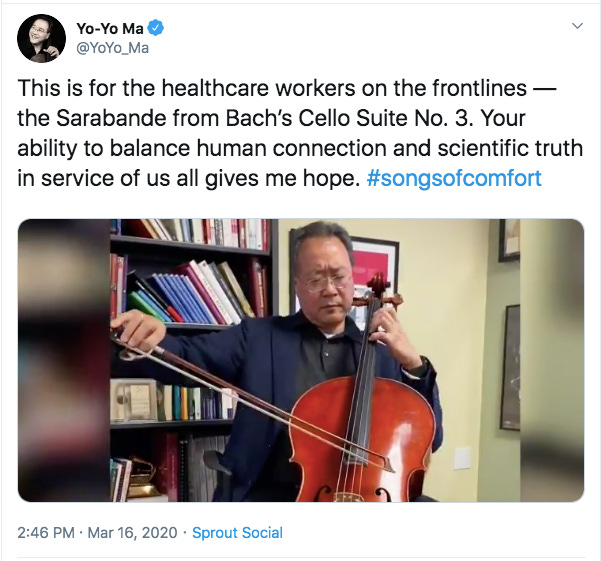 ~Hot Goss~
Good morning! In today's edition of ~*Hot Goss*~, I will be bringing up some painful memories that we've been all trying to repress for the last year – that's right, I'm talking about Game of Thrones. In a recent interview with The Times, Emilia Clarke revealed that she was not too happy about her character's fate. If you recall, Daenerys Targaryen had gone mad, and was killed by her lover/nephew Jon Snow after her brutal assault (really, it was genocide) on Kings Landing. Homegirl was especially annoyed with the fact that Jon "got away with murder – literally." 
If you're looking for some top quality entertainment this quarantine period, might I suggest WWE's Wrestlemania 2020? I know, I know – it sounds kind of absurd. In the wake of public health measures to contain the spread of Covid-19, Wrestlemania 36 will still take place next month, albeit without an audience. Guys, I'm telling you, I saw a Twitter clip of John Cena giving a villain origin monologue to an empty stadium and it was Shakespearean.
Ending today's ~*Hot Goss*~ with the mystery of how a lobster was found walking down Kim Kardashian's street in Calabasas. Don't question the rich, ya'll.
And that's it for Tuesday! I'll be back with more goss tomorrow!
P.S.: If you're really itching for something to watch this quarantine, go ahead and binge Gentefied. It's a wonderful gem of a show centered around a Mexican-American family in Los Angeles. I've also been enjoying a French comedy called Call My Agent!, which centers around a talent agency in Paris and features cameos from French actors and actresses like Isabelle Adjani, Guy Marchand, Juliette Binoche, and others. Both shows are on Netflix!
Brought to you by the superb Latifah Azlan.
Today's news, raw:
Apple's $1.2 Billion Conspiracy Fine Is Fair Enough, Bloomberg, 3/16/20
So we're working from home. Can the internet handle it?, NY Times, 3/16/20
Plant-based diets and regenerative ag have sparked a pea and lentil renaissance, Civil Eats, 2/18/20
Why birds are the world's best engineers, 3/17/20, NY Times
That's all for now, folks. Feel free to reply to this email or pester me on the internet with any feedback, comments, or questions.